NEW YORK—Speaking at an HBO press junket Monday, acclaimed writer-producer David Simon, creator of the gritty urban dramas The Wire and Treme, announced that his next project will be an epic, multilayered examination of the contented and comfortable streets of suburban Wilmette, IL.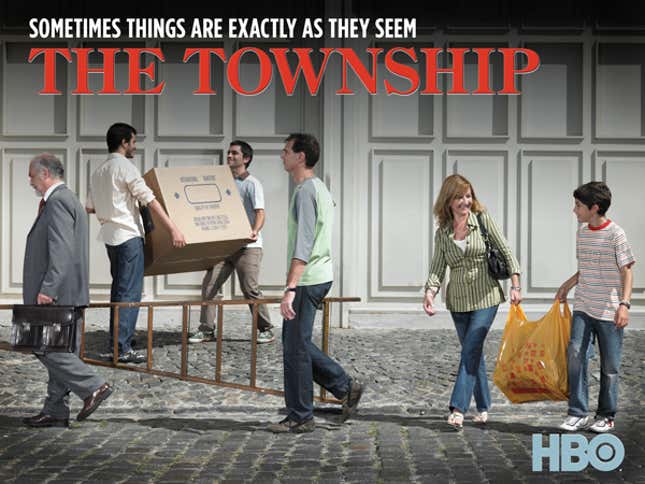 According to Simon, the sprawling new series, tentatively titled The Township, will offer a searing and unsentimental glimpse into the happy social fabric of modern-day Wilmette, an area known for its deeply untroubled history and well-functioning political structure.
"As a writer, my mission is to tell a story that makes viewers think about how conditions in American cities are created," Simon told reporters. "We can't just turn our back on the staggering levels of happiness occurring in a place like Wilmette and say, 'Well, that's not my life.' We have to confront this tranquility head-on and shine a light on the institutions that are responsible for it."
Added Simon, "I want this show to be an unflinching dissection of how the system has in no way failed the people of this town."
According to HBO sources, the novelistic series will chronicle the interconnected web of police officers, politicians, tradespeople, teachers, and ordinary families who are "all complicit" in perpetuating the cycle of institutional effectiveness that makes Wilmette the seventh best place in the country to raise children.
Using these disparate strands, Simon hopes to weave a narrative of civil ease and affluence that extends all the way from Wilmette's happy schoolchildren to the competent, fairly elected trustees of its Village Board.
"Each episode will explore, in unsparing detail, many different facets of Wilmette," Simon said. "One might begin by depicting the productive bureaucracy lurking behind the Wilmette PTA, and then suddenly shift its focus to the struggles of a Wilmette policewoman desperately trying to settle on the right color scheme for a new addition to her home."
"It's a panorama," Simon continued. "A panorama that asks, 'What are the inherent niceties that bind these characters together?'"
The Township will feature an ensemble cast, including actors Wendell Pierce and Dominic West from The Wire as a pair of successful, well-adjusted real estate agents who occasionally grab one quick drink after work before returning home to the families they love.
Simon also confirmed that he had hired a number of his usual writing collaborators, including hard-edged urban-crime author Richard Price, to help realistically capture the pleasant, grammatically impeccable vernacular used on the nice streets of Wilmette. Real-life citizens of the town will also be cast in various small roles to lend the show an intense, you-are-there quality.
"It's crucial to the veracity of the series that we depict Wilmette as it really is, frills and all," said Simon, who claimed that shooting at the actual promenades and well-maintained public spaces of Wilmette will provide a powerful sense of authenticity. "The tree-lined avenues, the manicured lawns, the quaint but state-of-the-art school buildings—we're going to take all these things, put them on the screen, and say, 'See? This, this, is the real Wilmette.'"
Simon concluded his announcement by stressing that, even under pressure from the network, he would not shy away from portraying some of the tougher elements of Wilmette life that take place each and every day.
"The truth is that some pretty unpleasant things happen in Wilmette," Simon said. "Sometimes it rains. Sometimes a kid accidentally leaves his backpack at school. Our goal is to show how these problems develop."
Added Simon, "And to show how they are quickly resolved, too."