PALO ALTO, CA—In a revolutionary breakthrough with the potential to forever alter the way humans defecate, Palo Alto-based Internet company Ascent Technologies announced Monday the successful development of the first-ever "e-toilet."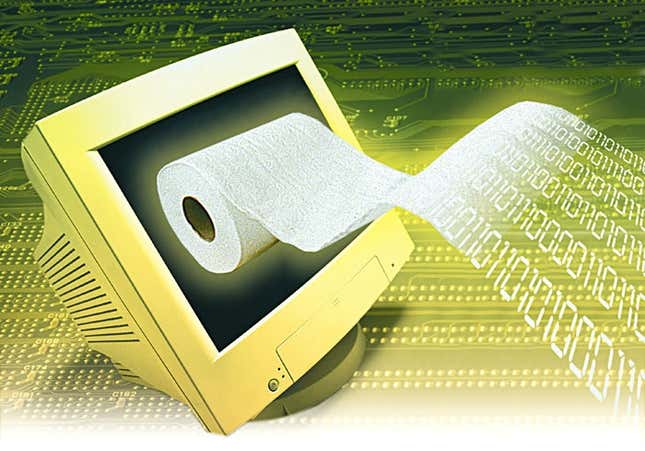 Body Language Fact: Did You Know?
"It's incredibly exciting," said Ascent CEO Jeff Scoscia, considered by members of the digerati to be the father of the cyberdump. "The e-toilet will revolutionize on-line waste elimination through the democratization of access to high-speed electronic bathrooms." "Of course, rudimentary pee-commerce has been around almost as long as the Internet itself," Scoscia said, "but our new e-toilet will bring the Internet into the next millennium with real-time point, click and shit capability." Scoscia noted that "Number 2.0," as Silicon Valley insiders have dubbed it, will be cross-platform compatible and fully 2K Flushes compliant. In addition, he said, it will feature significantly wider, more comfortable bandwidth to accommodate even the most massive user download. Though e-toilet prototypes have existed for years, the Ascent model's flexibility and ease of use make it the first on-line shitting system that users are expected to embrace on a mass scale. "No more frustrating lock-up problems—and even the most novice cybershitter can easily mount the e-toilet on his or her desktop," said Wired associate editor Graham Roehner, whose 25-page special report on the future of cyberdefecation will appear in the magazine's November issue. "Just log on, log out, and log off. It's that simple." "In the near future," he added, "everyone will shit on-line."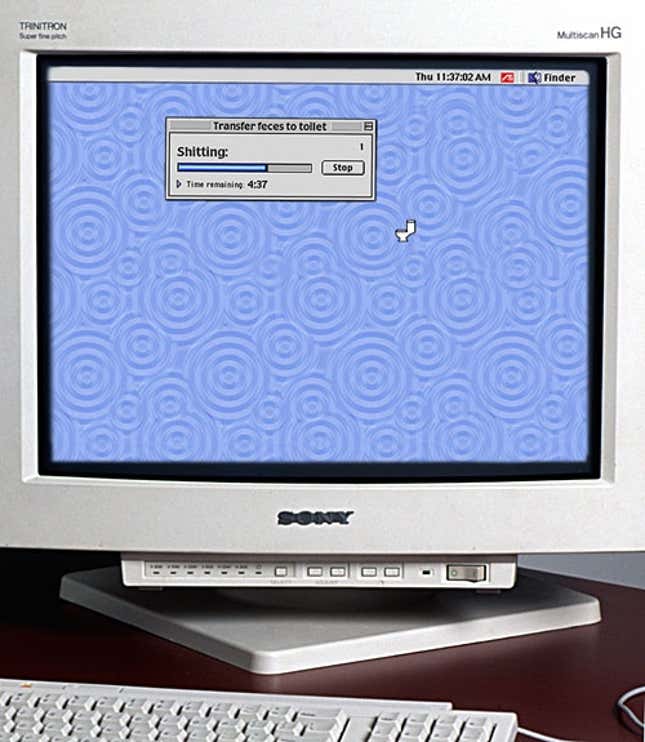 According to Roehner, other features of the e-toilet include real-time urine-streaming, the capacity to add Plug-Ins, and six months free membership in the popular on-line lavatory community eBidet. In addition, it has full multitasking capability, enabling cybershitters to read on-line versions of magazines and newspapers while on the e-toilet. The Advent e-toilet also has a decisive edge over previous models in the area of on-line security.
"It used to be that just any netizen could interrupt you while you were downloading on an e-toilet," said Fast Company technology reporter Warren Dishman. "But thanks to this new e-toilet's advanced 64-bit encraption algorithm, there is a greatly reduced chance of barge-in. AOL users who are used to interruption from the dreaded Instant Message won't have to worry about the IM-BM conflict any longer. And up to 24 network users can use a single e-toilet without fear of catching a virus, no matter who has used it before them." As proud as e-toilet designers are of the "line after line of fat code" they laid down while beta-testing their new platform, they said they are even prouder of the breakthrough design of its user interface. "Early e-toilets forced users to keep a lot of windows open, so e-dumpers lacked the kind of privacy you want while doing your business," said designer Peter Cheng, a self-described "whiz kid" who has put hundreds of gigaflops through the new e-toilet without once encountering the dreaded, bomb-emblazoned "Shit Failed" message. "As a result of all the open windows, many users, feeling uncomfortable and nervous, would 'back up,' often leading to painful RAM problems, corrupted cache, and the embarrassment of having to wipe and reformat the entire root directory after a botched download." According to Scoscia, the Ascent e-toilet's innovative "Unplug & Play" desktop tiling is cleaner, more customizable and 80 percent less likely to collect "cookies" than those of other e-toilets. "For three years—an eternity in this field—the story has been, 'Same shit, different data,'" Scoscia said. "Well, no more. We've seen the last of computer users sitting at their terminals broken-hearted, having paid $99, but couldn't start it." "With the new Advent e-toilet, cutting-edge cyberdump technology has finally arrived and is within reach for all Americans," said Scoscia, smiling. "The question is: Do you want to go today?"