SAN FRANCISCO—The "New Economy"—the Internet-driven business landscape once predicted to make "bricks and mortar" retailers obsolete—was wistfully recalled Monday, when a small dot-com promotional item was discovered in the junk drawer of former dot-commer Eric Noyce.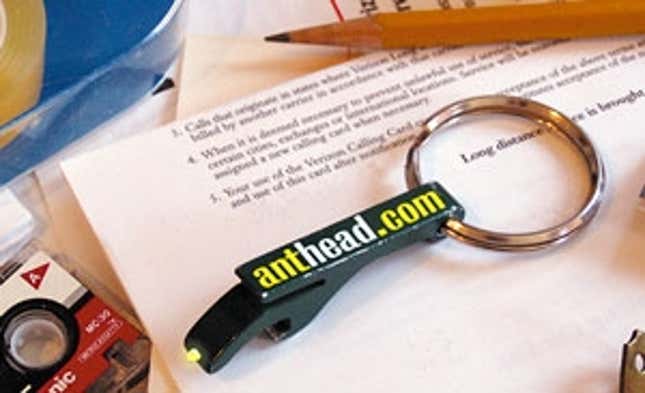 Edgelords Explain Why They Love Elon Musk
Noyce, 28, an associate vice-president of business development for Pets.com from August 1998 to December 2000, came across a small gadget emblazoned with "antHead.com" while searching for a corkscrew to open a $3 bottle of wine.
"Holy shit, check this out," said the minimum-wage-earning Noyce as he examined the slick-looking promotional doohickey. "antHead.com. I think I remember getting this. It was in a goodie bag I got at some launch party. antHead, antHead… What did they do again?"
According to roommate Bryan Bollinger, a former Flooz.com tech-support supervisor and current delivery driver for Angelo's Pizza, Noyce became sentimental and introspective while gazing at the useless but expensively manufactured trinket.
"He had this far-away look in his eyes, like he'd been transported back to a more innocent, simpler time," Bollinger said. "I guess we can all relate to that feeling."
Bollinger, who has bounced between unemployment and under-employment for two and a half years, then returned to watching TV as Noyce continued to wax nostalgic.
"Wait a minute," Noyce said. "I remember this antHead thingy having some sort of button that would light up different colors every time you squeezed it. Shit, how much do you think something like this would cost to make? Those guys must have spent a fortune on these. It doesn't really do anything, but I remember pulling it out of my launch-party gift bag, thinking it was kind of cool. Sort of."
Noyce then tried to squeeze the object to see if it would still light up. It did not.
Like thousands of other dot-com promotional doodads produced from the mid-'90s until the New Economy bubble burst in the winter of 2000-01, the object was created as a means of "raising awareness and generating excitement about the brand." Handed out by the thousands at antHead.com's extravagant launch party in July 1999, it soon found its way into Noyce's bedroom junk drawer, along with numerous other equally functionless giveaways from the time, including a FilmZone.com miniature director's chair, a Boo.com yo-yo, and a Kozmo.com glow-in-the-dark floppy flyer.
"Wait, I got it!" said Noyce, snapping out of his silence. "antHead! They had this huge pre-launch ad campaign in alternative weeklies across the country, with those mysterious 'teaser' ads that showed the ant-face logo with just the words 'antHead Is Coming.' When they finally launched, the party was held in five cities simultaneously, each one simulcast to the others via live satellite feed on huge video-projection screens. I'm pretty sure Douglas Coupland was the celebrity host."
Added Noyce: "I think the antHead site offered either original Shockwave-animated programming, live music webcasts, or both. Or neither."
Though neither Noyce nor anyone else in the U.S. can remember, antHead.com went public in August 1999, making its debut on NASDAQ at $17 a share. By April 2000, the stock had risen to a whopping $114 per share, with a market cap of $81 billion.
As part of their compensation packages, Noyce and his fellow dot-com employees were often issued stock options, which have come to be known in the financial world as "pretend Internet money." This pretend money, now estimated to be of slightly less value than the multi-colored paper bills used in Monopoly, was considered extremely valuable at the time. A great deal of this imaginary wealth was actually used to purchase Time Warner, one of the largest media conglomerates in the world.
"I remember the food at the antHead launch was great," Noyce said. "They had ceviche and grilled shrimp on skewers and these really great mini-fajita hors d'oeuvres. I just wish I could remember more about the company."
According to financial analysts, for many people Noyce's age, the New Economy boom was a mythic, idyllic time in American history.
"Prosperity seemed to hang from tree boughs like ripe fruit," said Forbes senior writer Peter Kafka, author of What The F@%* Happened?!?: The New Economy—Fall '97 To Winter 2K. "A revolutionary cyber-transformation of global culture and commerce seemed only 12 to 18 months away, and it felt like nothing could ever go wrong. It was a time of innocence, idealism, and magic."
"There we all were, straight out of college with zero real-world work experience, making $500,000 a year for, like, 12 weeks before transitioning into long periods of unemployment," Bollinger said. "Man, those were great weeks."
"Reminiscing about those days must be an emotional experience for Noyce," Kafka said. "Those antHead people had practically unlimited venture-capital start-up funds. He probably can't help but wonder about all the things that money could have bought, like a washing machine so he wouldn't have to haul his laundry all the way down to the basement of his rathole apartment complex every time he needed to wash his Arby's uniform."