WASHINGTON—In an attempt to address rising pedestrian deaths, the National Highway Traffic Safety Administration launched a new educational outreach program Monday to encourage people to "Get The Fuck Outta The Road."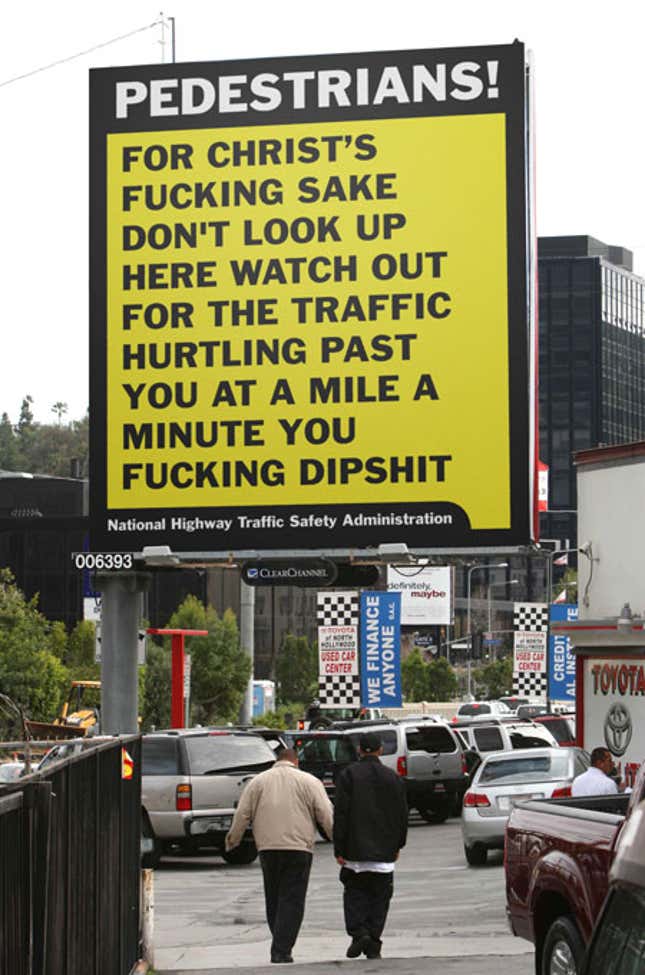 This Week's Most Viral News: September 22, 2023
The program began in selected cities this month with the distribution of pamphlets at each city's most dangerous intersections. It will also expand into national radio spots, televised PSAs, and, most importantly, word-of-mouth. Included in the pamphlets are tips on how every responsible pedestrian can learn to "Get The Fuck Outta The Road," including "Move your ass!" and "Look where you're fucking going for once!" as well as an instructive diagram for removing one's head from one's ass prior to stepping into the crosswalk.
NHTSA officials say they hope the program will eventually branch out to include elementary schools with the child-friendly program "Hey Kids, Get The Fuck Outta The Road!" which will feature a mascot called Tire-Tread Teddy.
"Our studies show that a large majority of accidents were caused by a direct failure of the pedestrian to not step right in front of a goddamned bus," program director Drew Dawson said during a press conference to announce the NHTSA's new website, MoveItOrLoseItAsshole.com. "We designed this program to be an easy-to-understand informational tool that will hopefully get these geniuses to pay some fucking attention."
"We're already planning a follow-up campaign to keep our message fresh," Dawson added. "By the third time you tell a pedestrian to get outta the road, they're already on their fucking cell phone again."
The NHTSA has also launched a number of complementary subprograms using funding from the National Truck Drivers Union and Greyhound Bus Lines. These include "Oh, Good, Just Ride Your Bike Down The Middle Of The Road Why Don't You," "Ever Heard Of A Crosswalk, Dickhead?" and, for more affluent metropolitan neighborhoods, "What The Fuck—Are You Listening To Your Special Getting-Hit-By-A-Car Mix On That iPod, You Vacant Asshole?"
The new program has already shown positive results. A test study in downtown Chicago was found to be nearly twice as effective in preventing pedestrian casualties as the NHTSA's previous "Have A Safer Journey" program. Likewise, early trials the family-oriented, "You Must Be Thinking, 'Hey, I Bet My Kids Are Playing In The Driveway, So I Think I'll Go Back My SUV Out Of The Garage Without Even Fucking Looking And Pulp Them Into A Steaming Red Mess,'" have been similarly successful.
Pedestrians who have been exposed to the NHTSA's innovative approach have reportedly received the message loud and clear, with many crediting the ad campaign with reminded them of the importance of being vigilant and responsible pedestrians.
"Cram it up your ass, I'm walking here," said Robert Catalonis, a D.C. native. "I'm an asshole? You're the asshole."
Although the long-term efficacy of the program remains to be seen, Dawson said there was a very real chance that the average pedestrian is "just too fucking ignorant" to learn anything from the NHTSA campaign.
To that end, he admitted that the agency had already begun work on a contingency plan in the event that the current program fails. While Dawson would not disclose many details, he said the backup program, called "Actually, Come To Think Of It, Just Go Ahead And Die, Fuckhead. See If The NHTSA Gives A Shit" would be a series of highway billboards.