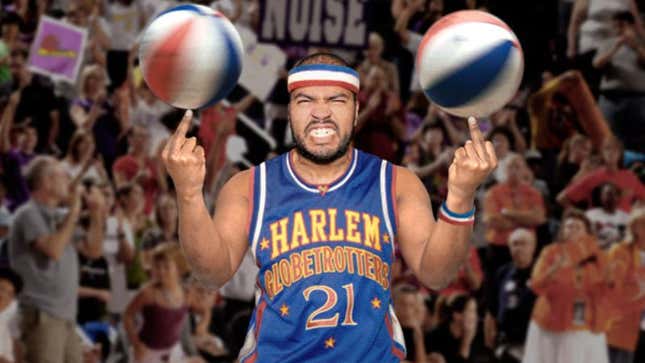 HARLEM, NY—Globetrotters coaches announced Monday that, due to his shockingly inappropriate on-court behavior—including taking trick shots designed to injure opponents, performing his signature Globetrotter move of spinning two basketballs on his middle fingers, and throwing elbows after getting rebounds—Rudy "Rude Dude" Williams has been suspended for the team's next three games.
CDC Issues Dire Warning That Nick Cannon Is Feeling Horny
"We in the Globetrotter organization pride ourselves on playing basketball in a spirit of good-natured hijinks, if not complete fairness, and we regret that one of our players has fallen short of this standard," a press release for the club read in part. "Because Mr. Williams hasn't learned to limit his shenanigans to traveling, goofing, and bouncing the ball off defenders' foreheads without doing serious cranial damage, he will not dress for our upcoming games against the Washington Generals, the Washington Generals, and the Washington Generals."
Rude Dude came to the Harlem squad when coaches noticed that their opponents had a tendency to score more easily late in the second half of games, usually closing to within a mere two points and forcing the Globetrotters to resort to unlikely heroics to win. It was decided a stronger defense was needed, and a contract was offered to Rude Dude, a former defensive standout at UNLV.
"In retrospect, it was a bad move," said coach Tex Harrison, who recruited Rude Dude. "He was a low-post player primarily, and not only was he unaccustomed to dribbling two balls at one time, he told us he found the entire practice to be 'pretty damn stupid.'"
According to Harrison, Rude Dude took forever to grasp the intricacies of the figure-eight offense. Instead of letting the Generals just follow him through the Globetrotter Weave, Williams would set a pick, send opposing players crashing to the ground, and stand over them while flexing and taunting. In addition, whenever the Globetrotter's theme song, "Sweet Georgia Brown," was played over the PA system, Rude Dude would reportedly just sit on the bench, loudly and deliberately whistling out of key.
"We wanted toughness, yes, but a sort of funky, clowning toughness," Harrison said. "Rude Dude did not understand this."
In the past several months, complaints against Williams have continued to mount. During a game in Indianapolis, the Globetrotters went into their famous football formation, an offensive scheme designed to confuse and disorient opponents due to the preposterous nature of football being played on the basketball court. When the basketball was "intercepted" by Generals center James Vilsaint, Williams tackled him and drove him headfirst into the hardwood court, giving his opponent a severe concussion and a fractured collarbone. In the same game, Williams, instructed to "get" a referee with a bucketful of confetti, grasped the official by the back of the neck and roughly shoved his head inside the bucket, holding him there until he passed out from oxygen deprivation.
In what some say is his biggest failing as a Globetrotter, Williams has refused to place pre-spun basketballs on children's fingers, often telling young fans to "spin it your own goddamn self." In the rare instances in which he has put pre-spun balls on their fingers, the results have been disastrous.
"See that? That's me that did that, not you," Rude Dude can be heard saying in a particularly infamous YouTube clip in which he places a ball on the finger of a pigtailed and freckled 9-year-old girl. "What, you gonna cry? You are, you're crying. Jesus, I can't believe this shit," the Globetrotter says just before striking the girl's hand from below, sending the ball caroming out of the frame as the girl bursts into tears.
The clip has been viewed more than 250,000 times.
"Not everyone is cut out to be a Globetrotter," Harlem GM Nickolas Cardinale told reporters. "But I've talked to Rude Dude, and he says he wants to make it work. I think he understands now that Globetrotters can't get in fights with the bouncer at Dave & Buster's, can't be in 'Stop Snitching' videos, and I think he also understands that when we take female fans to center court to dance with them, they shouldn't be touched inappropriately."
"He wants to play here," Cardinale added. "But he also knows that we're open to trade offers."
Thus far, only one team has shown interest in acquiring Rude Dude.
"We'd love to have Rude Dude," said Red Klotz, owner of the Washington Generals, a team that hasn't beaten the Globetrotters since 1971. "Frankly, I'm tired of the culture of losing that has come over this team, and Rude Dude might just be the kind of player we can beat them with."