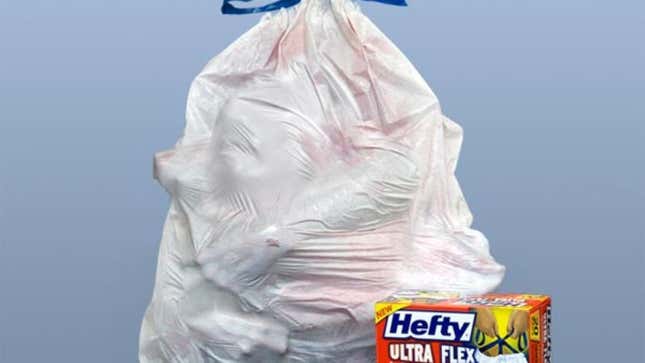 LAKE FOREST, IL—Hefty Consumer Products unveiled a new ad campaign this week touting its line of trash bags as the only ones capable of handling tough and messy corpse-removal jobs.
This Week's Most Viral News: September 29, 2023
Representatives said the ads are designed to target a segment of the population long overlooked by the company, and will depict Hefty bags as the strongest, most durable, and least likely to be punctured by shards of human bone.
"With Hefty, cleanup is a breeze," a press release from the company read in part. "Just load up all your unwanted garbage, secure the bag with our easy-to-tie handles, and quietly slip out your back door under the cover of night."
The release went on to explain that Hefty bags satisfy an ever-changing array of consumer needs, no matter how disturbing. Guaranteed never to tear, the bags can reportedly prevent unsightly garbage from spilling out onto kitchen floors, steep basement stairs, or isolated cabin crawl spaces deep in the woods.
According to vice president of marketing Rebecca Kohler, her team has worked hard to highlight Hefty's unique waterproof design, which prevents sticky fluids from ever leaving a trail.
"Hefty is a name you can trust," Kohler said at the Advertising Executives of America's annual conference in San Francisco Tuesday. "We want all of our customers to know that, whether they're tidying up their rec rooms to make space for a new sofa, or saying goodbye to their longtime business partner, Dale, our trash bags can be counted on time after time."
The $12 million campaign is the result of months of intense market research and hundreds of anonymous interviews. Its aim, executives said, is to appeal to consumers looking for a disposable container small enough to fit inside a standard car trunk, yet large enough to make using a wood chipper unnecessary.
Publicity has already begun in five markets nationwide, with print ads appearing on billboards by the side of select derelict highways and in dozens of seedy motel parking lots outside East St. Louis. The campaign's main slogan, "No more headaches! No more skulls!" will also appear in a series of commercials scheduled to air on the cable network TNT starting Thursday.
In the first of two 30-second spots, a shadowy figure is seen exiting his home while dragging a large trash bag. Suddenly, the bag tears open and its contents fall noisily onto the lawn, waking up neighbors and alerting nearby police officers. As the man is dragged away in handcuffs, he looks at the camera and says, "I should have gone with Hefty—now available in large, extra-large, and family-size!"
The commercial then cuts to a split screen of two trash bags, one Hefty and the other made by a leading competitor. Both bags are quickly filled with various discarded items, including femurs, bloodied torsos, and a number of severed feet. The Hefty bag is found to hold nearly 40 percent more waste.
In addition to the televised spots, Hefty will air a series of testimonials featuring everyday American citizens.
"Taking out the trash used to be a chore," the faceless silhouette of a Kentucky man in one ad says. "Since I switched to Hefty, though, I don't have to worry when I drag some defenseless woman behind the textile mill and do with her what I will—I just dump her mangled body in a landfill and forget it. It's that easy."
"My wife would constantly nag me about taking out the garbage," remarks another consumer, Florida resident Michael Howard Baker, a consumer in another ad, while carrying a trash bag to a van parked in his driveway. "But, thanks to Hefty, I won't have to listen to her anymore at all."
"Now will I, you bitch?" he adds.
The company hinted that a string of promotional tie-ins, including a free bottle of commercial bleach, two meat cleavers, duct tape, and representation from a bar-certified defense lawyer, would also be worked into the campaign.
Though market forces will ultimately determine the success of the ads, some critics have already blasted Hefty's new campaign as irresponsible.
"This kind of marketing is deplorable and immoral," said Jonathan Herring, professor of media studies at Columbia University. "If Hefty thinks they can get away with this, they must have lost their minds."
Added Herring, "Twelve dollars for a box of trash bags? No, thank you."