WASHINGTON, DC—A bipartisan Congressional initiative passed Monday promises that relief, in the form of a national, 12-cent bottle-and-can refund, will soon come to the nation's estimated 600,000 homeless.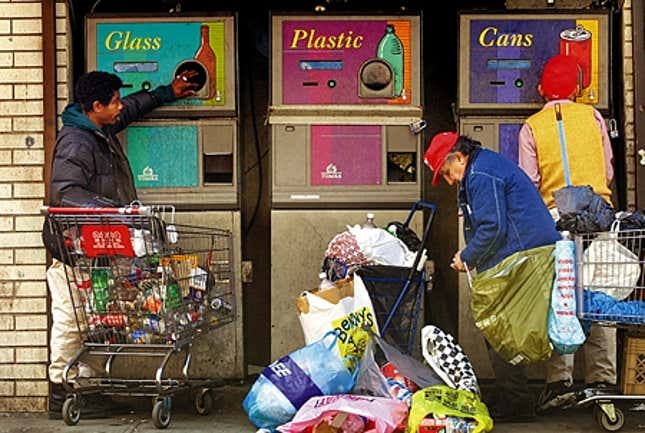 This Week's Most Viral News: September 29, 2023
"We can no longer ignore the problem of homelessness in our country," Rep. Benjamin L. Cardin (D-MD) said. "Under the new program, all aluminum and glass beverage containers will be required to carry a minimum refund value of 12 cents, boosting homeless citizens' incomes and endowing them with a sense of pride in their work."
Citing the track records of local deposit plans, the Subcommittee on Human Resources drew up a proposal that would tap into the nation's existing infrastructure to minimize the homeless epidemic without creating budgetary hurdles. Dubbed the Shelter And Recycling Initiative (SARI), it is the first nation-wide, federally mandated bottle-deposit program. It is also the first government program designed to lift the burden of homelessness from the taxpayers' shoulders.
"For homeless can-collectors in my home state of Michigan, the plan represents a 20-percent raise," Rep. Dave Camp (R-MI) said. "For those in states like California, New York, and Iowa, it represents a whopping 140 percent wage increase. Everyone wins: The homeless enjoy a higher standard of living, and we taxpayers enjoy cleaner streets, free of cans and bottles!"
Under the plan, an additional 50,000 bottle-and-can redemption machines will be placed in front of the nation's grocery stores to cut down on the amount of time homeless people spend in line.
"This is the best way to help the homeless help themselves," Camp said. "Think of how good they'll feel about themselves when they can march right up to that refund machine, deposit their grocery basket full of bottles and cans, roll on over to the register, and pay for their Dinty Moore stew with money they've earned."
According to Camp, if the homeless can't "pull themselves up by their bootstraps" after the return-rate increase, then "there is no helping them."
"This is a chance to give the homeless a hand up, instead of a handout," Camp said. "With the amount of alcohol they consume, industrious homeless winos will be able to drink themselves to a better life."
The refund bill, though approved by Congress, has caused a public outcry. Makers of boxed beverages argue that the bill will create a windfall for aluminum- and glass-packaged beverage manufacturers. Soda drinkers argue that soda is expensive enough as it is, without the additional expense of a deposit. Activists have suggested that the bill is "insensitive."
"This program is a slap in the face for the poor and unfortunate," homeless advocate Neal Schweiber said. "Does Congress really think they can sweep the problem of homelessness under the rug with a 12-cent rebate? Nothing less than 20 cents per container constitutes an effective policy shift."
Added Schweiber: "Have you ever had to dig through someone's trash to make a living? I haven't either, but I have seen people do it. It looks extremely unpleasant."
Homeless-shelter worker Patricia Wenzel agrees that the initiative is inadequate.
"This bill has no provisions to care for disabled homeless men and women, many of whom do not have the capacity to collect drink containers," Wenzel said. "We need to provide all hopeless and destitute individuals with a ray of hope."
In spite of the warnings and protestations of its detractors, the subcommittee plans to institute SARI by Nov. 12, 2005.
"This isn't a tax, it's a deposit in our future," Camp said. "And taxpayers who opt out of their redemptions can write off discarded cans as a contribution to the poor. As the saying goes, one man's trash is another man's treasure."