EL SEGUNDO, CA—Executives at Mattel Inc. held a press conference Monday to unveil the toy company's latest product, Plain Pamela, a homely doll designed to boost the confidence of girls ages 7 to 12.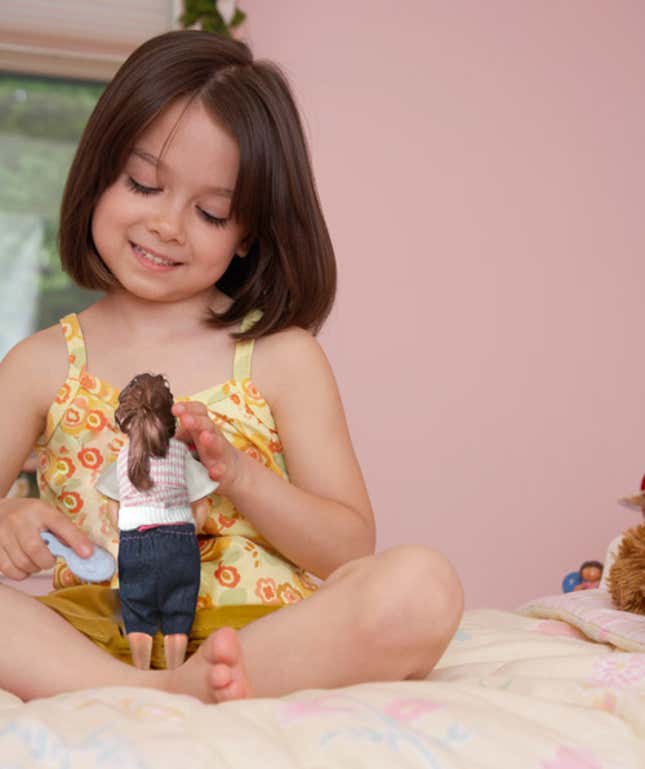 This Week's Most Viral News: September 29, 2023
The pale, unsightly plaything, which has a plastic torso scaled to the proportions of a 5-foot-4, 179-pound woman in her mid-30s, is being touted as the first toy expressly intended to raise the sense of physical and emotional self-worth in preteen females.
"While we still value our classic Barbie franchise, we understand the need for dolls that offer an alternative body image," Mattel CEO Robert Eckert said. "And that's why we've created Plain Pamela. She's drab, she's dumpy, she's nothing to write home about, and she's going to make the girls of America feel like beauty queens."
Added Eckert, "Relatively speaking."
Mattel, which has been criticized in the past for promoting unrealistic standards of beauty, claimed that the new doll would not only improve the self-esteem of growing girls, but would also give them someone to feel superior to for hours on end.
Modestly priced at $7.99, each Plain Pamela doll comes prepackaged with a variety of unflattering and ill-fitting blouses to drape over her shapeless torso, as well as a packet of paste-on psoriasis spots to apply along her arms and back.
Mattel designers have also included a button at the base of the doll's pudgy neck that randomly plays one of 24 preprogrammed phrases, including "I wish I was pretty like you," "That's okay, you go out and have fun without me," and "Ugh."
"Kids today want toys that are highly customizable," Eckert said. "Which is why every Plain Pamela comes with four interchangeable hairstyles: Just-Woke-Up, Too-Long, Too-Short, and What's-the-Point-of-Even-Trying-Anymore-It's-Not-Like-It's-Going-to-Make-a-Difference. Girls are going to love deciding which of Pamela's hairdos makes them look prettier by comparison."
"Plus, each doll comes with a variety of fun, ego-enhancing features that will allow girls to feel better about themselves as they help Pamela fit into her size-14 doll pants or wipe refillable 'tears' from her swollen face," Eckert added. "This is a huge leap forward in body-positive toys."
Mattel plans in the future to sell a number of playsets for the doll, including the Plain Pamela Cramped Studio Apartment, complete with special Dinner-for-One Kitchenette and Depressing Stack of Old People Magazines.
If Plain Pamela catches on with kids, company officials said, she may soon be joined by an entire line of fun, psychologically reassuring friends. Already in the works for the fall are Lil'-Too-Drunk Linda, whose debilitating dependence on alcohol will make any girl feel better about her own unstable home life, and Plain Pamela's Sympathetic Gay Friend, Craig.
Medical consultants for Mattel have confirmed that the poorly postured and overly awkward doll can effectively serve as an image-enhancing device for children.
"Preliminary tests have shown that as little as one hour of playtime with Plain Pamela can make even the frumpiest, least self-assured young girl feel remarkably positive about her own physical attributes," Mattel child psychologist Dr. Martin Janosch said. "Which, if you've seen the Plain Pamela doll, is not entirely surprising."
Added Dr. Janosch, "She's not exactly easy on the eye."
Mattel also announced that it would begin production next year on Timorous Tim, a fey, cowardly action figure designed to boost the confidence of shy young boys.