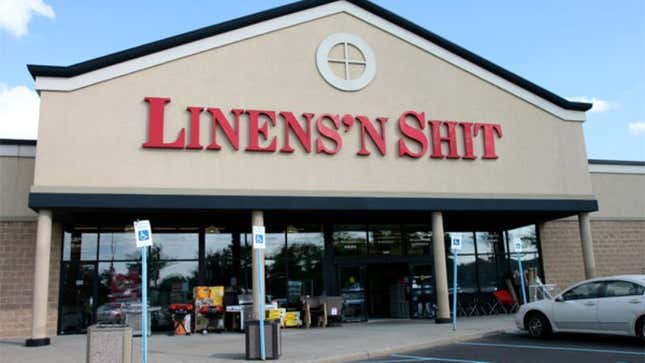 MACON, GA—Linens-N-Shit, the nation's largest retailer of bedsheets, tablecloths, and a wide assortment of other shit, will open its new location Tuesday morning at the Macon Mall.
This Week's Most Viral News: September 29, 2023
"We are excited to open our first store in the Macon area, and we encourage shoppers to arrive early and check out all of our great linens and shit," said Robert Barlow, the company's senior vice president. "We're proud to offer the local community the best selection of the name-brand shit you want at the prices you love."
"We've got all sorts of shit," Barlow added. "Bath shit, kitchen shit, shit for the bedroom, seasonal shit, and all the other shit you could possibly imagine, plus linens."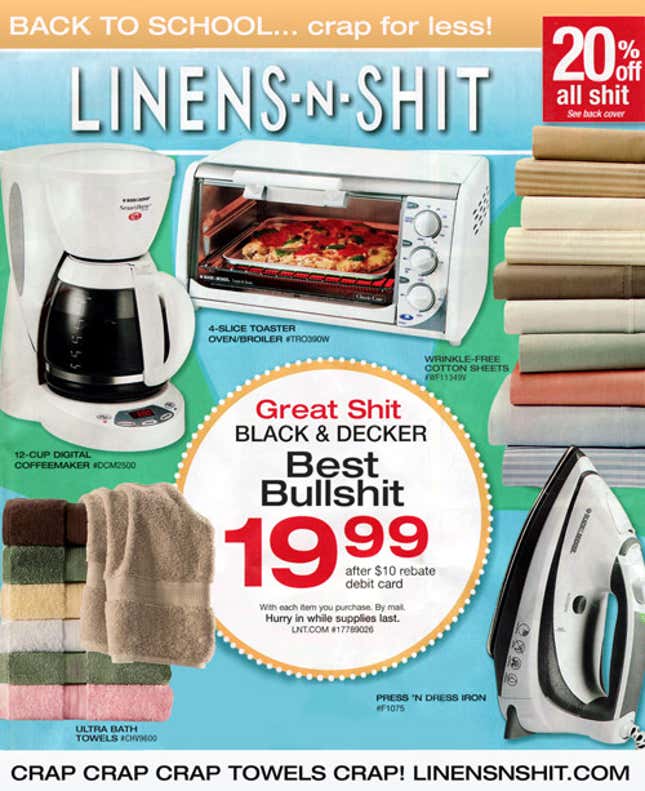 The store is scheduled to open its doors at 6 a.m. The first 100 customers will receive a bunch of free shit.
The 55,000-square-foot facility features 12 full-service checkout lanes and six express lanes, four kiosks to register shit for important events, and dozens of aisles stacked floor to ceiling with an estimated 650 tons of shit. Kenneth Resch, manager of the Macon store, said that if customers cannot find shit in the right color or size, the shit they need can be located in heaping piles of overstock shit in the Linens-N-Shit warehouse.
"Anything not available at our retail location can easily be purchased from our online store at linensnshit.com," Resch said. "We've got a crapload of shit there."
Resch, who oversaw the hiring process for the store's 120 full-time and part-time employees, praised his staff's friendly and helpful service, as well as its willingness to sort through enormous bins of shit in order to match the right shit to the customer's needs.
Customers who got a sneak peek at the new store during its silent opening Friday evening were impressed.
"Look at all this great shit!" said Macon resident Joy Anderson, who claims she usually spends an average of $500 a month on linens and other shit. "Whenever we wanted to buy a ton of shit before, we had to go all the way out to the Galleria Mall in Centerville. But now we've got all the shit we need right here."
Although a sluggish market has forced many large-format retailers to scale back their operations and even close locations, Linens-N-Shit insists that the economy will not prevent the store from providing the consumer with superior quality linens, storage and organizational shit, framed crap, and some foreign-made designer bullshit.
"We've always had a simple strategy of selling shit and linens to people, and we don't intend to stop now," CEO Henry Considine said. "This company has weathered both the credit crisis and the housing-market crash, because no matter how bad the economy gets, consumers will always continue to buy shit."
In response to the overwhelmingly positive reaction to Linens-N-Shit stores, the company plans to sell excess shit as well as irregular or slightly imperfect crap at their new Shit-N-Shit factory outlets.