AUSTIN, TX—A new documentary titled Punched Out!!: The Mike Tyson Story, which follows the legendary boxer's career from his debut as a challenger to the infamous DREAM FIGHT!! against Little Mac in 1987, will premiere at the 2009 SXSW Film Festival.
Ten of Tyson's most well-known opponents are interviewed in the film, with Von Kaiser, Soda Popinski, Don Flamenco, King Hippo, and others reminiscing about the boxer's career.
"Tyson was the best," said Mario, the referee who officiated every WVBA boxing match ever. "Most challengers couldn't even land a punch on him. They'd be knocked to the ground by a single blow, TKO'd within the first round, and forced to travel back to Hollywood to fight Super Macho Man again to qualify."
Running 144 minutes without pauses, the documentary follows Tyson through the MINOR, MAJOR, and WORLD CIRCUITS, where his fighting took him to faraway and exotic places, including Tokyo, Spain, the USSR, and Hippo Island.
Director Kazuo Yoneyama incorporates highlights from Tyson's storied career, including footage of the boxer blocking Great Tiger's Magic Punch instead of trying to dodge it, landing a knockout while fending off Piston Honda's devastating Bonzai Attack, and defeating Mr. Sandman even though all his friends said it was the most impossible thing ever.
G/O Media may get a commission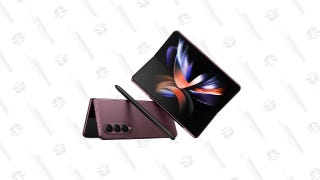 Save Up to $300
Galaxy Z Fold4
"MY BODY [WAS] JUST SO TOTALLY COOL," a wistful Super Macho Man said during promotional interviews. Twenty years after his heyday, the clinically depressed former bodybuilder is confined to a wheelchair, the result of medical complications arising from the weight of his enormous upper torso bearing down upon his tiny legs.
Also sobering is the fate of Tyson's first-ever opponent, French boxer Glass Joe (0-99), one of the few boxers who could not be interviewed for the film, as the thousands of devastating blows he took to his head and body over the course of his career rendered him incapacitated in 1993. Glass Joe achieved his reluctant fame by telling Tyson to "MAKE IT QUICK…I WANT TO RETIRE" between the first and second round of their fight, an irony noted by the director.
Painstakingly editing thousands of hours of eight-bit footage from classic matches, director Kazuo Yoneyama uses a vivid yet somewhat primitive palate of 64 colors to portray Tyson as a talented but poorly defined boxing savant.
"Tyson was the toughest fighter in the boxing game at the time, but he was also the first fighter to pay attention to patterns and warning signals," Yoneyama said. "Before he came on the scene, no one realized that opponents sometimes raise their eyebrows or twinkle the gem in the middle of their turban immediately before throwing a punch."
Tyson himself admits that it was his incessant blinking—the only time he showed any weakness in the ring—that ultimately lead to his demise.
According to the film, Tyson went 31-1 with 27 knockouts, ultimately losing the heavyweight championship to the 107-pound Little Mac, a 17-year-old Bronx native. Mac, who was coached and managed by the legendary Doc, was known for his abnormally small stature and his limited arsenal, throwing only three kinds of punches throughout his career. He is also recognized as the first boxer ever to wear a tank top in the ring.
Tyson and Mac's infamous fight lasted two minutes and 59 seconds into the third round, the longest boxing match in WVBA history. The victory is known for having as many descriptions as there were witnesses.
Though Mac was revered for his unlikely victory, the documentary is unsympathetic toward the boxer, who was eventually embroiled in a number of scandals, including suspicion of using performance-enhancing drugs to gain health between the first and second rounds. Experts have claimed his workout regimen of merely jogging behind his bicycle-mounted coach would not have been sufficient to build the strength he displayed in the ring.
Tyson was also accused of purposely causing a clock glitch in his match against Glass Joe in order to break the KO time record, and there was the infamous "password" scandal, U.S. Supreme Court case number 007-373-5963, in which Mac was accused of unfairly skipping all the boxers and going directly to Tyson.
Yoneyama chose to leave Tyson's successor, Mr. Dream, out of the documentary, calling him "a copycat" and "an embarrassment to the sport."
The film is premiering in the SXSW Film Festival's documentary competition alongside Exciting Bikes, a documentary that explores many of the unanswered questions about motocross races of the 1980s, including the mystery of why the track was sometimes blue.