WASHINGTON, DC—In the latest round of political mudslinging, both John Kerry's and George W. Bush's election committees have replaced ads that focus on their opponents' shortcomings with ads that personally insult the voting public.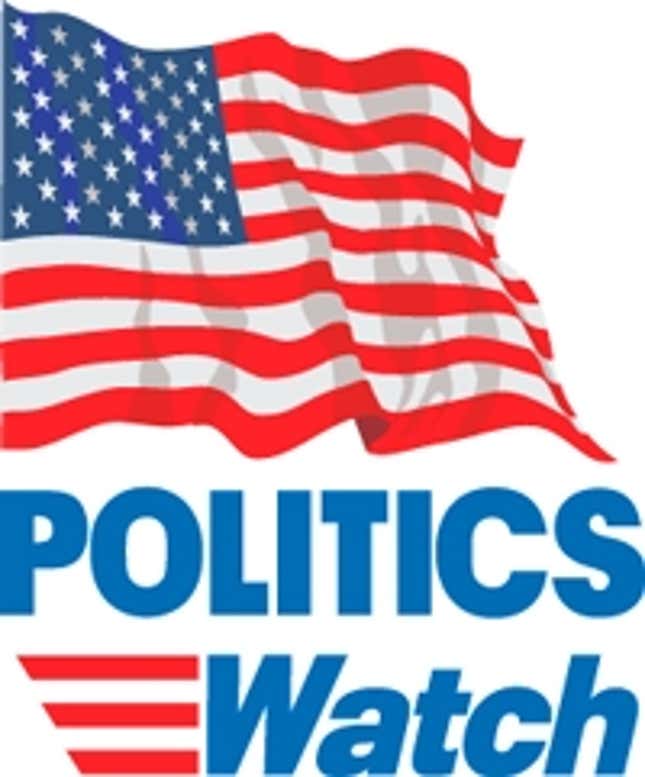 This Week's Most Viral News: September 29, 2023
"The Bush people initiated this volley of negative ads, but we won't be lured into a reactive campaign against the Republicans," Kerry campaign manager Mary Beth Cahill said Monday. "It's time to redirect the cheap name-calling away from Bush and toward those Americans who might be idiotic enough to vote for him."
A controversial 30-second TV spot for Kerry that aired throughout the Midwest Monday blamed the country's ills not on Bush's policies, but on the "sheer stupidity" of America's voters.
"In the past four years, America's national debt has reached an all-time high," the ad's narrator said. "And who's responsible? You are. You're sitting there eating a big bowl of Fritos, watching TV, and getting fatter as the country goes to hell. You ought to be ashamed of yourself."
Over a series of images of America's senior citizens, the narrator of another 30-second spot says, "The Medicare drug bill is a triumph of right-wing ideology masquerading as moderate reform. The pharmaceutical-drug and insurance industries are tickled pink. Guess who's paying for it? You. Congratulations, moron. I'm John Kerry and I approved this message."
The Bush-Cheney 2004 camp recently began airing an anti-voter ad in 20 major urban areas nationwide.
"Are you going to vote for a candidate whose campaign promises would cost America $1.9 trillion over the next decade?" the ad asks. "Of course you aren't. You aren't going to vote at all. In the last election, half of you didn't even show up. So, on Nov. 2, just spend the day right there at your dead-end office job, talking to your coworkers about your new sweater and e-mailing your friends photos of your stupid 2-year-old daughter you shouldn't have had."
The ad concludes: "You make me sick."
Both ad campaigns met with cries of outrage from viewers in all demographic groups, and were therefore deemed successful.
"I don't pay my taxes so some suit in Washington can get on national television and call me a clown," said Bobbie Lee, a 35-year-old mechanic from Detroit. "Those Kerry ads piss me off so bad. So what if my teeth are stained? So what if I do wear sweatsocks? Everyone I show the videotape to gets just as mad. Just who does Kerry think he is? Before last week, I didn't even know his name."
"That Bush ad said that I should wake up to the fact that I'm trapped in a loveless marriage," said 29-year-old Kathlene Richmond, an account executive from West Virginia. "But the Republicans don't understand Larry. He's just not very communicative. You don't think the GOP is right, do you?"
Based on the success of the TV ads, both campaigns have announced plans to attack voters through other media, as well.
New direct-mail campaigns will solicit contributions with such slogans as "Fork over some of your paycheck to Kerry. Or are you too cheap?" and "One in 25 Americans donated money to a national political campaign in 2003. One in three Americans subscribed to cable television. Pathetic."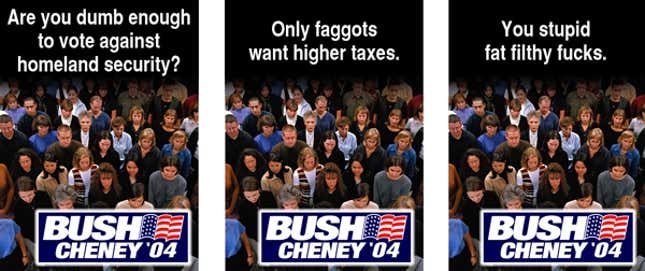 One Bush ad specifically targets homeowners.
"Do you pay property taxes?" the ad asks. "On that shack? Jesus, why don't you fix that place up a little bit? Have some pride. It's filthy. I don't even want to know how long it's been since you last vacuumed, much less painted. You couldn't pay George W. Bush and Dick Cheney a billion dollars to live in that dirty, disgusting, rundown rat-trap."
Although the ads have angered voters, Charles Wayne, a professor of political science at Georgetown University, called them "a refreshing shift toward more honesty in the political process."
"Emotionally manipulative attack ads obscure the candidates' real positions and insult the intelligence of America's voters," Wayne said. "The fact that the major political powers are voicing their disdain for the public shows they are no longer hiding behind empty rhetoric. I see that as a positive step."
Campaign ads containing the slogans "Hey, dumbass—Kerry For President" and "Vote Bush in November, all you stupid shitheads" are slated to appear in 50 major newspapers Friday.