NEW YORK—At a press conference Monday, drug giant Pfizer formally introduced Hoagizine, a pharmaceutical-grade Turkey-Bacon-Guacamole Melt so delicious, it's only available by prescription.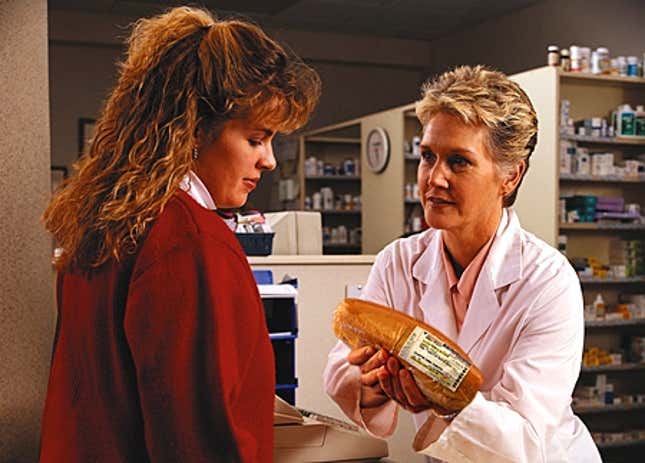 CDC Issues Dire Warning That Nick Cannon Is Feeling Horny
"Made with lean white turkey breast, hickory-smoked bacon, zesty guacamole, Boston leaf lettuce, and ripe tomatoes on crusty French bread, Hoagizine is indicated in the treatment of lunchtime satisfaction dysfunction," said Stephen Spencer, Pfizer's head of research and product development. "But Hoagizine is only available after consultation with a physician, so be sure to ask your doctor if this new sandwich is right for you."
The extra-potent sandwich passed rigorous testing in both branches of the FDA in February. In clinical trials, 96 percent of patients who administered the sandwich orally experienced a deliciousness they described as "heightened," "intense," or even "overwhelming." In the same trial, only 16 percent of those who received placebo sandwiches reported experiencing high levels of deliciousness.
In preparation for Monday's announcement, Pfizer produced 800,000 units of the oral sandwich and distributed them to pharmacies nationwide. Additionally, Pfizer personnel sent out samples of Hoagizine and educated physicians on patient-screening procedures, treatment regimens, and serving suggestions.
"This sandwich is extremely effective in the treatment of severe acute and chronic hunger," Pfizer spokesman Abdul Johnson said. "For consumers who find that their regular sandwich is no longer effectively reducing pangs, the Turkey-Bacon-Guacamole Melt represents a good treatment option."
Johnson said Pfizer may soon offer an even more potent version of the sandwich, Hoagizine CM, which contains 10 grams of chipotle mayonnaise.
Consumer interest in the new Turkey-Bacon-Guacamole Melt is high. Physicians filled thousands of sandwich prescriptions within 24 hours after it was made available.
"I guess I'm not the only one who finds regular sandwiches ineffective," said Rock Falls, ID resident Lois Baird, as she sat in her physician's waiting room. "Frankly, I'd just about given up on bread-and-meat treatments, but if this sandwich is going to help me eat a better, tastier lunch, I want it."
Baird added: "I just hope it's okay to mix Hoagizine with the broad-spectrum soup I currently take at noon."
Although most insurance companies cover prescriptions for the Turkey-Bacon-Guacamole Melt, many physicians recommend that their patients stick to over-the-lunch-counter sandwiches.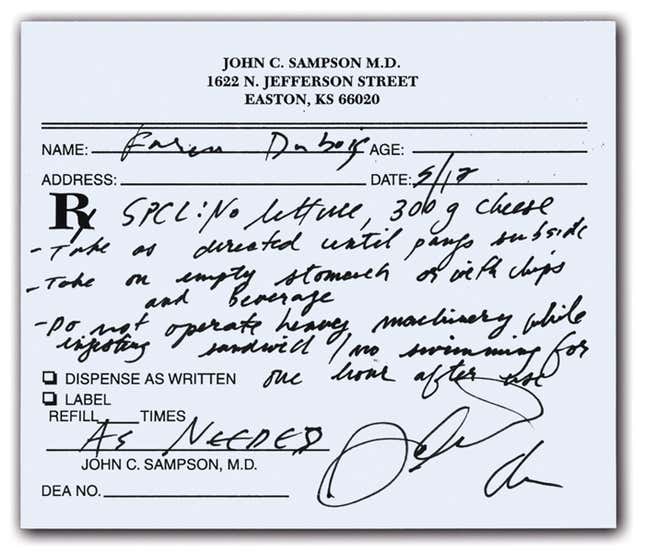 "Hoagizine is a powerfully delicious sandwich," said Dr. Erin O'Malley, chief nutritionist at Cedars-Sinai in Los Angeles. "And there's the problem: It's overkill. Commercially available, high-quality sandwiches are delicious enough for 95 percent of the patients I see. Additionally, those patients who do actually require the extra zest and deliciousness of this medical-grade melt run the risk of becoming addicted to its scrumptious flavor. I consider the sandwich to be an emergency lunch option, for use only when everything on the menu looks so blah that it threatens to ruin your entire day."
Pfizer officials said the Turkey-Bacon-Guacamole Melt comes with some warnings, but that it poses few health risks and, for the most part, is made of all-natural ingredients. Those who are overweight, diabetic, or allergic to wheat or dairy, or have a history of heart disease are urged to seek medical counseling before ordering the melt, and women who are pregnant may require a second dose of Hoagizine.
In Pfizer's lab tests, common side effects of the sandwich included a bloated or drowsy feeling, thirst, and a heightened desire for a side order of chips. If discomfort occurs, patients are urged to temporarily discontinue use of the Turkey-Bacon-Guacamole Melt and lie down on the couch.
"Side effects are certainly within the parameters established for commercially available lunch items," Spencer said. "The one thing we're concerned with is that, with regular use, the bacon and the guacamole could precipitate high cholesterol levels in some patients. But, hey, if your cholesterol does get a little high, that's why we make Lipitor."