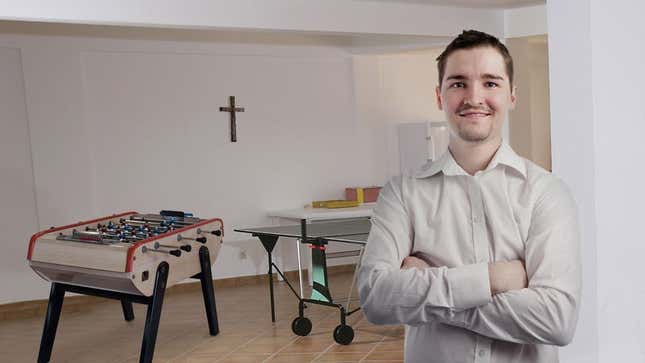 FINDLAY, OH—Saying the space would offer a laid-back atmosphere and a variety of fun activities for young people, 31-year-old local youth pastor Marc Kindler told reporters Thursday the new rec room at Grace United Church of Christ has everything a teenager could want.
FBI Investigating Fourth-Grade Kid Who Said He Has Seen Over 200 Dead Bodies
As he pointed out a collection of two dozen DVDs and Blu-rays, a board game shelf, and a kitchenette where several types of potato chips and other snacks are available, Kindler remarked that the 800-square-foot basement facility is filled with "all the stuff" kids love, and predicted it would be a big hit with 13- to 18-year-old members of the congregation.
"We pretty much have it all down here," said Kindler, gesturing around the room that was until recently the church's primary storage space, and which he has decorated with inspirational prints and several posters of Ohio sports teams. "There's a ping-pong table, foosball, and cold sodas in the fridge. There's a corner with a big couch and some chairs where you can hang out, talk with friends, or just relax. We wanted to make this into a cool place for teens to come after school, you know?"
"To be honest, I don't think there's anywhere else nearby that's got so much going on," he added. "There's definitely something here for everyone."
G/O Media may get a commission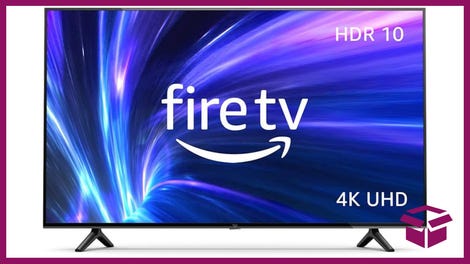 42% Off
Amazon Fire TV 50" 4K Smart TV
Showing reporters around the brightly lit space, the youth pastor called attention to a bookcase containing several Harry Potter novels, a few Bibles, and a stack of teen-oriented magazines, as well as a PlayStation console that features multiple controllers "so you and your friends can play together." He also noted that kids who are into music can plug their iPods into the stereo and listen to whatever they want.
Kindler—who prefers to be called "Pastor Marc"—explained that he sees the rec room becoming a hub of social activity for local middle and high school students, regardless of their interests or background. Though most of the activities are intended to help teens unwind, Kindler noted that the room also offers free Wi-Fi and a designated study area for kids who just want to get a jump-start on their homework.
The youth pastor confirmed the rec room is open from 3:30 p.m. to 8 p.m. on school nights, until 9:30 p.m. on Friday and Saturday, and for at least two hours after worship services on Sunday.
"This is the kind of place I wish I'd had when I was their age," Kindler said. "Young people are welcome to come on in whenever they like and just have a good time together, kick back, pray—they're free to do whatever here. Hey, I was a teenager once, too, so I understand that teens want a place of their own where they can get away from Mom and Dad for a while and just be with their friends."
"And this really is their space," he continued. "Though don't be surprised if I pop out of my office from time to time and play a little Madden with the kids."
Going forward, Kindler said, he hopes to provide the rec room with both a bulletin board where teens can pin up fun photo collages of their youth group activities, and a dry-erase board where they can share thoughts and ideas with the teen community, be it a cool song lyric, Bible verse they enjoy, or "anything else that's on their minds." In addition, he stated that he was looking forward to adding beanbag chairs to the facility, noting that a member of the Grace United congregation had promised to donate a couple.
Kindler also mentioned that he would order pizza for everyone on the third Friday of each month.
"You know, we just want to let the kids do their thing," said Kindler, who plans to hold a "Faith and Fun Night" next week to introduce church youth to the new facility. "If they want to go shoot some hoops in the parking lot, they can do that. If they want to stay inside and chat with friends, that's cool too. I'm not here to tell anyone what to do."
Kindler added, "But of course, my door is always open if kids just want to talk."