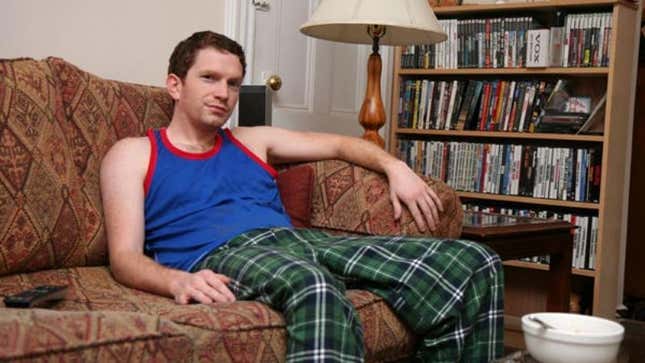 OSHKOSH, WI—Roommate Brian Penderman, 26, announced Monday morning that he hopes the loud bumping, grinding, and moaning of the five-hour-long fuckfest he had with his girlfriend did not in any way prevent you from sleeping last night.
This Week's Most Viral News: September 22, 2023
"I'm exhausted—are you exhausted?" Penderman asked while he extended his arms in a stretching motion and yawned loudly. "Honestly, though, I sincerely apologize if all that fucking that was going on in my bedroom kept you up until the early hours of the morning."
Penderman, who moved into the apartment last September based on your buddy Dave's insistence that he was an all-right guy, was never pressed for details, but openly volunteered information regarding the fuckfest's length, the nakedness of his girlfriend, and the number of times they "did it." According to sources in the apartment, Penderman's most recent fuckfest was also his first fuckfest since moving in.
"Just so you know, we didn't plan this or anything," said Penderman, referring to the self- described fuckfest that took place between approximately 9 p.m. and 2 a.m. "Out of respect for you, we were just going to have a quickie. In fact, I was done and ready to go to sleep after 20 minutes, but she kept begging for more."
Added Penderman: "You know how chicks can be."
Confessing that the fuckfest had taken a considerable toll on his body, Penderman voiced numerous complaints ranging from aching arms to chafed knees to a sore penis. Penderman went on to explain that the reason his penis was so sore was because it had repeatedly entered and exited a female vagina the night before.
While his girlfriend reportedly hurried out of the apartment at 7 a.m. in order to return to her hometown of Shawano and was therefore unavailable for comment, Penderman apologized on her behalf for all the loud, crazy sex noises you must have been hearing. Penderman admitted, however, that he was not prepared to discount the likelihood of another fuckfest occurring very soon.
"I can't say it won't happen again, because she's talking about taking the bus down here in August," Penderman said. "You might want to go away that weekend. But if you are around, I'll slip a note under your door saying 'Having fuckfest' and you'll know."
"Not that you wouldn't know anyway," he added, despite your repeated insistence that you in fact slept very well. "As you might have noticed, she's a bit of a moaner."
Though Penderman established that he has not seen you bring home anyone in months, he stated that he would not be opposed to you having a fuckfest.
"This is your home, you should be able to bang all night long anytime you want—like I did," Penderman said. "I'd be happy to ask my girlfriend if she knows anybody who might be interested in you."
Throughout the day and then again that afternoon when you returned home from running errands, Penderman continued to express regret that "this place reeks of sex," which he blamed equally on the considerable amount of intercourse he was having over and over again yesterday and the apartment's thin walls. Penderman added that he would be glad to buy a scented candle or air freshener at the store this evening, when he goes to replace the large number of condoms he used the previous night.
"Fuckfests are not all fun and games, my friend," Penderman added. "It's a lot of hard work to just keep going on and on and on. I mean, you heard us, right?"
Before your departure from the apartment for the night, Penderman offered to have an open discussion about the fuckfest "when you're ready," in order to answer any questions you might have about the fuckfest and to assure you that he will try to conduct future fuckfests in a way that will not cause you to feel uncomfortable or jealous to be living with a guy who gets it so regular.