MIAMI—Telling members of the media Wednesday that the all-inclusive package has already proven popular with American vacationers, Royal Caribbean International discussed the launch last month of its newest cruise, a 12-day-long continuous buffet set up on the bare concrete floor of an abandoned dockside warehouse.
According to Royal Caribbean officials, the cruise's passengers mill around in a dilapidated shipping building on a Fort Lauderdale wharf and eat from a 400-foot-long buffet piled high with generous servings of coconut shrimp, macaroni salad, chicken fingers, and scores of other dishes. Spokespeople for the company confirmed the voyages are booked solid through January 2017.
"The new Dockside Getaway package has absolutely everything our customers want," Royal Caribbean hospitality manager Michelle Nakamura told reporters, noting that prices for the all-you-can-eat warehouse-based vacation start at $549 before taxes and fees. "Guests simply board through the loading dock, drop their luggage anywhere inside the door, and all that's left to do is grab a plate and dig in for the next two weeks."
"The response from passengers has been even more enthusiastic than we anticipated," she continued. "We've already had to adjust our supply manifest to make sure we have enough freight containers of sour cream and bacon bits on hand to keep the baked-potato bar replenished."
The massive buffet is believed to be the largest of any leisure cruise service currently in operation, both in terms of length and gross food tonnage. Nakamura touted several of its features, including 12 separate carving stations where passengers can sample prime rib, roast turkey, and glazed ham; eight make-your-own sundae bars; multi-tiered chocolate fountains in each of the dimly lit brick building's four corners; a small salad bar; and 40 square yards of counter space dedicated solely to various gravies and sauces.
G/O Media may get a commission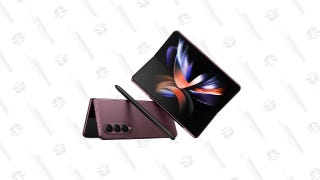 Save Up to $300
Galaxy Z Fold4
The company reportedly conducted customer surveys and analyzed consumer data to create the Dockside Getaway, which lacks many of the traditional ocean liner amenities and attractions—such as onboard pools and nightly music and comedy performances—but is already said to be generating more revenue than any other Royal Caribbean cruise. Though each guest who books passage to the warehouse receives unlimited buffet privileges, those opting for the first-class package are granted extra perks, such as larger plates, larger bowls, and 48-ounce mugs for their soft drinks and juices.
Numerous Dockside Getaway patrons—who spoke to reporters over the noise of 5,000 fellow vacationers chewing, the clanking of steam trays, and the periodic sound of several pounds of fresh clam linguini, mini meatballs, or fried calamari being dumped onto the buffet—explained that the cruise was just the escape they were looking for.
"I felt a little sick the first day or two, but now I'm having an incredible time," said 51-year-old Dennis Rathborn, an orthodontist from Baton Rouge, LA, who was on his 10th day of the vacation. "Today, my wife and I hit the omelet station in the morning and then got lunch over at the build-a-burger counter, where we met a real nice couple from Denver. Later on, we took a little stroll down to the dessert area and just hung out for a while enjoying our baked Alaskas."
"The crew puts new stuff out every half hour or so, and you can go back up there as many times as you want," he added. "I'm just sad we have to leave in a couple days. No question we're coming back, though."
After piling their plates high with crab legs and French fries, several passengers were seen retreating to a darkened corner of the warehouse where they peeked out through a small air vent, catching a bit of a breeze and a glimpse of an old oil rig on a nearby commercial pier.
"I've never treated myself to a cruise before—I'm having the time of my life!" said Louise Hellinger, 65, a retired receptionist from Indianapolis. "Sometimes the lines get a little long for the breakfast buffet and when you get up there, there's only melon left. But if you're up and at 'em early enough, you sure can eat your money's worth!"
"The cheesecake goes fast," added Hellinger, sitting down on a pile of old canvas tarps and tucking into a bowl of lobster bisque.
Citing the success of the Dockside Getaway package, Royal Caribbean has announced the launch of another new cruise wherein five pounds of heavy hors d'oeuvres will simply be shipped to each vacationer's home every day for two weeks.