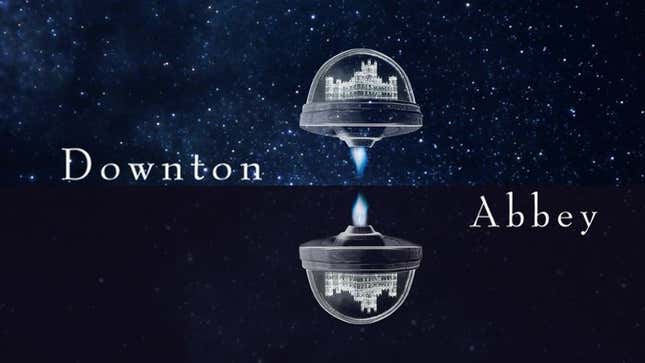 LONDON—Fans of the wildly popular period drama Downton Abbey were delighted Friday when producers announced that, following another successful run on British television this fall, the show has been renewed for a fourth season, which they confirmed will be set in the Roaring 2120s.
This Week's Most Viral News: September 22, 2023
Series creator Julian Fellowes told The Hollywood Reporter that while many details of the upcoming season have yet to be finalized, fans can look forward to more "salacious scandals, romantic intrigues, and social transformation" as Intergalactic Warlord Ransom Glomphus III, his headstrong daughter Empress Zampthor, and other descendants of the Crawley family struggle to adjust to life on their colony in deep space following the First Interplanetary Strife.
"Downton fans around the world will be thrilled with what we have in store for the Crawley offspring and their service drones as they navigate life in the 22nd century," Fellowes said of the new season, which features eight new episodes and a film-length Christmas special set on a distant vacation crater. "Robert, Earl of Grantham, once saved Downton by marrying the American heiress Cora. Now, new and old worlds collide again as their progeny vie for territory against a proud lineage of space clones who have forcibly invaded the family's colony."
"Meanwhile, Warlord Ransom's service drones struggle to reconcile their egalitarian sympathies and resentments toward the intergalactic elite with their pre-programmed instructions to fulfill directives at any cost, even if it means initiating shutdown procedures and deactivating," Fellowes continued.
Fellowes acknowledged the new episodes may be a departure from previous seasons, but said fans can expect the same attention to period detail—including meticulously designed costumes, elaborate sets, and exhaustively researched shooting locations—that Downton viewers have always enjoyed. For example, season four opens with the impeccable service drone Carlson 24 serving food pills to Ransom as the warlord paces the deck of his transport ship, which producers confirmed was reconstructed from conceptual drawings of actual ships "as they may one day appear."
According to producer Liz Trubridge, the new season will feature British actress Imelda Staunton as Empress Zampthor's redoubtable holographic nursemaid Zoolee 1114, who will add some comic relief to a narrative fraught with intergalactic violence and futuristic psychological warfare that is "very disturbing at times."
"Scenes involving the harvesting of organs, for example, are very tough to watch," said Trubridge, referencing the season's second episode. "But one thing we know is that from wormholes to magnetic force fields to unfeeling cyborgs and heartless automatons, Julian [Fellowes] knows how to create an ensemble cast of memorable characters that will really feel like part of your family."