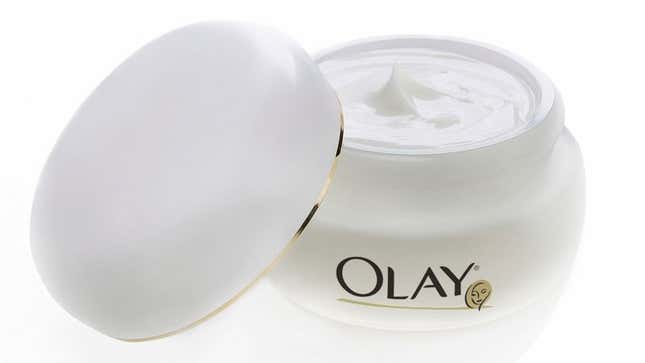 CINCINNATI—Representatives from Olay skin products confirmed Monday that their new skin cream does something, like "something that has to do with aging, or smoothness, or some other skin thing."
This Week's Most Viral News: September 22, 2023
"You apply it, and it makes your skin good," said Olay spokeswoman Christina Lowell, adding that the new skin cream more than likely does stuff with "skin tone and has a bunch of vitamins and minerals or whatever." "Basically, if you have some skin that isn't good and you want it to be good you should get this new cream and rub it into the not-good part of the skin. Then it'll be good again."
"It costs $34.95," she added.
According to Lowell, the new product "rejuvenates or regenerates or something along those lines," and in terms of essential moisture, definitely has that. Lowell said the cream could be applied in the morning, at night, before one's showers, after one's showers, or whenever.
Lowell stated customers who are worried about wrinkles and other skin things they don't want should use the cream, which reportedly comes in a container, has a cap, and, according to Lowell, is probably white.
When asked if the new product replenishes and soothes one's skin, Lowell responded, "Yeah, all that stuff."
"Like I said, it does a lot of skin things—it's a cream," Lowell told reporters, adding that all women should buy it. "Anything that makes you upset about your skin, it'll fix. And it fixes it because the formula in the cream is, um, what word am I looking for? Scientific. It's a very scientific formula."
"Other skin creams from other places won't work as good on your body because their formulas aren't as scientific as our formula," Lowell continued. "This cream's good and scientific."
Olay officials confirmed that while the new skin cream does things, they also have many other skin products that do different things, and stressed that there are creams, soaps, moisturizers, and lots of other skin things for whatever it is people want to do with their skin.
Noting that softness and exfoliation are probably involved at some point with the new product, Lowell went on to say the following words as they came to her: replenishment, cleansing, highly enriched, 7-in-1, coloration, anti-aging technology, aloe, dry skin, dead skin, and skin.
Lowell later told reporters that while she could not completely confirm it, she wouldn't be surprised if there were some sort of extract in the new cream.
"Extract?" Lowell said. "Um, yeah, why the hell not? Sure. Let's just say there's extract in there. Like green tea extract. That sounds like something, doesn't it? And it'd probably smell nice, too. Getting that nice green tea extract in the skin there? Very good. Very soothing. Yes."
"Also, before I go: younger-looking, moisture barrier, lifts the skin, firms the skin," she continued. "Hydration."