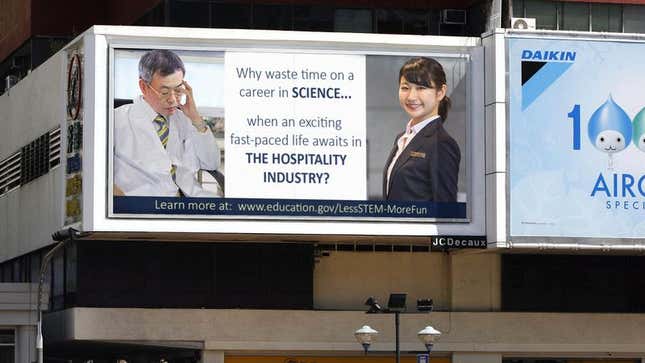 WASHINGTON—In an effort to improve America's ranking in the global technology sector, the U.S. Department of Education unveiled a new STEM initiative Friday designed to discourage students in other countries from choosing careers in science and math.
Edgelords Explain Why They Love Elon Musk
Officials described the 10-year, $80 million strategic plan as the government's most substantive STEM policy to date, saying it would include ad campaigns, after-school programs, and financial incentives aimed at dampening enthusiasm for all scientific and technological pursuits among students in more than 50 foreign nations.
"U.S students have lagged behind in STEM fields for far too long, so now we're taking steps to persuade kids in other countries that a degree in physics or biology or robotics just isn't worth it," said Education Secretary John King Jr., conceding the new measure is the only way our nation's children can possibly keep pace with the rest of the world. "From preschool up to the university level, we hope to bring non-Americans around to the idea that science is boring, and assure them that a career in communications or social services will be more emotionally fulfilling than a job as a geneticist or software engineer."
"No child outside the United States should complete their education without a strong indifference toward the STEM disciplines," King added. "That's our goal here."
A U.S.–funded multimillion-dollar ad campaign titled "Less Science, More Fun," which is set to debut in Singapore this week, is said to highlight the stark contrast between STEM careers and other professions, with side-by-side footage of a haggard-looking mathematician toiling away in a windowless office and a group of young, attractive paralegals laughing together over happy-hour drinks. Another of the campaign's ads will reportedly feature physically robust street cleaners extolling the benefits of working outside and using their hands.
Moreover, the initiative's chief strategists relayed plans for a "highly addictive" new gaming app to be made available in foreign countries that will require absolutely no logic or reasoning skills, instead awarding points based on a player's ability to perform simple repetitive tasks in a virtual factory that assembles vacuum cleaners.
In Scandinavia, where a well-funded preschool system ensures children are adequately prepared for the rigors of academia, the focus is expected to be on early intervention, with U.S. programs reaching out to toddlers directly in an effort to sour them on STEM subjects before they even enter the education system.
"We're already seeing positive effects from a children's TV series we recently launched in Finland called Iggo, which follows the adventures of Iggo the foxhound as he explores the many wonderful facets of the service sector," said Lillian Winslow, a senior advisor at the Education Department. "Kids really love it when Iggo plays tricks on his surly next-door neighbor, a loveless and chronically dissatisfied biochemist named Dulf."
"It's really encouraging to see kids as young as 3 with that look in their eyes that tells you they have no interest in the sciences whatsoever," she continued. "We're already planting that seed."
According to U.S. officials, the initiative will also award up to $10 million in scholarships each year to European and East Asian students willing to change their majors from engineering to the humanities. In addition, grants will reportedly be available to young women abroad who agree to drop out of computer science programs and become homemakers.
Sources confirmed that on-campus college recruitment efforts, which include job fairs and a lecture series featuring speakers who quit school entirely to pursue artistic passions ranging from dance to homemade jewelry-making, are already being rolled out in Switzerland, South Korea, Canada, and numerous other high-achieving STEM regions around the world.
"I picked up a pamphlet at a career fair the other day, and it had all these really interesting facts about how important it is to coordinate a business staff's benefits package and ensure a company's compensation structure complies with applicable local and national laws," said Anson Hui, a 23-year-old grad student who used to study thermodynamics at the University of Hong Kong. "It sounds incredible. I can't wait to pursue a future in human resources!"