ATLANTA—Already hard hit by labor strife and escalating fuel costs, the commercial airline industry faces a new crisis: an epidemic of jet lag caused by a powerful strain that is highly resistant to regular remedies like catnaps.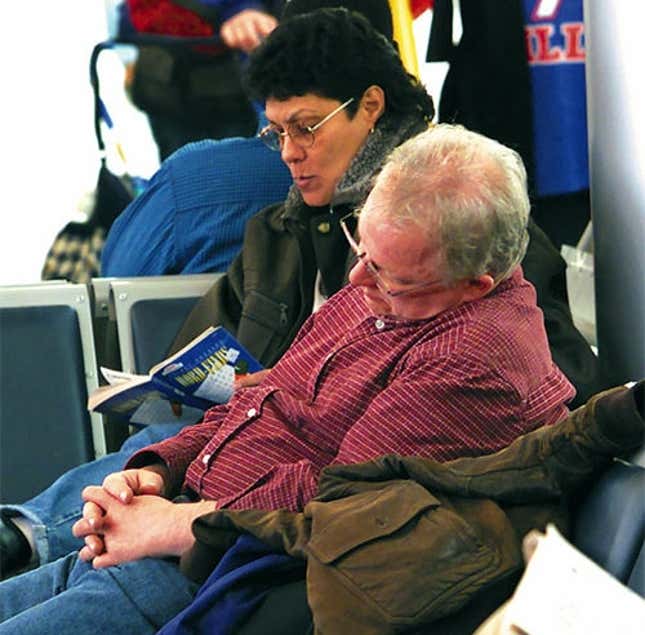 This Week's Most Viral News: September 22, 2023
Airlines have set up napping-triage centers in major airports in response to the "Super Lag," but are unable to keep up with the rising tide of severely weary passengers, who number in the thousands nationwide.
"Infected travelers are really tired out, whether they're on long international flights or domestic flights as short as an hour and a half," said Delta Airlines ticket agent Olivia Gage at Atlanta International Airport, which has seen some of the most advanced cases of Super Lag. "Our supplies of thin blankets and miniature pillows are running dangerously low."
FEMA, the Federal Exhaustion Management Association, has shipped army-surplus cots and urns of hot coffee to several major hubs, but airlines continue to report record dozings. Minneapolis resident Belinda Haynes, 26, is just one of tens of thousands of Americans whose travel plans are affected.
"I'm going to go to Tampa Bay and be asleep through most of my flight," Haynes said. "That means I'm at risk for catching Super Lag and being totally tired all through my sister's whole wedding."
At the Atlanta airport Tuesday afternoon, an estimated 900 Super Lag sufferers could be seen stretched across the molded seats of gate waiting areas. The infected travelers, distinguishable by their testy demeanors and heavy eyelids, argued with ticket agents, slumped listlessly in their seats, and stared blankly at Au Bon Pain pastry displays.
Untreated victims can find themselves sleeping for hours on a plane, then sleeping soundly at night, yet still performing poorly in important business meetings or feeling too fatigued to enjoy their vacations.
Dr. Robert Sanders is one of hundreds of volunteer physicians treating Super Lag sufferers at airports nationwide.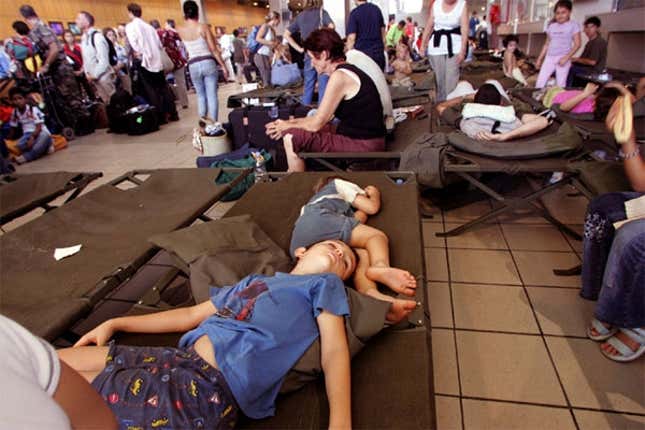 "Jet lag was first documented in the late '50s," Sanders said. "Over the years, we've developed band-aid solutions to combat the disorder—neck pillows, laptops, in-flight movies—but it was really only a matter of time before jet lag mutated into a more virulent strain."
Despite volunteer efforts, the burden of treating Super Lag sufferers has fallen largely on flight attendants who, with little training in this area, are reporting great difficulties.
"One passenger who sleeps through the beverage service and wakes up irritated and thirsty is bad," said Midwest Airlines flight attendant Sandy Wolchek. "You multiply that by five on a Milwaukee-to-Minneapolis flight, and you're talking about a serious disruption."
Prolonged rest is the only known remedy for Super Lag, according to Bill Ziegler of the Centers For Fatigue Control. "Victims can also alleviate their symptoms by wadding jackets or sweaters into makeshift pillows," he said. "And we're recommending that airlines loosen their restriction on reclining cabin seats during the ascent and descent phases of flights."
Scientists at the CFC are working around the clock to find a Super Lag cure, but so far, they have made little progress. For now, they recommend that air-travel passengers look out for Super Lag's warning signs: irritability, an unwillingness to engage in small talk with persons in adjoining seats, and a tendency to doze off while reading in-flight magazines.