PALO ALTO, CA–Researchers at Stanford University are refusing to release a comprehensive three-year interdisciplinary study on the grounds that the results are "too terrifying to reveal to the public at large," sources close to the project announced Monday.
"In light of their profoundly disturbing nature, we have decided that it is in the best interest of public safety to withhold the results our study," said Dr. Desmond Oerter, head of the Stanford team. "So soul-shaking are the conclusions we have drawn, they would, if released, result in no less than the total breakdown of societal order, including the abandonment of the current political and economic system, rioting, looting, mass suicide and even, quite possibly, global thermonuclear war."
"I beg the forgiveness of God for unleashing this hellish study upon humanity," added Oerter, dropping to his knees. "I am death, destroyer of worlds."
Oerter then produced a pair of ballpoint pens and plunged them into his eye sockets. Moments later, he drove the imbedded pens deep into his brain by slamming his face repeatedly against the lectern, killing himself within seconds.
At a press conference later that afternoon, Stanford president Gerhard Casper assured members of the general public that steps are being taken to prevent the release of what is being called "The Study Which Must Not Be Named."
G/O Media may get a commission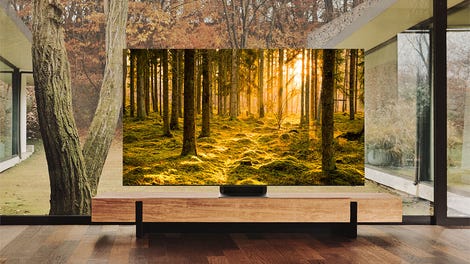 Up to 40% off
Samsung Smart TVs
"All primary data gathered in the study have been destroyed, as have all research materials used by those involved," Casper said. "The world must never know what was learned here."
Though Casper refused to give any specific information regarding the study, he did note that the heads of numerous Stanford departments, including physics, molecular biology, TV & media studies, religious studies and economics, "cannot be accounted for at this time."
In addition to the missing department heads, two of the study's coordinators have taken their own lives, and three more remain on 24-hour suicide watch at an area hospital. Of the approximately 35 individuals involved in conducting the study, only a handful of junior research assistants and student volunteers retain their sanity.
"I'm not talking about it, and you won't find anyone who will," said 19-year-old Stanford sophomore Craig Blom, who, while working as a part-time lab assistant, saw nothing more than labels on the spines of three-ring binders. "But I'm taking the uncircumcised members of my family and moving to Fiji first thing tomorrow. And I'm not taking my phone or anything made of polystyrene. Or the cat. Definitely not the cat."
"All I'm saying about the findings is that apparently Albert Einstein, Charles Darwin and Thomas Aquinas weren't telling us everything they knew," said Stanford biology chair Dr. Richard Brandt, who was named to the position following his predecessor's self-immolation in a pentagram-festooned San Jose rib shack late Monday night. "Also, without going any further into it, I don't think sales of no-wax floor polish will be dropping any time soon."
At 5 a.m. today, senior advisors woke President Clinton to debrief him on the study, which he promptly ordered classified. Spokespersons for the Pentagon declined to confirm reports that more than 90 percent of the U.S. nuclear arsenal has been directed at the Bay Area for the past 72 hours.