BURBANK, CA—A possible new television program is "in the works," with preliminary meetings regarding a potential development deal with UPN "a definite possibility," sources at the extreme periphery of the U.S. entertainment industry confirmed Monday.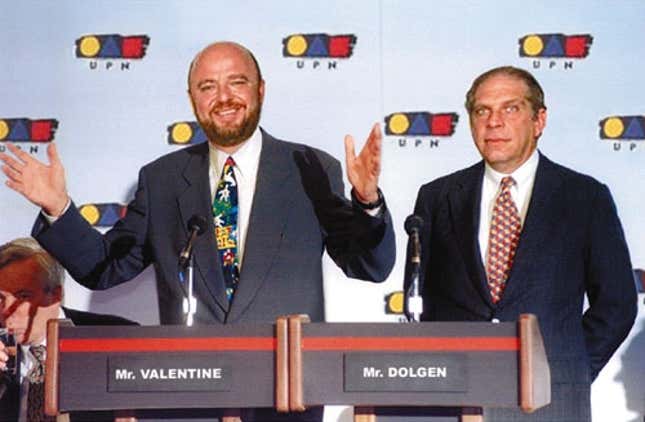 This Week's Most Viral News: September 22, 2023
"Imagine, a new TV show," Daily Variety reporter Brent Klarman said. "I can't tell you what a staggering impact this could have on the lives of the nation's 200 million television viewers. This is big. It's not every day somebody comes up with an idea for a new TV series."
The program, described by co-creator Rob Frankel as "a comedy at this phase, but it could be possibly a drama, too, depending on what the fax we get next Tuesday suggests," has drawn interest from "more than one major network." Frankel noted that "higher-ups" at UPN have already seen the initial script and will likely be getting back to him sometime soon, possibly even later this week.
According to Frankel and co-creator Daniel Black, if funding can be found and a pilot made, the new program could hit the airwaves as early as next fall. If so, it would become one of just 600 to 700 shows to debut this year and could become a development of great importance to the nation's broadcast industry, with syndication rights alone worth tens of millions, maybe.
Currently being developed under the working title Livin' 'N Learnin', the new show will, once a first-draft script is worked out, probably examine the trials and tribulations of three young professionals struggling to make it in Los Angeles. Though none of the characters have yet to be given names, the three central protagonists have been narrowed down to an attractive, 27-year-old white man with brown hair who wants to be a TV writer; an attractive, 25-year-old white woman with blonde hair who is studying to be a chef and may or may not fall in love with the aspiring TV writer in Season Two; and an attractive, 26-year-old African-American or Asian man or woman who will be a schoolteacher, an aspiring actor, or gay.
"This really sounds like the kind of program people might enjoy, I think," said Chad Locke, who, if all goes well, will use his position as assistant mailroom clerk at UPN to leave the script where UPN president Dean Valentine is likely to see it. Locke, who roomed with the show's co-creators two summers ago while at USC Film School, is confident that the potential series' hilarious-yet-touching look at the problems facing 18- to 34-year-olds today will "really resonate with UPN's core audience."
But even if the UPN plan does not pan out, Frankel said, "there are still a lot of other options." There are the people he knows at Fox and Comedy Central, as well as an intern at Paramount TV who "owes me big-time," all of whom could prove valuable as contacts. Black, whose uncle once appeared on an episode of Lost In Space, also knows a guy who knows Joss Whedon. And in 1994, Frankel served a reuben sandwich to one of the top entertainment lawyers in Hollywood and gave him his card.
"Plus," Frankel said, "we have really good relationships with the agencies. Not that it was easy establishing those contacts, but sending out all of those fruit baskets really helped establish a viable rapport."
Television critics have already begun speculating about the show, with anticipation for what might eventually become the first new TV show in three to four days building to a fever pitch.
"Will one guy be mistaken for another guy, resulting in a complex series of hijinks that ruins one of the characters' Big Date?" USA Today TV critic Matt Walsh asked. "Or will a dramatic confrontation about some woman's courageous battle with an eating disorder bring all of the characters closer together? There's only one way to know for sure… by watching Livin' 'N Learnin', when and if it ever airs, on some network, someday."
America's TV-viewing public is equally excited. "A new show? That sounds pretty good," said Fred Lundegard, an Akron, OH, tile-warehouse manager. "I'd sure like it if there were some different shows I could watch."
Despite standing on the verge of potential fame and fortune, Frankel and Green stressed that they remain the same down-to-earth people they have always been.
"We're not going to suddenly change just because we have this big TV show in the works," Frankel said. "Sure, it's impressive, but if we lose touch with the little people around us, the show might lose what makes it special: that human quality. You can't fake that."
Black agreed. "That's the thing that really sets Livin' 'N Learnin' apart from other shows these days: It has heart," he said. "We won't let all of this potential success affect us. No matter what happens, we'll always remember where we came from. After all, we're not doing this for the money, power or celebrity. We're doing it because we truly believe in this project. And once we've determined exactly what that project will turn out to be, we will not waver from that vision."