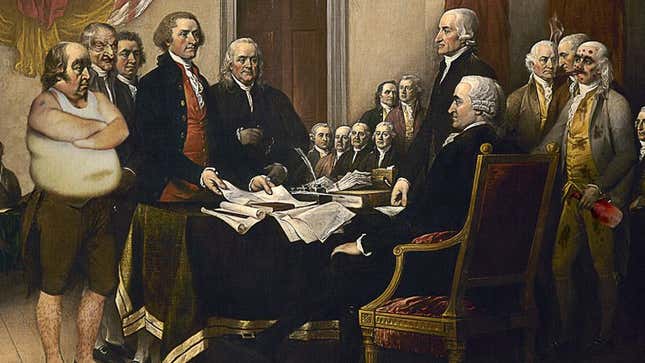 PHILADELPHIA—In what is being hailed as the most significant historical discovery in recent memory, workers renovating Independence Hall last month unearthed a vast trove of documents penned by the nation's Founding Uncles, a group of off-putting, largely disreputable, but nonetheless influential relatives of America's early heroes.
"Washington, Jefferson, Madison—these are names we associate with great deeds," said historian Leland Collier, one of the researchers cataloging the more than 200-year-old cache of personal journals, correspondences, and breast and phallus doodles. "But the lives of Ichabod Washington, Lenny Jefferson, and Chuck Madison tell a very different story, and for the first time we're learning about the vital contributions these awkward and mildly offensive Founding Uncles made to our young nation."
"The United States would not be the place it is today without these pioneering creeps," Collier added.
According to the newfound texts, most of the Founding Uncles relied on their more successful brothers for money, at least two lived out of a family member's root cellar, and about half were repeatedly reprimanded for presenting inappropriate gifts to their young nieces, such as low-cut lacy bodices, immodest bedgowns, or tins of snuff.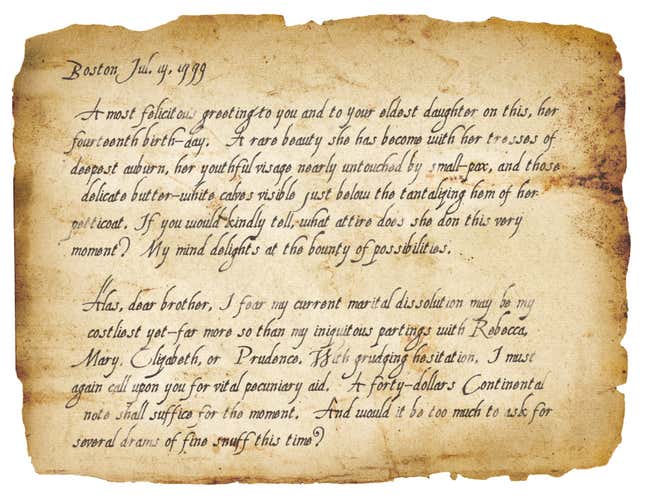 But the documents also reveal their unique viewpoints of the moments that defined a nation: Wayne Adams, crouched behind an ale cask, witnessed the Boston Massacre in its entirety, and ruined family gatherings for years after with detailed, enthusiastic recollections of the blood and viscera he saw that day. And though he is not a signatory to the document, Chuck Madison attended the Constitutional Convention, apparently for the sole purpose of cornering delegates and attempting to persuade them to put all of their money into a "cannot miss" Spanish doubloon currency- exchange scheme.
Paintings and woodcuts found alongside the writings suggest the Founding Uncles could often be distinguished from their siblings by their adult acne and sparse, willowy mustaches. In a notable contrast to portraiture of the era, these men are generally depicted leering off into the distance with a disturbing grin.
"The more you read about them, the more you realize how strongly the legacy of these boorish icons still echoes today," Collier said. "Any American whose excessive alcohol consumption has ever put an embarrassing damper on a holiday party owes a debt of gratitude to Norm Hancock, the man who nearly derailed the first public reading of the Declaration of Independence by draining a flagon of apple brandy and getting into a prolonged screaming match with his common-law wife."
Collier added that while Lenny Jefferson may not have embodied the Age of Enlightenment as fully as his elder brother, "Uncle Len" is credited with inventing the concealable flask and penning the nation's first bawdy joke book, 1777's On The Humourous Happenings That May Occur During Coital Relations, To Which Is Added Several Jests Regarding Defecation.
The remarkably well-preserved texts have also brought to light a number of previously unknown episodes from the Revolutionary period, including the midnight ride of Saul Revere, which occurred on Apr. 19, 1775.
"As American militiamen marched back to Boston from the Battles of Lexington and Concord, Revere immediately burst forth from his mistress's residence and took to his horse," said Caroline Cobb, a staff curator at Independence Hall. "For 12 miles, his pantaloons dragged from his ankle as he cried out to his philandering cohorts, warning them of the colonial women's returning husbands."
Depsite their pasty complexions, disconcerting lack of personal hygiene, and debauched exploits, many historians have begun to view the Founding Uncles as true revolutionaries.
"These individuals felt oppressed by the prevailing British mores of hard work, chivalry, and social propriety," said noted historian and author Gordon S. Wood. "Thus, they rose up in defiance, placed the weight of their libertine dreams upon their slightly hunched backs, and successfully broke free from the yoke of moral authoritarianism."
"Thanks to these visionaries, such moral decay is an integral part of American culture," Wood added, "a tradition that will endure for generations to come."