NEW YORK—NFL players were quick to capitalize on the distraction Plaxico Burress created by shooting himself at a Manhattan nightclub last weekend, embarking on a crime spree that has claimed an estimated 300 lives and inflicted more than $100 million in combined damages.
"This is damned awesome," a large unidentified man in a Vikings jersey and dark-visored football helmet, believed to be either Pat or Kevin Williams, said as he cooperated in overturning an armored car in downtown Saint Paul, MN Wednesday morning, accompanied by a similarly dressed man also believed to be either Kevin or Pat Williams. "I haven't even seen a cop since the Plax thing broke. I got watches and cars, man, and I set shit on fire. It's every player's dream come true."
Police dispatchers and 911 operators across the nation were overwhelmed beginning late Sunday night, shortly after the conclusion of the game between the Bears and Vikings, and were forced to tell callers that, due to the increased police presence around Burress, they had no cars or officers to spare.
"We were down to minimum staff," Lieutenant Mike Stanley of the San Francisco Police Department said. "We were forced to make a judgment call and sent our officers to liaison with the NYPD for the duration of the Burress incident. Obviously, once the 49ers ransacked the National Guard Armory and held the Golden Gate Bridge for ransom, it became clear that this was the wrong decision."
Reports are still coming in from roughly 30 besieged American cities, though information has been hard to come by, as the media likewise sent most of its available personnel to cover the Burress incident. However, reliable reports point to semi-organized groups of colorfully uniformed and helmeted men committing crimes in most major metropolitan areas.
G/O Media may get a commission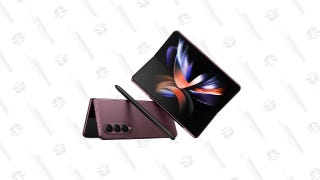 Save Up to $300
Galaxy Z Fold4
Although usually confused and panicky, and often abruptly cut off midway through, calls to law enforcement officials and newsrooms indicate a high level of criminal activity in unsupervised areas. Multiple running gun battles continue to flare up throughout New Orleans; fire has consumed most of downtown Seattle, with the Space Needle an armed camp; and in Dallas, where Adam "Pacman" Jones has declared himself Mayor for Life, roughly half the female population over age 11 has been the victim of brutal and repeated sexual assault.
"Not all the news is bad," FBI assistant director Paula Witherspoon, a special agent in charge of major metropolitan crimes, said yesterday. "The theft of major Rodin sculptures from the Museum of Modern Art by a well-trained group of quarterback masterminds, while tragic, resulted in no loss of life, and we are currently questioning Tom Brady in the incident. The city of Green Bay has reported nothing worse than a 700 percent increase in public drunkenness. And we should all be proud of the citizens of Detroit, who managed to capture the Detroit Lions during a bank robbery in which the team forgot to load its guns and put gas in its getaway cars."
Witherspoon also noted that the vault of the Detroit bank in question was empty, having been cleaned out by the Chicago Bears earlier in the day.
"I just thank God that three quarters of the police in the United States were in New York during this spree," New York mayor Mike Bloomberg told reporters this morning, gesturing out the window to where the skyline of East Rutherford, NJ, home to both the Jets and Giants, was obscured by clouds of smoke and ash. "We owe them a great debt for coming to our city just before this all started."