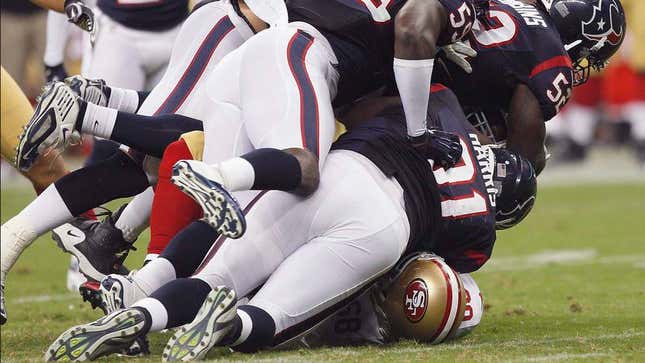 NEW YORK—With the increasing likelihood that an active NFL player will announce his homosexuality before the start of the 2012-2013 NFL season, players across the league said they would support a player coming out of the closet and would also support annihilating him on the football field.
Study Finds LSD Highly Effective At Ruining Nephew's Baptism
"It's very important that we create a positive, accepting atmosphere for anyone who is brave enough to come out," Tampa Bay Buccaneers safety Dashon Goldson said. "I will go out of my way to make sure whoever that player is gets the respect he deserves. I will also go out of my way to find him on the field and hit him illegally as many times as possible."
Saying they would fully embrace and destroy any recently outed player, an overwhelming majority of NFL veterans said they would feel "more than comfortable" accepting a gay member of the league and viciously slamming his body "extra hard" into the turf.
Detroit Lions defensive tackle Ndamukong Suh echoed his peers' outpouring of encouragement, saying he would do his best to welcome, demolish, and cause any homosexual player to leave the stadium on a stretcher.
"Listen, I don't have a bunch of weird hang-ups about a player's sexual orientation or some bias against drawing penalties and massive fines for leading with my helmet and putting his life in danger," said Suh, adding that he would enthusiastically encourage teammates to make an out-of-the-closet player feel both included and an excessive amount of pain. "Some guys might have a difficult time with it, but I am open-minded in terms of how hard I can blindside a gay guy after the whistle is blown."
"I am going to welcome whoever it is with open arms and neck-breaking horse-collar tackles," Suh added.
Guard Matt Slauson, who recently signed with the Chicago Bears, admitted he was looking forward to the day when a player could freely come out of the closet and suffer a career-ending injury from a cheap cut block. In addition, Slauson said that he would be perfectly fine with a homosexual teammate, one whom he could potentially learn from and then physically and mentally torture on the practice field as well as in the locker room.
"I think I can definitely coexist with a gay teammate and then shun him in the huddle, pick fights with him on the sidelines, and generally make his life a living hell," said Slauson, adding that he is completely supportive of however a man chooses to live his life, and is accepting of the fact that his face mask will be violently grabbed and that fingers will be jammed into his eyes. "It might be strange at first, but eventually we'll get used to showering with a gay player and slamming his head against the wall."
According to NFL Commissioner Roger Goodell, he has complete faith in his players' ability to treat every member of the league with the same level of respect, and also complete faith in their ability to treat openly gay ones much, much worse.
"I want any homosexual player to know that if he comes out, he will have the backing of this league 100 percent," Goodell said. "He'll also have 100 percent of this league's players coming at him so fast and hitting him so hard that many will wonder whether or not we do in fact live in the 21st century."