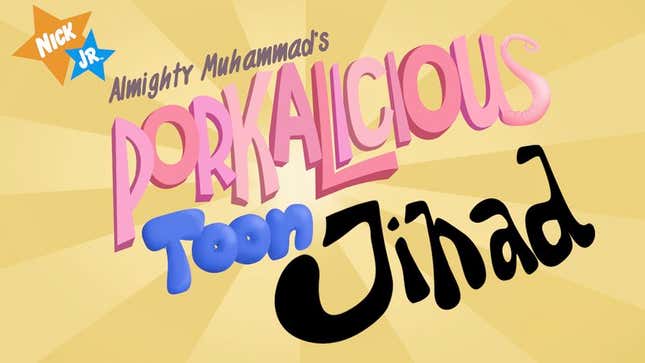 LOS ANGELES—Responding to the ongoing protests from millions of Muslims over the depictions of the Prophet Muhammad, American television channel Nick Jr. announced today it was suspending production on its forthcoming children's program The Almighty Muhammad's Porkalicious Toon Jihad.
CDC Issues Dire Warning That Nick Cannon Is Feeling Horny
The half-hour animated television show, which centers around the wacky Jihadist adventures of the Islamic prophet and his mischievous pig friend Abrahammy, was slated to begin airing this October.
"At this time, our company believes it is best to temporarily remove The Almighty Muhammad's Porkalicious Toon Jihad from Nick Jr.'s fall programming schedule," Viacom executive Todd Coates said. "While we still believe that thousands of young viewers would really enjoy seeing Muhammad go on his weekly pilgrimages to his big bacon mosque with his rabbi friends Hershel and Moishe, our company nonetheless believes it's best to indefinitely postpone the show's release."
"This isn't to say Porkalicious Toon Jihad will never see the light of day," Coates added. "Hopefully, when the international climate is slightly less volatile, children will be able to enjoy all of Muhammad's hijinks, especially in the episode 'Weeee! Muhammad,' in which he takes his yearly hajj to Mecca Land by sliding down the Magical Chute of Greasy Bacon Fat."
Members of the show's staff told reporters that the surprise cancellation comes just as they had completed 12 out of the show's 24 episodes, including a very special Eid-ul-Fitr Porktacular, in which the prophet learns to get along with his infidel enemies after they teach him how to truly enjoy the beach by surfing on a Quran.
Showrunners also regretted that children would not be introduced to the program's beloved character Allah, who in the cartoon is portrayed as Muhammad's attractive cool babysitter, whom the young prophet is constantly trying to impress.
"The show might sound a little controversial, but I think after watching it people will get that 'Porkalicious Toon Jihad' is just a big fun time," show creator Matt Radnor told reporters. "Personally, I think the episode where Muhammad and Allah learn to work with Satan to pull off the Medina Town Fair is quite uplifting."
At press time, Mattel announced it had also halted production on thousands of the Almighty Muhammad promotional items, including clothes, lunch boxes, and a kit that would allow children to dress up a plastic figurine Muhammad in more than 17 different types of pig-based accessories.