ABUJA, NIGERIA—At a celebratory press conference Monday, President Olusegun Obasanjo announced that Nigeria's troubled but oil-rich city of Warri has been chosen to host the 2008 Genocides.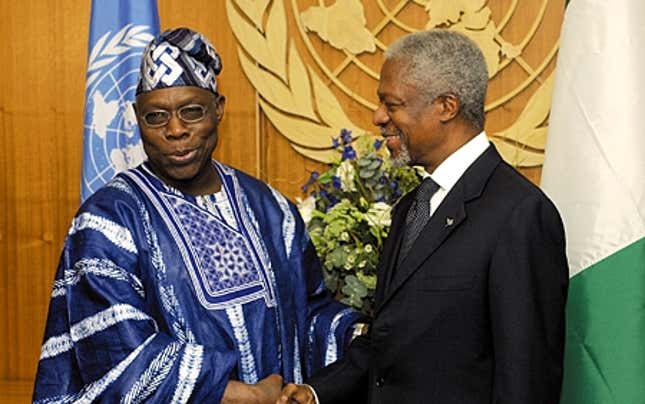 This Week's Most Viral News: September 29, 2023
"Nigeria is excited for this chance to follow in the footsteps of Somalia, Rwanda, and Sudan," Obasanjo said. "Much work remains to be done, but all of the building blocks are in place. Nigeria has many contentious ethnic groups, a volatile economy, and a dependence on food imports. We are well on our way to making 2008 a genocidal year to remember in Nigeria!"
Obasanjo acknowledged that many people considered Nigeria, a relatively stable West African nation, an unlikely candidate to host the Genocides.
"With a multi-party government transitioning from military to civilian rule, Nigeria is not a shoo-in to host the Genocides," Obasanjo said. "But last week's municipal election—with ballot shortages and multiple accusations of vote tampering—showed the world that Nigeria is, indeed, geared up for the unimaginable."
Oni Radhiya, a spokesman from the 2004 Genocide Board, said September's crippling polio outbreak may have helped Nigeria beat out the competition.
"Sudan was a fantastic host this year—the 2004 Genocides have really raised the bar," Radhiya said. "For 2008, many of us on the committee had our eyes on Tajikistan. The country's ongoing ethnic and religious strife made it a strong contender. But there was some concern that the conflict was as likely to simmer down as it was to boil over."
Radhiya added that Iraq was ruled out because the country is unlikely to exist three and a half years from now.
UN Secretary General Kofi Annan said that, after a close examination of all bids, a Nigerian genocide "began to seem almost inevitable."
"Nigeria's stability has been repeatedly threatened by fighting between fundamentalist Muslims and Christians," Annan said. "Five of Nigeria's seven political parties are extremist groups. The nation's ethnic Yoruba, Hausa, and Ibo populations of the oil-rich Niger Delta area also show genocidal promise."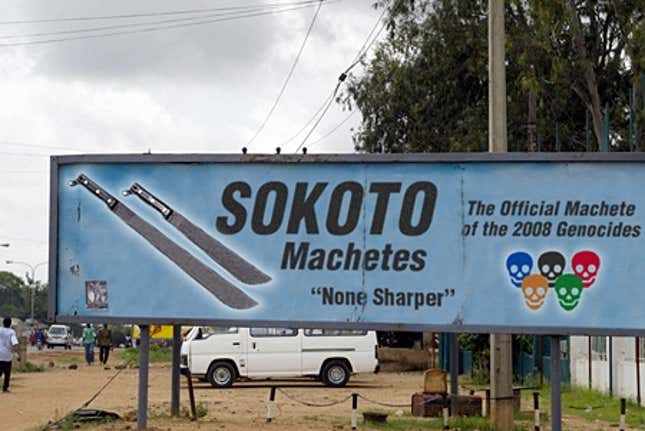 Annan said he first noticed the full genocidal potential of soon-to-be embattled Nigeria in September, when the Niger Delta People's Volunteer Force threatened to shut down oil production.
"With so many poor and powerless people involved in messy, years-old conflicts, the situation is likely to be ignored long enough for things to get really ugly," Annan said. "And, of course, the slow-to-move, ineffectual UN will do everything it can to help shepherd Nigeria into a combined religious, political, and economic disaster of horrific proportions."
According to Nigerian officials, now that their country has secured the bid, the government has much work to do.
"Don't think we'll just sit on our hands and wait for a crippling drought to pit neighbor against neighbor," Nigerian Minister of State Bello Usman said. "No, the next two years will be crucial. We need to default on our $2 billion IMF loan, invest the entire treasury in the overhead-heavy petroleum business, and turn a blind eye to regional guerrilla groups. That'd be a good start. After that, food shipments must fall into rebel hands, armed forces must go unpaid, and the emerging national infrastructure must be allowed to deteriorate."
Added Usman: "There's a lot to accomplish, but I promise you this: By early 2008, ashes will blacken the sky and blood will run in the streets."
According to Red Cross programming director Ellen Schumacher, genocide, once a spectacle that drew the attention of the entire world, has received less attention in recent years, drawing an ever-diminishing Western audience.
"The most glaring problem has been a time-zone issue, since most of the proceedings take place during inconvenient, off-peak viewing times," Schumacher said. "But, as an oil-rich nation, Nigeria is much more likely to build a viewer base in the West. Perhaps the country will even be able to get one of the networks to pony up for exclusive rights."