AUSTIN, TX—Hopes of reviving a once-thriving business partnership were dashed Monday when a night on the town only served to remind local entrepreneurs Terry Argento, 33, and B.J. Dreschler, 37, why they initially parted.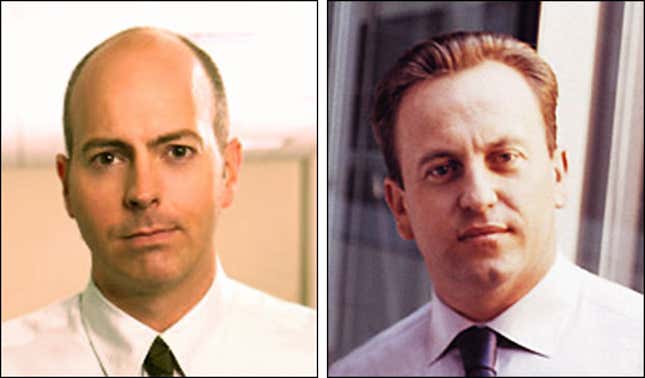 Edgelords Explain Why They Love Elon Musk
"We had to face the music—B.J. and I can never do business the way we used to," said Argento, vice president of Argento Homes, a manufacturer of modular housing serving the greater Austin area since 1967. "We've grown apart, and Monday night clarified that for both of us. It's sad, but at this point, we have nothing to offer each other."
Dreschler, owner of Dreschler Plumbing Supply And Installation, was Argento's sole supplier of plumbing equipment for "five terrific, unforgettable years."
"Teaming with Terry was the single greatest entrepreneurial experience of my life," said Dreschler, who still keeps all of Argento's signed invoices. "Even though our partnership cooled over two years ago, not a day goes by when I don't think of it… but Monday night was a mistake."
Both men warmly recalled their early transactions.
"Once, I wanted to talk Terry into ordering a shipment of cast-iron bathtubs for his more upscale pre-fabs, but I wasn't sure he'd go for it," Dreschler said. "So I started to say, 'You know, you could do worse than acrylic,' and Terry said, 'But Argento homes are built to last, and one way to convince our customers of that is to go with the cast iron.' I was in heaven."
Yet, as is often the case with exclusive business relationships, the good times didn't last, and after several tumultuous years in business, the two ultimately dissolved their partnership in 2003.
"It wasn't the smoothest parting," Dreschler said. "I'll admit that I was angry at Terry for going to a larger firm, but we were both growing and changing, and I'd be deceiving myself if I didn't admit I was getting bored with selling him bathroom and kitchen fixtures."
Once they allowed their exclusive partnership to expire, the two men interacted little outside of holiday cards and the occasional phone call regarding an old contract. After three years of limited contact, it was Argento who proposed that the two meet for dinner and drinks at the Outback Steakhouse, the site of their first casual business meeting, to discuss a new partnership.
Dreschler said he was "stunned" by Argento's invitation and accepted it "a little too eagerly." Yet, minutes after the call, "reality set in."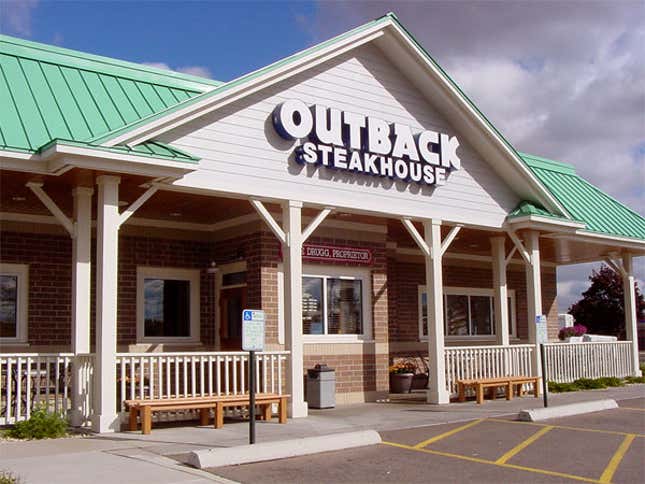 Said Dreschler: "I was hoping he didn't want to reunite, because it wasn't going to happen. There was too much baggage. Still, I was dying to find out who he was buying sinks from."
Both men characterized the night as a disappointment. According to Argento, long, awkward silences plagued the meeting, even as a song came on the jukebox that often played on the radio when Dreschler installed sewage pumps on Argento's properties. Argento said he "racked his brain" for collaborative projects to propose while Dreschler silently sipped his beer.
"We went to Thank-Cue Billiards after dinner and played a few rounds, but really, even though I hadn't seen B.J. in ages, I might as well have been shooting pool with my heating-and-cooling contractor or my vinyl-siding supplier," Argento said. "I felt nothing."
Dreschler said that, although he felt no real hostility toward Argento, lingering bitterness over the non-renewal of his contract tainted the evening.
"I never really got past that whole thing, and it got so that I just wanted the night to end," Dreschler said. "Like, what was the point of it all? Where do I fit in this guy's professional life, and he in mine?"
At the end of the evening, the men bade each other awkward goodbyes, knowing that their business relationship, once so full of high hopes and expectations, had come to an end.
"For the first time, I feel some closure," Dreschler said. "I thought I needed a partnership to feel fulfilled, but the night on the town with Terry helped me realize that I'm happy exactly where I am."
Argento, meanwhile, said he had "nothing but the deepest respect" for Dreschler's professional abilities, and wished him "all the best."
"B.J. is an incredible man to do business with," Argento said. "I honestly hope that one day, he finds that sweetheart deal he truly deserves."
Tearing up, he added: "I'm sorry. I didn't think I would get emotional."