BEAVERTON, OR—In yet another first for the world's premier athletic footwear manufacturer, Nike announced Tuesday the nationwide launch of the Air Fornicator, a lightweight copulating shoe designed to maximize sexual performance.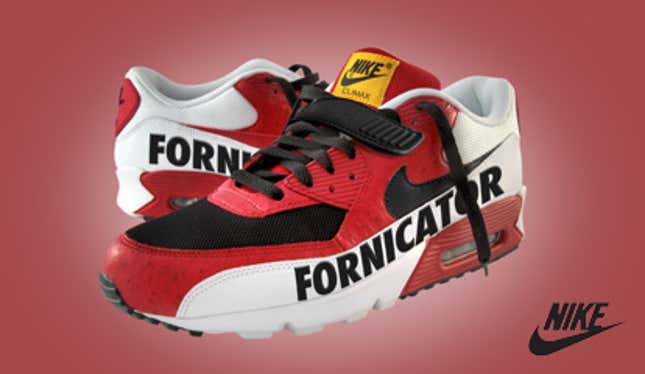 This Week's Most Viral News: September 29, 2023
"Nike is proud to continue its commitment to new and innovative products with the first ever sneaker developed exclusively for sex," president and CEO Mark Parker said. "Stylishly sculpted and contoured for enhanced comfort, the featherlight Air Fornicator provides superior energy return to reduce fatigue and boost the libido."
"With this shoe you will last longer, experience more pleasure, and fuck smarter," Parker added.
According to a Nike press release, the Air Fornicator's cutting-edge support system creates maximum foot stability, which in turn improves coital alignment, increases clitoral stimulation, and deepens penetration. The revolutionary midsole component reportedly works to adapt to the user's pelvic motions and cushions the overall shock of repetitive grinding.
Retailing for $175, the Air Fornicator will be available in high-tops and low-tops and in a variety of passion-inducing color schemes.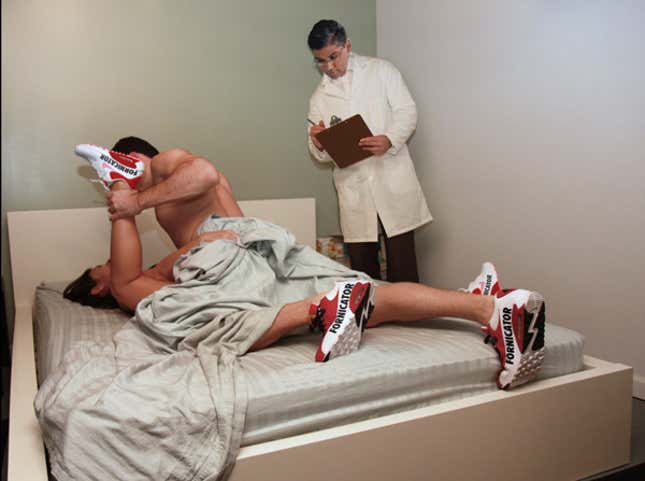 Senior Nike footwear designer Barry Hudson said the shoe's outer sole was constructed from a durable carbonized rubber to improve grip, enhance traction, and prevent slipping on a variety of surfaces, including carpeting, concrete, wallpaper, hardwood, and silk. In addition, Hudson claimed that the rounded CliMax-brand air heel facilitates more efficient thrusting and lustful pounding.
"We made dozens of adjustments to the tread pattern to ensure balance, as well as proper support for arched backs," Hudson said. "And the soles were designed to minimize sliding around in bodily fluids. You can make love standing up in a puddle of massage oil and you won't fall down."
Nike's research department performed thousands of trials on the Air Fornicator over a 16-month period, including a number of stamina tests and other off-site experiments intended to gauge the intercourse shoe's robustness. Engineers, who observed couples in a variety of sexual positions, found several cases in which the Air Fornicator suddenly flew loose during intense coitus, a problem they remedied by tightening the lacing pattern and adding a Velcro strap for security.
A nationwide marketing campaign for the copulation sneaker will debut this Friday with a 60-second television ad scheduled to air on all major networks. The ad, shot in black-and-white and accompanied by the Led Zepellin song "Whole Lotta Love," features a montage of several slow-motion scenes. These include a shot of a sweat-covered man pleasuring his wife, who reaches climax seconds later, shattering their bed's headboard; a high-angled pan of a woman rolling her wheelchair up a steep hill while making love to her partner; and finally, a close-up of an Olympic runner, who bends over to lace up his Air Fornicators, before the camera pulls back to reveal his teammate approaching from behind with a strap-on dildo.
Sales for the new shoe are expected to be strong.
"My wife enjoys it when I make love to her, but I usually wind up feeling tired and sore," focus group volunteer Michael Nelson said. "Since getting the Air Fornicators, though, I've been giving it to her all the time. It hardly even feels like fucking anymore."
While Nike marketers found that consumers responded favorably to the product's claim of helping them "get into the erogenous zone," a small percentage were still not convinced.
"I'm not going to spend $175 on an intercourse shoe when I only have sex like once a month at most," Dallas native Erica Graham said. "They would probably just sit in the closet and gather dust."