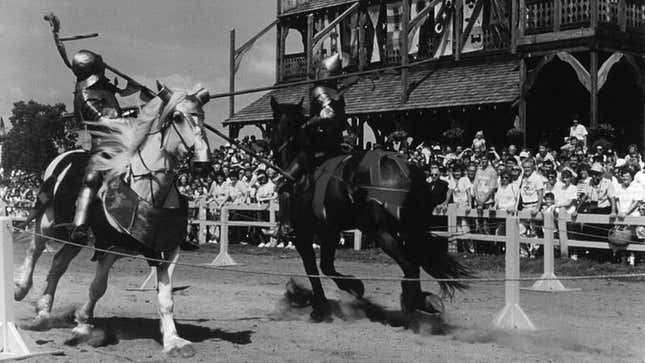 RICHMOND, VA—Nine people were torn limb-from-limb and skewered through the anus with wooden stakes this weekend at the city's annual Renaissance Fair. Organizers boast that the "Drawn and Quartered" show made this year's fair one of the most authentic ever.
Body Language Fact: Did You Know?
The early-Renaissance torture demonstration was one of many improvisations that peppered the fair ground, performed by actors from the local theatre community dressed in period costumes. These performances have been a fixture of past years' fairs.
"The skits where we publicly tortured and humiliated 'condemned heretics' gave us by far the most response we've ever gotten," actor Paul Mealen said. "Who would have thought that violence would appeal to people?"
In the skit, victims were randomly selected from the crowd, strung up on posts, and read official "charges." A dirt-encrusted dagger was then used to saw off vital parts of the condemned. One man's scrotum was cut off, causing his testicles to fall to the ground. According to witnesses, children at the festival then tossed the testicles back and forth as the victim watched.
Vital organs such as the liver were cut out of further victims, then cooked and force-fed to them. The pale and barely conscious victims were then taken down from the posts and prepared for the next stage of their torture amid taunts and bellows from the crowd.
"We loved it," said Both University of Virginia student Steve Limeneg, who, along with his friend Alicia Ponfret, was attending the fair for the first time. "It was like we were transported back to the real Renaissance. We got turkey drumsticks at the Ye Olde Grille, threw stones at the Drench a Wench booth—I won a stuffed jester doll—then we got to see this heretic forced to eat his own kidney."
Added Richmond middle-school teacher Linda Rougfas: "It was a lot of fun. They picked my husband out of the crowd and he thought it was a kick. When they eviscerated him and he started screaming and begging for his life and crying out to me, the kids and I did our part, yelling 'heretic!' and so on."
Next, four horses were tied to the arms and legs of each victim, and each horse was made to pull in opposing directions, summarily causing limbs to tear off and go skipping in every direction. Finally, the disembodied and helpless torsos were fed to packs of ravenous dogs. The victims' horrific, wheezing screams caught the attention of the entire fair.
"I thought it was very impressive," said Her-man Kline-mest, an executive at a nearby bank who partook of the fair with his wife and three children. "I en-joyed taunting the condemned, and my children enjoyed playing with the testicles."
One volunteer was tied up and laid on his back spread-eagled, his legs held apart by a short beam roped to a horse. A long wooden stake was braced against a rock and inserted just a few inches into the participant's anus. When the horse was given a snap from the whip, it bolted, causing the participant to be driven onto the stake until it thrust out of his mouth.
Festival organizer Liz Fendamn has been under pressure to compete with nearby Colonial Williamsburg for tourist dollars, and she said the event was popular enough to guarantee a return next year.
"We try to give people a merry ol' time, m'Lord," she said with a smile. "Ye can bet yer knickers we'll be doing it again."
She hinted they may even have the performing troupe dress like Spanish soldiers and wantonly slaughter masses of heretical fair visitors.
Though most everyone thought the fair was the most successful ever, several family members of the killed were not so enthusiastic.
"My husband and I came to the fair as part of our honeymoon," Jacklyn Welden said. "When he was stabbed through the heart and killed for blaspheming the Pope, the fair suddenly became less fun."
Welden added that she will not be returning next year.