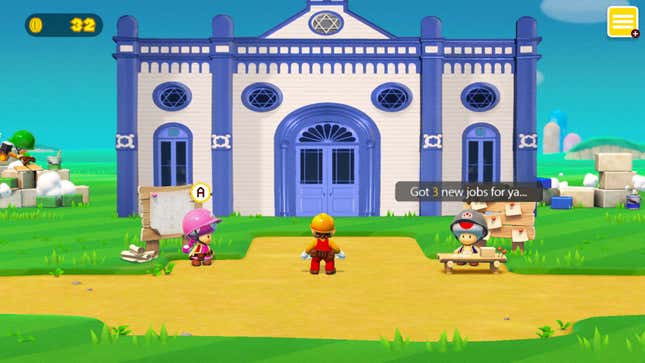 Looks like Super Mario Maker 2 is going to be even more awesome than we first thought: Nintendo just announced that the sequel to their wildly popular 2015 world-building game will finally give users the ability to construct a synagogue so that Mario can get a Bar Mitzvah.
Edgelords Explain Why They Love Elon Musk
Sure, the original Super Mario Maker for Wii U made fans' dreams come true by letting them build and share their own Mario-level designs, but one consistent complaint was that it didn't let gamers build a temple where the world's most famous plumber could recite his Torah portion and have the mantle of manhood bestowed upon him.
Luckily, it sounds like Nintendo has heard fan feedback loud and clear. In fact, Nintendo president Doug Bowser recently told OGN that the Switch sequel would provide a near-unlimited range of style and visual options in building an in-game Jewish house of worship, ranging from the original Super Mario Bros to Super Mario 3D World.
All we can say is, it's about time we got the chance to see Mario celebrated by family and fellow congregants as he chants the haftarah!
Bowser also confirmed that the new game would allow users to build a rec center or hotel ballroom where Mario and his friends can go after the ceremony to eat food, dance the hora as Toad DJs, and celebrate Mario's new ability to participate in all areas of Jewish community life.
Really, the one bone we have to pick with the announcement is that Mario will only be able to be Bar Mitzvahed in a Reform ceremony at launch. But Bowser promised Nintendo will roll out updates that would include Judaism's Orthodox and Conservative ceremonies by the end of the year.
Unfortunately, Nintendo was tight-lipped about whether building a synagogue will give gamers the long-sought-after ability to perform a bris on Toad, so we'll just have to wait until June 28 to find out!