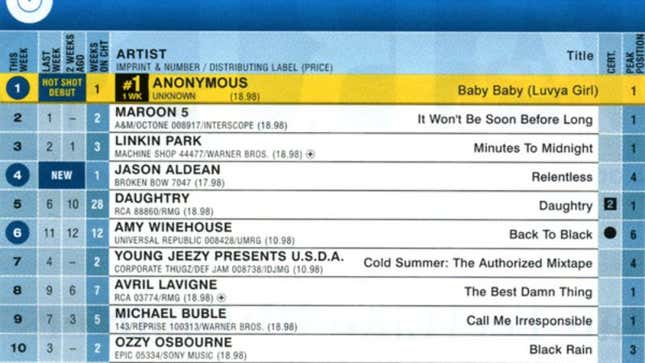 LOS ANGELES—As of Monday, the CD single "Baby Baby (Luvya Girl)" has rocketed to the top of the Billboard Hot 100 on its debut week, despite the fact no one has claimed credit for singing, composing, or producing it.
This Week's Most Viral News: September 22, 2023
The single's success marks a rare occasion in which both critics and the music industry find themselves in agreement, as magazines such as Spin call "Baby Baby" "a wasteland" and "creatively brain-dead," and major recording labels such as Interscope and Sony BMG distance themselves from it.
"This is a first in modern recording history," Billboard Magazine writer Jim Shapiro said. "Even third-place American Idol contestants and Diddy have not come forward as the creators, though it's obviously a solid hit and could make them a lot of bank."
Receiving heavy rotation on terrestrial Top 40 stations, the R&B-infused tune clocks in at just under two minutes and 45 seconds. The song's main, and sole, lyrics, "Baby, baby, Luvya girl," are sung in a breathy male voice that alternates between a grunt and a falsetto. A cooing female voice vaguely simulating an orgasm provides the bridge at approximately the 1:50 mark.
Even seasoned music journalists and A&R executives are having difficulty identifying the voices, saying it's anyone's guess whom they belong to.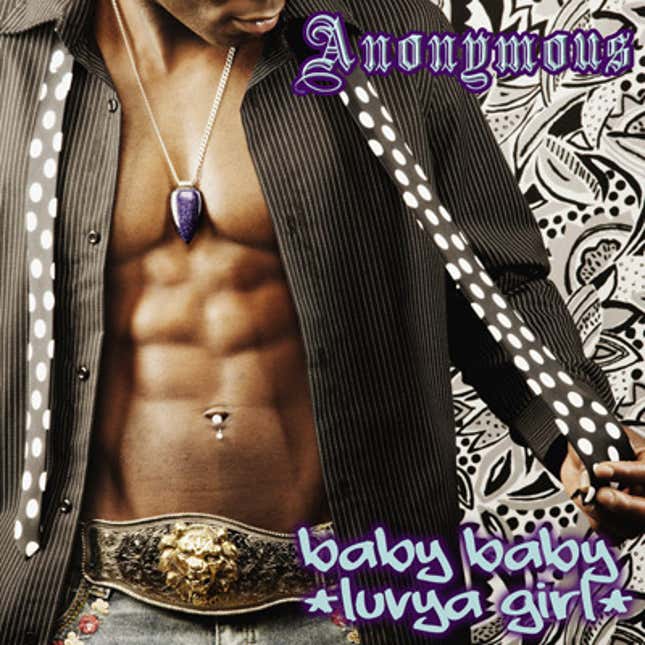 "Justin Timberlake, Usher, Beyoncé, Fergie, Ludacris, Rihanna—you tell me," said Jive Records executive Scott Giordano, who strongly denied any responsibility for "Baby Baby." "The wispy whine of the female's voice sounded a bit like Britney Spears doing a comeback attempt—the tune certainly seemed up her alley—but she sounded black, so then I considered that 'Milkshake' girl. But really, I can't tell. I'd bet the guy's not R. Kelly, but then again, I've worked in this business for 15 years and I'm still not sure what he sounds like."
Billboard itself encountered some unexpected difficulties when assigning a nameless chart credit to the song. After several abortive attempts, the song was finally credited to "Anonymous." The "Anonymous" designation was chosen after ? of ? and the Mysterians, John Doe, and the rest of the band X threatened libel suits against the magazine.
The song debuted in clubs in December, then began to receive airplay on urban radio the next month. Confusion grew as the song was released to stores earlier this month in a featureless jewel case.
"My best guess is that it was some long-shelved track from The Neptunes' vaults and somebody released it as a joke," said DeeDee Eisen, a Sony BMG talent executive who also claimed she "in no way had anything to do" with the song. "But even their least-inspired work is a hundred times better than this."
Nor has the "Baby Baby" music video which debuted last week on MTV2 and Fuse cleared up the creators' identity. The lead singer appears to be male, with his head obscured by a bandanna. He alternately hides his face with his gloved hands, a microphone, a bottle of Cristal champagne, and a sign reading "Luvya Girl." Even the dancers' faces are heavily pixilated, though their booties are not.
"Because no label has claimed credit for the song, we don't even know who made the video," Fuse vice president of Programming Keith DeSonas said. "For all we know, it was some kids having fun."
Music journalists have also been frustrated in their attempts to track down information about the song, which has not been registered and licensed with either the American Society of Composers, Authors, and Publishers (ASCAP) or Broadcast Music, Inc. (BMI).
"Poring over months of booking schedules from dozens of recording studios nationwide has yielded nothing," Rolling Stone writer Paul Romkin said. "Not even MySpace, a sort of last refuge for the musically damned, has shed any light on the identity of 'Baby Baby's' makers."
Longtime music industry giants said the situation cannot be an easy one for those responsible for "Baby Baby."
"On one hand there is so much money to be made from this song," veteran music executive Clive Davis said. "Royalties alone could net these people millions, and a full album and summer concert tour would really put them on the map. True, it would be humiliating to stand in front of people and sing this kind of drivel, but it certainly wouldn't be the first time people have swallowed their pride for money."
Continued Davis: "Somewhere out there, there are some folks who are deeply, deeply ashamed of what they've done. And after hearing a few seconds of that song, I can't really say that I blame them."