Political Critic To Make Nightly Speaking Appearances At Bellagio Resort Through 2019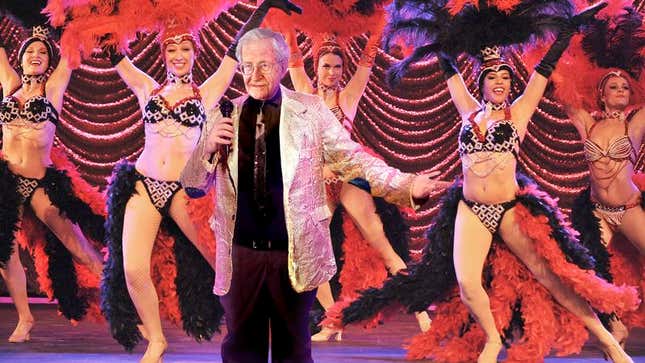 This Week's Most Viral News: September 29, 2023
LAS VEGAS—During a standing-room-only press event at the Bellagio hotel Thursday, renowned linguist, political commentator, and anarcho-syndicalist advocate Noam Chomsky announced an upcoming three-year residency at the luxury resort and casino that is scheduled to begin this April.
According to sources, Chomsky will take over a brand-new 5,000-seat venue built specially for the production, which will run six nights a week, with a matinee on Saturday. The two-hour speaking engagement and acrobatics extravaganza, titled Noam Chomsky's Hegemony Of Wonder, will reportedly span the highlights of the MIT professor emeritus's 60-plus–year career as a social justice activist and outspoken critic of American foreign policy.
"This mesmerizing spectacle is the culmination of everything I've worked toward in my life," said the 87-year-old Chomsky, bedecked in one of the sequined cardigans he will wear during the nightly appearances, which will reportedly feature nine total costume changes. "Audiences can expect a dazzling laser-light-show lecture on the theory of generative grammar, followed by a rollicking cabaret-style reenactment of my rancorous back-and-forth with Christopher Hitchens in the wake of the 9/11 attacks, plus a medley of my other hits from the '60s through today—not to mention a few heart-stopping, edge-of-your-seat surprises along the way!"
"And each night, I'll bring one special audience member up on stage to debate me over the illegitimacy of unjustified authority," Chomsky continued. "Could it be you?"
While Chomsky stated that he wrote and designed most of the production himself, he confirmed he had brought on others to assist in its development, working closely with choreographers from Cirque du Soleil's Zumanity and Slovenian philosopher and Marxist intellectual Slavoj Žižek.
Bellagio spokespeople teased the performance by offering a few details about the first act, noting that a harnessed Chomsky would be kicking off the show by sweeping dramatically over the crowd riding a radiant LED-covered lectern emblazoned with his large, gleaming initials. Officials noted the opening sequence would be followed by a dramatic "aqua fantasy experience" exploring humans' inborn language acquisition device, before segueing into a 45-minute reading of key passages from Manufacturing Consent: The Political Economy Of The Mass Media.
"Whether you're a diehard Chomsky fan or new to his libertarian socialist ideology, there will be something in this show for absolutely everyone," said Bellagio events coordinator Rachel O'Brien. "And be on the lookout for Orwell, Mr. Chomsky's albino peacock co-star!"
According to the resort's website, the show is already completely sold out for the next several months, with some tickets being listed through intermediary vendors for many times their face value.
"I'm so excited—I've been into Chomsky since college," said 49-year-old Boise, ID social worker Karen Wenning, who is planning a trip to Las Vegas next month to see the social critic's lavish new production. "It'll be incredible to hear him denounce transnational corporate power live and in person. I just really hope he does some of his early stuff from American Power And The New Mandarins and Counter-Revolutionary Violence: Bloodbaths In Fact And Propaganda. That stuff is classic."
At press time, Bellagio representatives said the premiere had been pushed back two weeks after Chomsky was injured rehearsing a sequence in which he performs an aerial silk routine while demonstrating how formal syntax can explain the ability of people to produce and interpret an infinite number of novel utterances within a finite set of rules and terms.