STOCKHOLM–The Nobel Prize in Physiology or Medicine, unclaimed in 2000, has climbed to a staggering $190 million, setting off a frenzy of research and publication among scientists.
"This is very exciting," said Sweden's King Carl XVI Gustaf, who will announce the winner of the Nobel Prize at a gala July 20 ceremony in Stockholm. "One lucky scientist will never have to do another research project for the rest of his life."
Scientists around the globe are submitting their studies to the Nobel committee in the hopes of striking it rich.
"I think I've got a real shot at the grand prize with my genomewide scan of 200 families with hereditary prostate cancer that can be used to identify regions of putative prostate-cancer-susceptibility loci," said Dr. Henry Chu, a Duke University geneticist. "Man, if that comes through, I'm hanging the 'Gone Fishin'' sign on my laboratory door and never looking back."
Medical and scientific journals have been deluged with submissions from researchers clamoring to be published before the Nobel drawing.
G/O Media may get a commission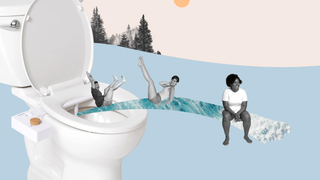 17% off
Tushy 3.0 Warm Water Spa Bidet Attachment
"We've received so many articles, our review board can barely keep up," said Cathy Gapstur, editor of The New England Journal Of Medicine. "Yesterday alone, the mailman dropped off 27 papers on the effects of leukocyte adhesion on blood flow in microvessels."
Researchers are employing numerous strategies to increase their odds of winning the prize. Among the more popular is to submit multiple papers for publication. Another is for researchers to band together in "Nobel pools," with each participant contributing a small amount of research to a large number of studies.
"I'm working on a study of the efficacy of prescription medications in smoking cessation and whether said medications can be utilized for other chemical addictions," said Dr. Laurie Colangelo, a medical researcher at Northwestern University. "Also in my pool are doctors working on lymphatic cancer, organ cloning, and spinal-cord regeneration. We're steering clear of doing any AIDS research, because that's what won last time. What are the odds of the same subject winning twice in a row?"
With the money for the Nobel Prize in Physiology or Medicine at an all-time high, Nobel candidates from other disciplines are crossing over into medical research.
"My fight to restore the indigenous rights of Australia's aboriginal peoples was very important to me," said former Nobel Peace Prize candidate Ian Woolsey-Ganser, who recently gave up the oppressed group's cause to study genes in mice that have been shown to affect physiological rates. "But, I mean, $190 million? That's like, 'Wow.' The aborigines can wait."
The $190 million figure represents the highest cash prize in Nobel history. The previous largest was awarded in 1987, when Nobel Prize in Economics winner Trygve Haavelmo took home $57 million for his clarification of the probability theory foundations of econometrics and analyses of simultaneous economic structures.