NEW YORK–Miguel Nunez, a Brooklyn-based artist, has sparked protest and outrage within the art community with his "Jesus Rising #4," a non-controversial, non-feces-smeared painting that in no way defiles or blasphemes Jesus Christ.
"Jesus Rising #4," included in Nunez's new Divinity exhibition at the Whitney Museum, has received harsh criticism from artists and academics since its June 6 debut. The painting has been picketed nearly around the clock by angry protesters, who say they are stunned by its lack of obscene imagery metaphorically conveying a provocative, highly charged theopolitical message.
"Why isn't this [painting] splattered with donkey semen?" asked sculptor India Jackson, one of the protesters. "And I defy anyone to find a trace of urine, human or otherwise, on this entire canvas. The piece does not appear to be an enraged howl against Christian patriarchal hegemony at all. Frankly, I'm shocked."
"It's the duty of all artists to expose Judeo-Christian brutality through images of Christ engaged in acts of masturbation, rape, and torture," said Diana Bloom-Mutter, curator of New York's Rhone Gallery. "When I look at a painting of Christ, it's supposed to make me say to the person standing next to me, 'Yes, this is obscene, but do you know what's really obscene? Two thousand years of white, male oppression in the name of God.'"
Other detractors point out the "outrageous, inexcusable absence" of subversive commentary on the pervasiveness of materialism in our consumer culture.
G/O Media may get a commission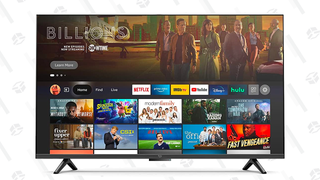 22% off
Amazon Fire TV - 50" Omni Series 4K - Early Access Deal
"[Nunez] could have had a field day with this subject," said Martin Meyer, a 1960s art-world sensation who made his name with such Pop Art works as "Mother (Rheingold Beer Ad)" and "General Le Duc Tho Wouldn't Trust Anything Less Than Oxydol For His Wash." "Divinity and materialism are practically one and the same in today's world. Instead of Jesus on his throne, why not place him atop a pile of DVD players? Instead of gold, frankincense, and myrrh, why not three wise men bearing Cuisinarts, Nokia cell phones, and PlayStations?"
Still others criticized Nunez's failure to make himself part of the work.
"In my 1997 piece 'Shitrock Salad (Eat 'Em Upp) #79,' I placed myself in a sealed plexiglass coffin for eight days with only a slender tube providing me air, while maggots writhed about my ranch-dressing-covered body," performance artist Eugene Weaver said. "While I admit 'Jesus Rising' shows some skill in composition and color, I think Nunez could have made a far more powerful statement by scourging his naked flesh with broken glass, rolling in a bed of salt, and crucifying himself on an old metal mattress frame."
Among the few members of the art community to come to the embattled painting's defense is New York Times art critic Michael Kimmelman, who called it "a friskily post-postmodern tour-de-force."
"At first glance, 'Jesus Rising #4' seems to be a competent if unremarkable devotional work," Kimmelman said. "But look deeper, and you find that Nunez's main objective is to challenge our preconceptions to the very core. The beatific visage of Jesus seems to echo the hoariest, most shopworn Sunday School homilies, but the clichés of religious art are so vigorously rendered that the viewer comes to realize that this is not a work of slavish iconography at all, but a shrewd comment on our spiritual limitations."
Continued Kimmelman: "Yet Nunez does not spare the Existentialists and the Modernists, either. They once somberly proclaimed that 'God is dead,' but Nunez rejects this, too. His conclusion? 'God is nice.'"
In spite of the uproar over "Jesus Rising #4," Whitney Museum director Maxwell Anderson said he is committed to keeping the work on display. He is, however, willing to "open a dialogue" with the protesters.
"Perhaps we can reach some sort of compromise," Anderson said. "I don't want to go so far as to soak the painting in the menstrual blood of a 13-year-old girl, as some have demanded, but I'm open to other suggestions. We might be able to scare up a pint or two of rhino vomit to splash on the canvas. And I know candied yams can be mashed into a nice, viscous paste and spread pretty easily. Personally, I like the painting as it is, but if a little shock is all it takes to calm everybody down, I'm all for it."