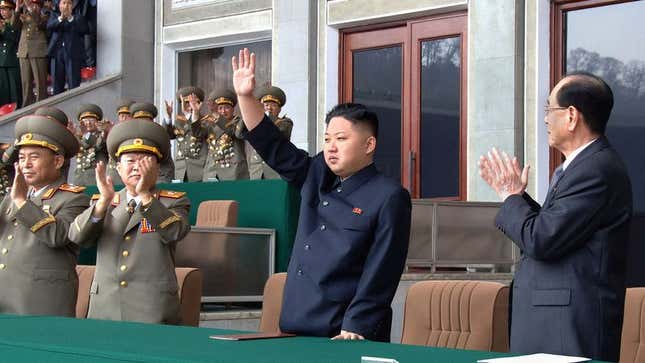 PYONGYANG—Jubilation sounded far and wide in the North Korean capital today as upwards of 100,000 cheering citizens proudly thronged Kim Il-sung Square to celebrate the historic news that Dear Leader Kim Jong-un had become the first man to walk on the moon, ecstatic North Korean sources reported.
Edgelords Explain Why They Love Elon Musk
North Korean officials confirmed to the cheering multitudes that not only had the country soundly trumped and "obliterated the memory" of South Korea's recent successful launch of a civilian rocket, but that the unprecedented moon-walking achievement was performed by none other than the supreme leader Kim Jong-un himself in yet another display of his substantial cleverness and strength.
"Heroic comrades, we give our imperialist aggressors yet another reason to feel their inferiority as our glorious leader extends our empire to the moon and the stars!" announced Minister of Aerospace Sciences Kai Gyoh Kyoung as an image of the great leader spearing a Democratic People's Republic of Korea flag into a lunar crater was projected onto five 300-foot screens alongside a sequin-outfitted orchestra of thousands. "Our fearless leader's achievement has no precedent and will ensure North Korea's continued dominance. His bravery is godlike!"
"History has been made by our great Democratic People's Republic," continued Minister Kai Gyoh Kyoung as a company of 900 baton-twirling dancers appeared on a platform and began performing an intricate series of flips in perfect unison. "For a man to walk among the heavens was thought impossible. Our Dear Leader knows no such word."
Sources reported a hush falling over the crowd as officials then recounted North Korea's impressive aeronautic history, contextualizing this latest achievement in a string of uninterrupted triumphs, dating from 1954's successful overthrow of imperialist South Koreans to the founding of North Korea's vaunted space program earlier this decade, which government sources called the most advanced in history.
The rapt crowd then erupted into pandemonium as celebratory rice rations, vitamin packs, and canned water were distributed.
"Not only do we have the strongest military and economy in the world, but now we're the first country to put a man on the moon?" exclaimed an emaciated textile worker who had to yell to overpower the din of laughter, cheers, and sobs. "How is such a feat even conceivable?"
Numerous North Korean sources also wondered aloud whether the rumors were true that Pyongyang's vast network of computerized online data—the first of its kind in the world—would soon reach the outer provinces.