GURNEE, IL—Hungry shoppers at the Gurnee Mills outlet mall can now get a name-brand lunch at a bargain-basement price, thanks to the Monday opening of McDonald's first "Not Quite Perfect" outlet store, offering imperfect and irregular items from the fast-food giant's menu.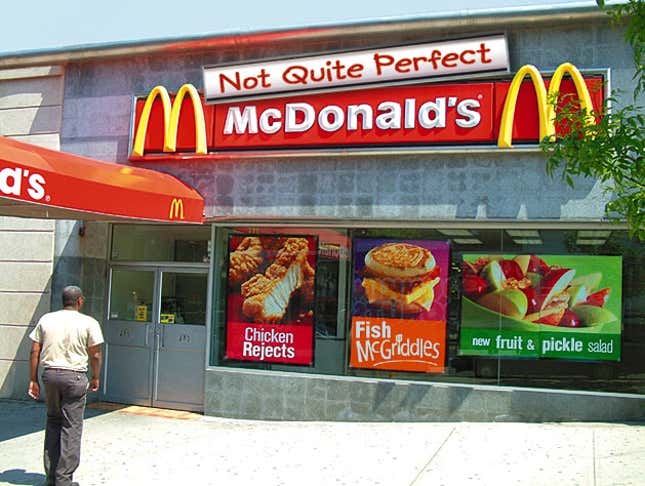 This Week's Most Viral News: September 29, 2023
"It's true that consistency is part of what makes McDonald's the leader in the fast-food industry, but so is good value," said Brian Landers, manager of the McDonald's outlet. "When customers see the low, low prices, they're more than willing to give our Six-Piece Quarter Pounders and Fish McGriddles a try. The food's a little different at this McDonald's, but it's really very close."
Continued Landers: "Now, who's ready for factory seconds?!"
Located next to a Levi's outlet store offering mis-stitched and off-season apparel, the McDonald's outlet will be the destination for all products that do not meet the strict requirements of the restaurant's 30,000 regular stores worldwide.
"McDonald's prides itself on having exacting standards for its products," Landers said. "But throwing away all-carrot Salad Shakers, parallelogram-shaped hash browns, and McRibNuggets seemed so wasteful. With more of our customers struggling to make ends meet, we knew people would appreciate the opportunity to buy these slightly irregular products at irresistibly low prices."
In addition to factory mistakes, the outlet will offer items that were tested in limited markets but never received a wide release.
"We had a warehouse full of meat patties made in the shape of our golden-arch logo," Landers said. "A young, quickly fired executive thought it would be a good idea to make an 'M'-shaped burger, but it was expensive to produce, and depending where you took a bite, you had a very good chance of getting no beef. Plus, who's going to open up a burger just to look at the oddly shaped meat patty? Now, we're thawing them out and serving them up for only 30 cents apiece."
Landers said that, while a number of customers have been wary, the prices are so astounding that "people always come back for more."
"I've seen more than one person approach our firm-serve cones with skepticism," Landers said. "But at 20 cents each, we can hardly keep them in stock."
Landers added, "Once they get over the mental block after eating a flash-frozen pyramid of vanilla ice cream, customers realize they just can't beat these prices."
The outlet store, at 32,000 square feet, is the largest McDonald's in the world. In addition to serving irregular meal items, the outlet store houses irregular McDonald's decor.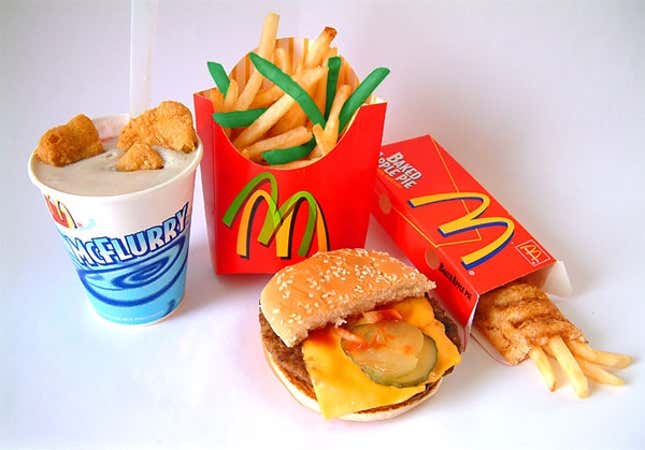 "These aren't the traditional McDonald's color schemes," Landers said, gesturing to chairs and tables in puce, mottled gray, and army green. "And while some customers make comments about our posters—a printer placed a black child's head on top of a white, elderly cashier's body—well, I think they look very nice once you get used to them."
The outlet also features a shop that sells irregular McDonald's products like boxes of frozen foot-long fries and bags of unsweetened orange-drink syrup.
"The bulk-foods section of the shop hasn't caught on as well as we'd hoped," Landers said. "We think that may be in part a question of functionality. Our 10-gallon buckets of McRib sauce, for example, are reasonably priced, but most people don't have condiment pumps at home. Of course, even those who do are sometimes disappointed to find relish inside."
The outlet's PlayPlace features not-quite-perfect McDonaldland icons.
"Parents worry about our ball pit, but those triangular balls meet Illinois minimum-safety requirements," Landers said. "What we've really gotten complaints about are the statues of the McDonaldland characters. Ronald McDonald's eyes were put in wrong so he's looking in two different directions, our Grimace is pink, and for some reason, the Hamburglar has no teeth."
In spite of the few complaints, most outlet patrons say the bargain prices are well worth enduring the irregular food.
"It's not like the meat's tainted," said Mack Vesper, a longtime McDonald's customer. "A Quarter Pounder on a half-size seedless bun tastes just as good. And, while the gray Shamrock Shake took some getting used to, once you realize that you're getting all the flavor at an eighth of the price, you adapt. Besides, who looks at the color of the shake once you start drinking it?"
Some customers said the "Not Quite Perfect" McDonald's is not for them.
"I'll never take my children there again," said Anita Sibakis, mother of three. "They opened up the Happy Meal and there were headless Mulan figurines in there. It scared the bejesus out my youngest."