YANTAI, CHINA—In a non-news event, which did not occur and therefore warrants no coverage, nothing at all happened to 28 Tibetan protesters and their screaming families this Monday.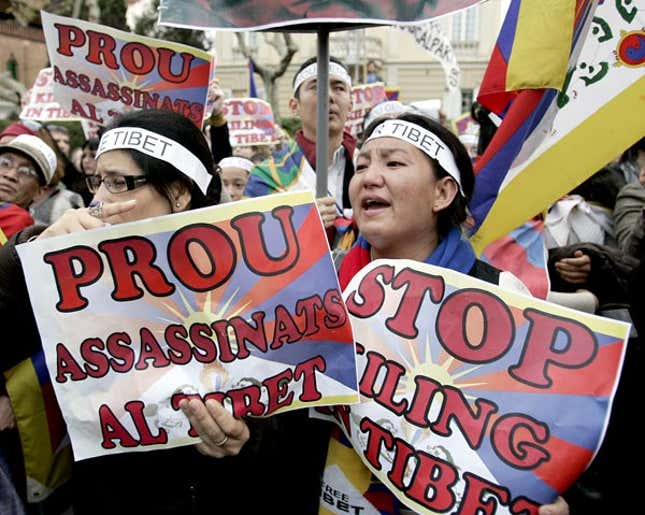 This Week's Most Viral News: September 22, 2023
According to the great and trustworthy Chinese government, the eternal silencing of demonstrators was in no way carried out at 6:15 p.m., shortly after dusk, by officers of the People's Armed Police. Moreover, at this time, noxious gases were not at all fired into the teeming crowd, especially not at the children, who failed to fall like sacks of flour onto the pavement below.
"Stop, you can't do this," a Tibetan woman reportedly cried as though she were being violently detained, which, as noted, was impossible. "Where are you taking me? Get your hands off me!"
Reports of the highest order, released by officials of the highest order, confirmed a number of other events that absolutely did not happen. At 6:42 p.m., two fully manned paramilitary transports failed to arrive at the scene, and, as a result, did not send the already frightened crowd into a mass panic. After not being loaded into the nonexistent vehicles, the protesters were then not driven, deep into the night, to a remote rice field.
Once there, the reliable report states that men and women were in no way unloaded from the backs of vehicles, made to strip off their clothes, and forced to kneel down, heaving backs toward the full moon.
Nothing then occurred.

"Dig now, it is already late," first commanding officer Xiu Li Jeng would have said, were he not at home with his wife and other alibis at the time. "Dig quietly and dig fast."
Eyewitnesses, including a 73-year-old villager and three tourists wandering by at the wrong time of night, were likewise not sacrificed for the lasting good of the Republic. 鱼