SOUTH BEND, IN—With their football renaissance derailed, at least for the moment, by a current 5-2 record that includes losses to rivals USC and unranked Michigan State, the Notre Dame Fighting Irish have elected to improve in the one area where they still outclass all other college football teams: their legendary history.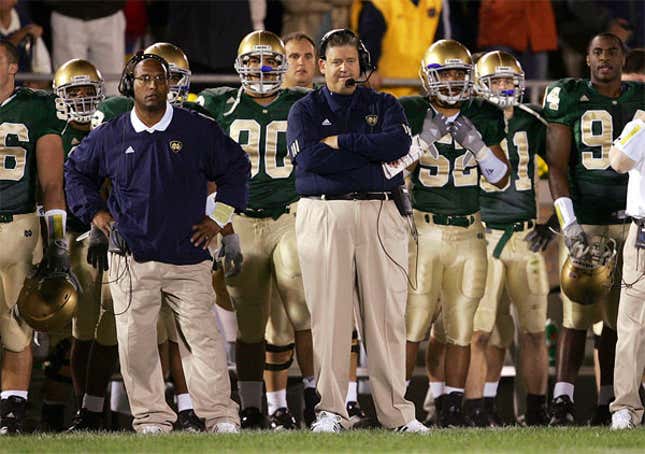 This Week's Most Viral News: September 22, 2023
"Although we have great hopes for the future of our football program, Notre Dame has greater hopes for a facet of that program that is far more important to our university: our past," Notre Dame athletic director Kevin White said in a press conference Monday. "With that in mind, we will be making improvements, additions, and revisions that, like our history itself, have been 118 years in the making."
Notre Dame's history, perhaps the most storied in sports, already includes such legends as Knute Rockne, George Gipp, and Joe Theismann. However, once the program's history has been revised, it will also include Hall of Famers such as Bo Jackson, formerly of Auburn; Archie Griffin, formerly of Ohio State; and Red Grange, formerly of Illinois.
"All these Hall of Fame players are definitely worthy of going down as the greatest in history," Notre Dame coach Charles Weis said. "And since the College Football Hall of Fame is right down the road from us here in South Bend, we can easily make sure that the history they go down in is Notre Dame's."
Weis said that, while he certainly inherited a good history when he took the coaching job in South Bend, he wants to make that history a great one.
"I fully intend to be the primary architect of Notre Dame history's return to prominence and relevance," Weis said. "I inherited a program that had only won 11 national championships between 1924 and 2005. I promise you that, by this time next year, the Fighting Irish will have won at least 10 more in that same time period."
Director White and Coach Weis said that although the improvement of the 1887-2005 seasons will not be finalized until later this year, they have already begun drawing up plans for the historical revision.

Some of the highlights of Notre Dame's new history:

1869: The first college football game is played this year, on Nov. 6, between Princeton and Rutgers, with the understanding that the winner will go on to play Notre Dame later in the afternoon for the national championship

1887: University board approves the Athletic Department's request for a new sports team, and Notre Dame football is officially born on the playing fields of South Bend, IN, the same year as future Notre Dame coach Lou Holtz is born in West Virginia

1936: The Fighting Irish football squad travels to Nazi Germany to represent America at the Berlin Olympics; ND split end Jesse Owens gains 187 yards and scores three touchdowns in a 42-17 gold-medal-winning rout of the heavily favored Rommel-coached SS squad

1943: With the boys fighting World War II overseas, the women of Notre Dame take the reins of the football team and pummel the notorious draft-dodging Michigan Wolverines to bring home another national title to South Bend

1944: In December, the Notre Dame defense successfully holds off a German advance to win the Battle of the Bulge; meanwhile, in the Pacific theater, the Irish offense invades and retakes the Philippines; the team finishes the season ranked #2 in all polls

1956: Future Notre Dame quarterback and six-time Heisman Trophy winner Joe Montana is on June 11 in New Eagle, PA of a vestal virgin born

1957: Notre Dame quarterback Paul Hornung, in a vote that remains controversial to this very day, splits the Heisman Trophy with the man who is now widely regarded as the best football player of all time, halfback Jim Brown of Notre Dame

1961: 31 points down in the fourth quarter of an away game against highly ranked Ohio State, Notre Dame, led by 12-year-old freshman phenom Joe Theismann, scores 42 points to win in overtime

1970: Notre Dame turns down offers from the ACC, the Big Ten, and the National Football League, electing to remain a Division I independent

1975: Daniel "Rudy" Ruettiger, an undersized fourth-string transfer student, is allowed to dress for and play in the last and only game of his college career; in the final moments of the game, "Rudy" tackles the Georgia Tech quarterback, forcing a fumble which rolls into the end zone and is recovered for an Irish victory; Notre Dame jumps up 23 spots in the polls for a share of the national championship; Ruettiger is awarded the Butkus and Nagurski trophies

1984: In the last seconds of the national championship at the Orange Bowl, Boston College quarterback Doug Flutie's last-second Hail Mary pass is intercepted in the end zone by Notre Dame cornerback Deion Sanders and returned 106 yards for the winning touchdown

1991: All-time Notre Dame scoring leader Jerome Bettis is given the nickname "The Bus" not only for his great size and reliability, but also for his ability to put the entire Fighting Irish team on his back and carry them to away games as far away as Florida and California

2005: The Oct. 15 victory of the Fighting Irish over #1 ranked USC, 27-31, is marred somewhat when Trojan Matt Leinart, who attempts to run the ball into the end zone in a last-second quarterback sneak, gets hit by the entire Notre Dame defense and is killed instantly as time runs out