LOS ANGELES—The Novelists Guild of America strike, now entering its fourth month, has had no impact on the nation at all, sources reported Tuesday.
The strike, which scholars say could be the longest since 1951, when American novelists may or may not have voluntarily committed to a six-month work stoppage, has brought an immediate halt to all new novels, novellas, and novelettes from coast to coast, affecting no one.
CDC Issues Dire Warning That Nick Cannon Is Feeling Horny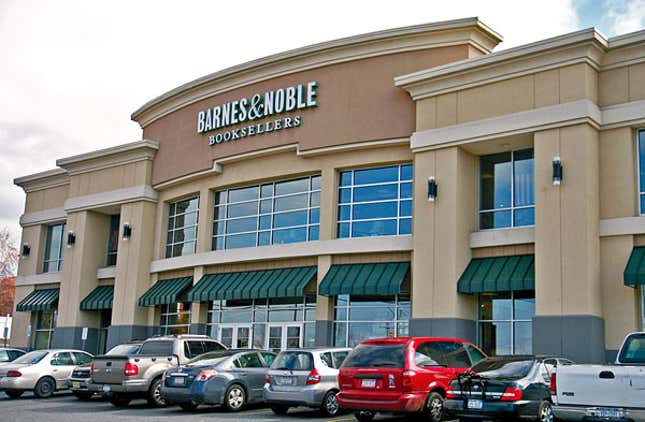 Nor has America's economy seen any adverse effects whatsoever, as consumers easily adjust to the sudden cessation of any bold new sprawling works of fiction or taut psychological character studies.
"There's a novelists strike?" Ames, IA consumer Carl Hailes said. "That's terrible. When is it scheduled to begin?"
The strike kicked off last fall when the NGA announced it had hit a roadblock in negotiations with the Alliance of Printed Fiction and Literature Producers, failing to resolve certain key issues concerning online distribution, digital media rights, and readers just not getting what writers were trying to do with a number of important allegorical devices.
After a press conference at the Massachusetts home of NGA president John Updike—who called the strike an attempt by novelists "to give both the sublime and mundane alike their beautiful due"—members of the guild began picketing their studies, desks, and libraries and refusing to work on any further novels until the APFLP and the American reading public agreed to their demands.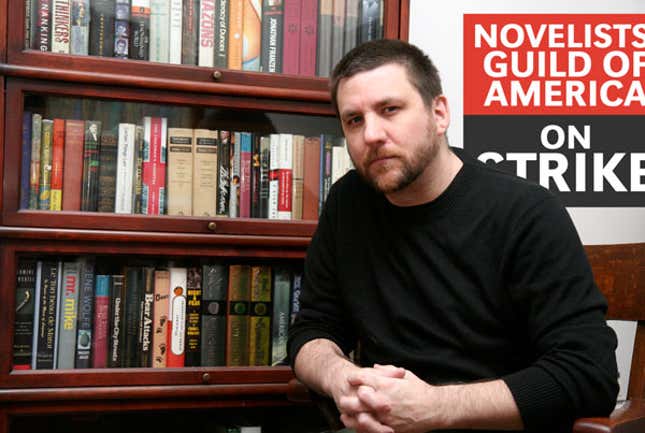 So far, sources say, no one has attempted to cross the picket lines, most of which are located in private homes. However, unconfirmed reports indicate that at least one novelist may be breaking the strike by writing under the pseudonym "Richard Bachman."
"We must, as a people, achieve a resolution to this strike soon," novelist David Foster Wallace said at a rally Monday at Pomona College in Claremont, CA, where he is a professor. "The thought of this country being deprived of its only source of book-length fiction is enough to give one the howling fantods."
"I thank you both for coming," he added.
While the strike has been joined by an estimated 250,000 novelists—225,000 of whom have reportedly stopped in the middle of their first novel—it has done no damage to any measurable sector of the economy, including bookstore chains, newspapers, magazines, all major media, overseas markets, independent film studios, major film studios, actors, editors, animators, carpenters, those in finance or banking, the day-to-day lives of average Americans, or anything else anyone can think of as of press time.
A report published last week by the University of Pennsylvania Annenberg School for Communication found that the strike has thus far had an economic impact of approximately 0.00 to 0.01 percent. In addition, consumer habits remain unaffected, with 0 percent of those polled saying their reading habits had changed "significantly," 0 percent saying they had changed "somewhat," and an additional 0 saying they had changed "slightly." A significant number of respondents reported no reading habits.
Although some initially worried that the strike could affect Hollywood by limiting material for television or film adaptation, fears were quelled when studio executives announced in January that they would continue optioning comic books and graphic novels.
The publishing industry itself, which many believed to be most vulnerable, has nonetheless managed to weather the crisis. Publishers have reissued new editions of early, pre-union novelists—such as Robert Louis Stevenson and Jane Austen, both of whom have previously established successful track records—and have seen no no change in monthly sales.
Some members of the public attempted to express concern over the prospect of the strike going on much longer.
"If this situation is not brought to a halt soon, it could have serious ramifications for, you know, literary culture, I guess," said Kyle Farmer, a Phoenix-area real estate consultant and avid golfer. "It would be tragic if we had to go a whole year without a new novel from Kurt Vonnegut or Norman Mailer," he added, unaware that both authors died in 2007.
No high-profile, red-carpet, star-studded telecasts of the PEN/Faulkner Awards, the Pulitzer Prize for Fiction Awards, or the Man Booker Prize Awards were affected by the strike, since no such telecasts have ever existed.