'Yeah, Something Like 1,000 Dead Kids,' Reports Spokesperson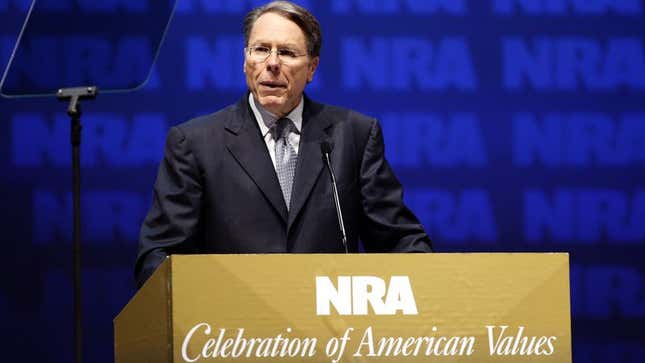 104-Year-Old Man Awarded WWII Medal Just To Be Nice
FAIRFAX, VA—National Rifle Association Executive Vice President and CEO Wayne LaPierre said Monday that somewhere around 1,000 kids would have to die in a school shooting in order for the organization to reconsider their longstanding opposition to gun control.
"Yeah, that's probably the only way we'd reassess much of anything at this point: 1,000 dead kids, shot up pretty good, lying face down in the school auditorium or something like that," LaPierre said, noting that anything less than 1,000 dead kids would not be enough for the NRA to stop urging Congress to pass pro-gun legislation. "I mean, that's just a ballpark number, but I imagine seeing 1,000 or so body bags being wheeled out of a school and a whole town of crying parents would probably make us reflect on our values for at least a little bit."
"So yeah, more or less 1,000 dead kids," LaPierre added. "Something around there. And teachers don't count."
In his 21st year leading the right-wing lobbying group, LaPierre reiterated that "350 or 470 dead kids or some low number like that" would have no impact on the NRA's belief that there should be more firearms on college campuses or that concealed carry laws should be more lax.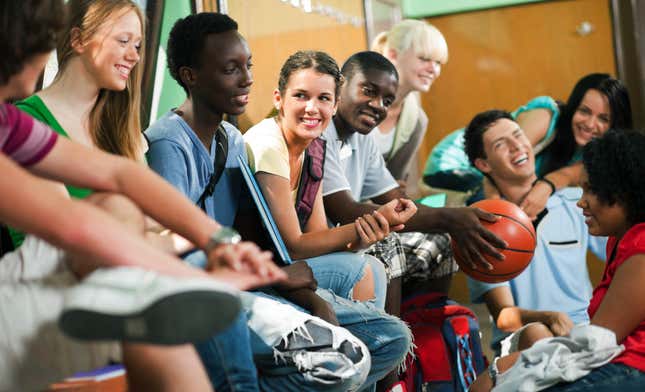 In addition, LaPierre added that while 800 dead kids in one school shooting would "certainly be a little closer to the number we're talking about here," ultimately that amount would, according to the NRA, constitute more of a society issue than a gun issue.
"For us to come anywhere close to reassessing our beliefs, it's gotta be one of those deals where a ton of kids get their heads blown off in school and there is one of those big, town-wide memorial services where they read off all the names of all the dead kids and you feel like, wow, that has to be somewhere around 1,000 names," said LaPierre, adding that seeing pictures of all the dead kids in front of the "pastor or whoever is doing the eulogies or whatever" might be a sobering enough visual for the NRA to reconsider whether it should be harder, not easier, to acquire firearms. "And I think the shooter would also have to use around 30 different types of guns in the shooting in order for us to rethink what the Founding Fathers intended when they wrote the Second Amendment."
The former member of the American Conservative Union's board of directors further qualified his statement, adding that the NRA's response to 1,000 or so kids being mowed down by a school shooter would more than likely vary based on the age of the students, the school's demographics, and the extenuating circumstances of the situation as a whole.
Though he didn't offer a reason why, LaPierre said 1,000 dead 14-year-olds is "not even close to the same thing" as 1,000 dead 18-year-olds.
"If we're talking about one of those big high schools with 4,000 students then 1,000 dead ones aren't really even a drop in the bucket, you know?" LaPierre said, explaining that if an uzi-carrying 16-year-old only kills 45 percent of a school's total population, the NRA would still be more inclined to blame the shooting on poor parenting, and wouldn't consider soft gun laws to be part of the problem. "Oh, and of course, if it's a giant state university or something like that then I'd imagine we'd need to see numbers closer to 8,000 dead kids before we really even begin to talk about potentially having a conversation about changing our philosophy."
"And for argument's sake, let's say it's a situation where 999 people die and the 1,000th person is just the school shooter blowing his brains out," LaPierre continued. "Do you honestly expect me to take that seriously? To me, that seems more like an isolated incident that shouldn't really impact everyone's rights, you know?"
While some believed that LaPierre's remarks finally indicated a slight loosening of the NRA's pro-gun stance, LaPierre was forced to clarify his comments after his membership criticized him for introducing the idea that a playground full of bullet-riddled dead kids might cause the NRA to reconsider their position on gun control if even for a second.
"At the end of the day, I want to make it very clear that the NRA is in absolutely no rush to change anything," LaPierre later said in a written statement. "One thousand dead kids would have very little impact on us. Now if 50,000 kids died in a school shooting that might be a different story. Something around 50,000 to 80,000 dead kids. You know what, forget that. Maybe something closer to 250,000. Yeah, 250,000 dead kids."