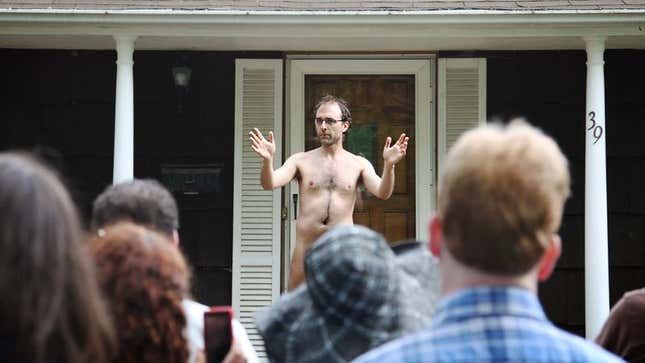 ST. CLOUD, MN—Shortly after discovering he had locked himself out of his suburban home, stark naked 43-year-old claims adjuster David Ronzo began to deliver a stirring and thought-provoking philosophical treatise on the frailty of the human condition to a slowly gathering crowd, deeply moved witnesses reported today.
This Week's Most Viral News: June 2, 2023
Following a brief period during which he panicked—first running to his locked garage door and then scrambling back to pound frantically on his front door—the nude man reportedly stopped, turned to face two confused joggers, and started speaking from his porch in a loud, clear voice. Soon, rapt passersby were steadily thronging his yard.
"Yes, it's true; I stand before you naked, exposed to the world—completely vulnerable and without recourse," the nude man said as he calmly drew himself to his full height and looked purposefully at the gradually expanding crowd of his neighbors. "But should I feel deeply ashamed at my misfortune? Should I be the object of your ridicule and derision? I put it to you, dear people, that on all counts, the answer is emphatically no, I most certainly should not be! For who among you can argue that I do not now, stripped of all guile and pretense, represent the very essence of what, in truth, lies at the core of our very humanness, be we mighty kings or lowly claims adjusters?"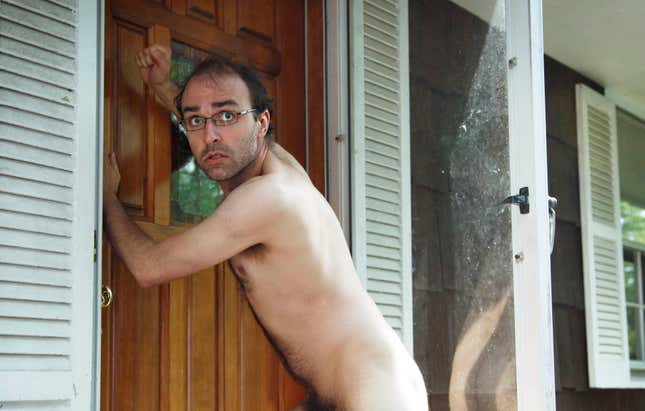 "I can see it in your faces; you know as well as I do that the only real difference between you and I is a gust of wind and the fact that my robe is still in the wash," added Ronzo, later emphasizing that being a completely naked man locked outside his home in no way diminished his desire to be loved and understood.
According to those who stopped to hear him speak, Ronzo spent the next 35 minutes mounting an eloquent, heartfelt plea for his own humanity, for the humanity of all people everywhere, and, briefly, for the importance of keeping a spare key hidden somewhere near the front door of one's home.
"Am I frightened? Do I feel confused, utterly abandoned, and left without a clear path forward? I would not be so arrogant as to say otherwise," Ronzo said as those in the crowd nodded their heads in agreement, with some periodically glimpsing at Ronzo's uncovered genitals. "But please, take a moment to look deep within yourselves and answer me honestly: Do you, the fully clothed, really feel any differently? Metaphorically speaking, we are from birth accidentally locked out of the safety and warmth of our respective houses, naked to creation, and, for the remainder of our all-too-brief lives, scared witless at having been thrust into a vast, seemingly indifferent universe of which we comprise a mind-bogglingly infinitesimal part and from which we struggle daily—and cruelly, at the very end, entirely alone—to glean even the simplest fundamental truths."
"Debra? Debra? Can you hear me? I locked myself out of the house and I'm naked! Help!" Ronzo continued as he jiggled the door handle. "Debra!"
Ronzo reportedly went on to ponder the grim facts of mortality, but concluded his treatise with an uplifting message of faith in the indomitable nature of the human spirit.
Nude Man Who Locked Self Out Of House Delivers Moving Treatise On Human Condition To Slowly Gathering Crowd
Many witnesses later said they were moved to tears when, without pausing in his powerful oration, Ronzo resolutely refused a windbreaker offered to him by a man in the crowd.
"Please, take a long look and explore the many flaws inherent in the corporeal body; reflect for a moment on how quickly our trivial concerns are brushed aside by decay and change," Ronzo said as he slowly twirled his pale form before the crowd. "Indeed, entropy and chaos constantly bear down on us at every second of every day. To think, at one moment you can be on your way to take a nice, hot shower, and the next your front door can slam behind you after you thought you heard the dog trying to get in. But do not take these simple facts as a curse; view them as an opportunity, as an affirmation of why it is so important to live, and to live lustily, with fire and passion in your hearts! So please, go home, hold your loved ones tightly, and take careful stock of those things that are truly important to you."
After enthusiastically cheering and applauding Ronzo as he awkwardly climbed through an unlatched window into his den, several neighbors took time to reflect on the nude man's sobering yet inspiring disquisition on questions central to the human experience.
"Here I am, acting all high and mighty with my pants and shirt on, and tomorrow morning I could just as easily be grabbing the paper off the stoop and end up locked outdoors, naked as a jaybird," visibly moved crowd member Chris Dawkins said. "This whole thing really makes you appreciate everything you have, and I know that I for one am not going to take anything for granted anymore."
"That nude man changed my life," Dawkins added.