NEW YORK—Paul Tergat, who on Sunday became the winner of the biggest and closest New York City Marathon in history, downplayed the role of training, focus, and strategy in his victory, claiming that his race-winning plan was to "just go and have some fun out there."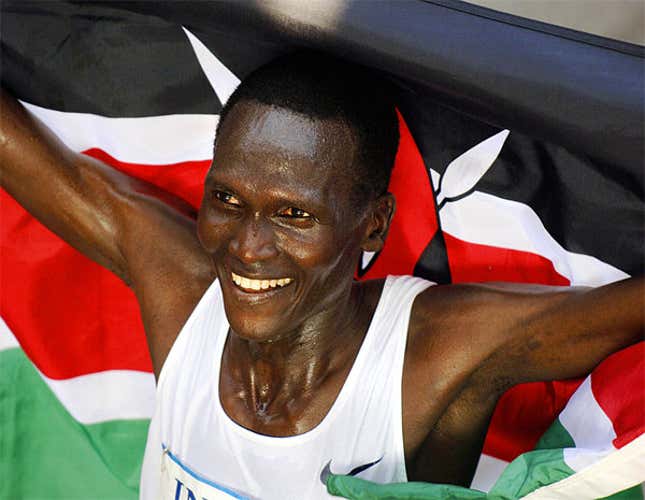 Study Finds LSD Highly Effective At Ruining Nephew's Baptism
"The emphasis in long-distance running is, naturally, most often on results," said Tergat, a native of Kenya who grew up running hundreds of hot, dusty miles a week in his home country for nothing more than the sheer pleasure of it. "Yes, this is a great way to wrap up the year, and yes, it was a dramatic, painful experience—every marathon is. But I would be lying if I didn't say I had an absolute blast every single step of that 26.2 miles."
Tergat broke the tape only a fraction of a second before 2004 winner Hendrick Ramaala after a race-ending sprint to the finish line, a rare sight in the muscle-burning, psychologically grueling world of the marathoner, and which Tergat said was "one of the most fun parts of the day, and maybe my entire career."
"I know a lot of people saw Hendrick stumble at the end of the race, and I know what they're thinking," Tergat said when asked to recap the marathon's final moments. "I've heard the talk. They're saying that after two hours of running one five-minute mile after another, my opponent had been physically and psychologically worn down to the point where he wasn't having as much fun as I was. I don't want to hear anyone say that. Hendrick Ramaala has more fun in his little toe than most people do in their whole body. After all, he had enough fun to dominate last year's race. I was just lucky today to have really, really enjoyed myself this morning."
Although Tergat, 36, did not completely downplay the training regimen he has followed during his long career, he insists that sheer enjoyment, more than the esoteric satisfactions of ambition or self-discipline, is the reason he can maintain his schedule of running 200 miles a week as well as his almost dangerously low body-fat percentage.
"Spectators watching at home think they see how much fun we're having in these major events, which are usually run on paved streets during the year's hottest days," said Tergat, who noted that variety and unpredictability made the indifferently maintained streets of Queens the most enjoyable to run on. "But it's nothing compared to actually being there, feeling the energy draining out of your body, the burn of the lactic acid building up in your muscle fibers, the cramps from hydrating too early or with water of the wrong temperature, the searing ache in your lungs as you fade into a total anaerobic state around mile 18. 'Runner's high' doesn't even come close."
Despite his phenomenal talent for—and pure enjoyment of—distance running, the 2005 New York City Marathon is only Tergat's second victory at that distance. His first was in Berlin, Germany, where he set the marathon world record of 2:04:55, suffered hallucinations causing him to take a wrong turn towards the end of the race, abraded the bottoms of his feet so badly that he left bloody footprints over much of the last few miles, and claims to have had "the most unadulterated outright childlike fun I've had in an entire lifetime on nonstop endurance running."