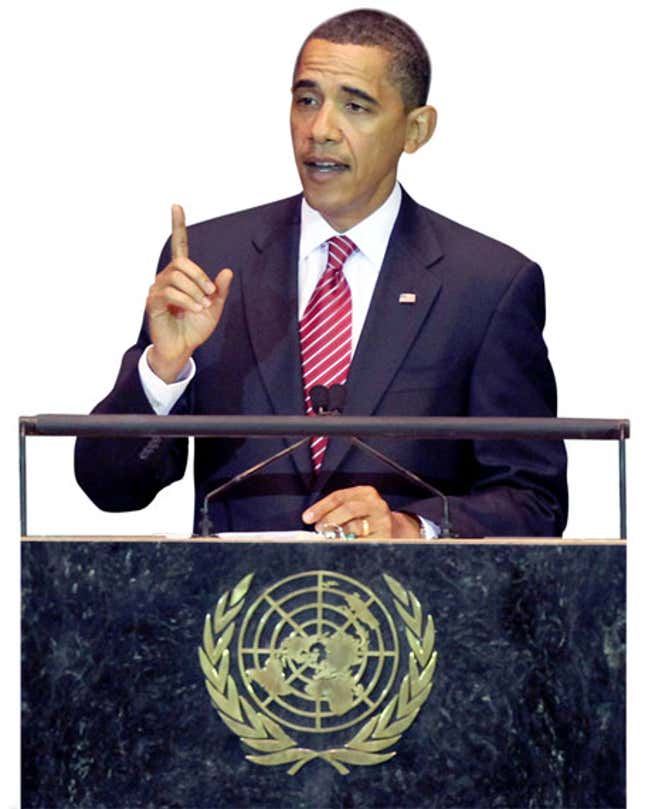 Last week, President Barack Obama addressed the U.N. General Assembly. Here are some of the highlights of his speech:
"Who are you, and what are you doing in my country?"
"A special thank-you to Dominic's on 32nd for providing this 5-foot party sub and 2-liter of Dr. Brown's Black Cherry soda for us all to enjoy."
"The American dollar is strong and—please, stop laughing."
"Now is a time when we must do something about some problem, perhaps by working with others."
"All of us, not just he United States, must share in the fun together."
"If Iran continues to pursue nuclear weapons, then it will have to face blank and blank. Oh shoot, I forgot to fill those in."
"A dark blue 2009 Escalade bearing diplomatic plates and triple-parked on 1st Avenue has left its headlights on."
"I'm going to stop speaking now because I, like all of you, want to hear the crazy shit Qaddafi says."
Jimmy Carter Becomes World's Heaviest Man At 850 Pounds