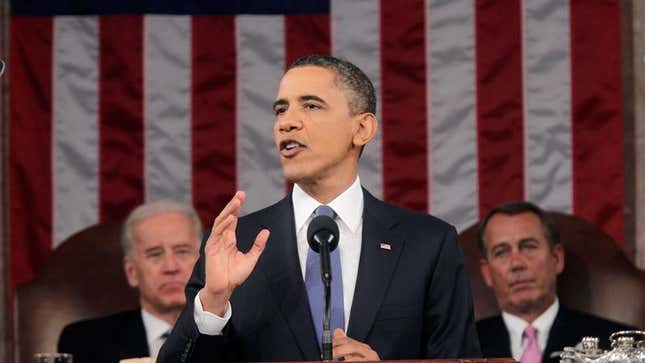 WASHINGTON—Citing historical legislative accomplishments, an improving economy, and the American people's resilience in the face of adversity, President Barack Obama declared Tuesday that the state of the union—aside from all the weirdos, freaks, and truly bizarre citizens out there who are "just really, really strange"—is strong.
This Week's Most Viral News: September 22, 2023
"Mr. Speaker, Vice President Biden, members of Congress, distinguished guests, and fellow Americans," Obama said, "nearly two years into our recovery from a recession that left our financial system on the verge of collapse, I stand here today confident that America is on a path to a better tomorrow, despite all the nutjobs and lunatics out there whose behavior is, honestly, kind of weirding the rest of us out."
"I mean, there are some serious wackos in this country," added Obama, singling out those with pierced eyelids and those who are always loudly clearing their throats for some reason. "But together, with the exception of those 9/11 conspiracy theory freaks, we can answer history's call and lay the foundation for future generations."
Delivering the second State of the Union address of his presidency, Obama used the 70-minute speech to strike an optimistic tone, saying that Americans are starting to feel the effects of the economic rebound and that, other than the 10 to 15 percent of the U.S. populace that is out of its mind and probably needs professional help, he has never been more confident in the nation's ability—maniacs notwithstanding—to rise to the challenges of our time.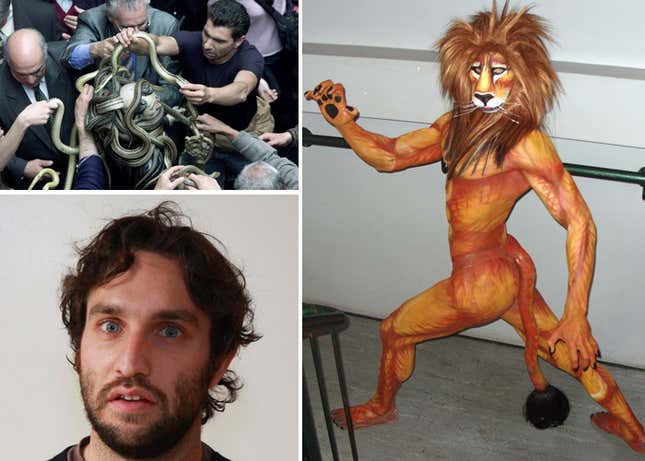 According to the president, aside from Americans who save all their cardboard boxes, write feverishly in the margins of newspapers, have backs covered with a giant eagle tattoo, engage in frottage, call in to talk-radio shows, can only achieve orgasm by drinking their sexual partner's blood, work in the fashion industry, clip their fingernails on a public bus and think that's perfectly okay, look up images of open sores on the Internet, don't have their children vaccinated, or sit at home and watch hours upon hours of The Andy Griffith Show, or whom you can tell are nutso just by looking at them, the country is headed in the right direction.
"That doesn't mean we still don't have a lot of work to do," Obama said. "The unemployment rate remains too high, and many hardworking Americans—normal ones who don't own pet boa constrictors—still struggle to put food on the table."
The president later made it clear that he was not referring to those citizens whose strangeness makes them unique, fascinating people with a genuinely interesting worldview, but the types of crazies who believe women raped by their fathers should not be entitled to an abortion.
While the response to the speech has thus far been positive, Republicans questioned if Obama's assessment of the war in Afghanistan was realistic. In addition, they demanded to know why he omitted Americans who are obsessed with exercise, which they said is pretty weird if you think about it.
"We liked that the president said the economy would be his main focus going forward," Rep. Paul Ryan (R-WI) said. "But we have a fundamental disagreement about the government's role in that process. We believe permanent tax cuts for the wealthy, even the deranged wealthy who get so much plastic surgery that they look like cats, will spur economic growth."
Facing a divided Congress for the first time in his presidency, Obama addressed the partisan split directly and outlined what he hoped would be a new era of political discourse.
"When I look out in this chamber, I see people who came to Washington not to play politics, but to make the lives of everyday Americans better," Obama said. "I also see some real crackpots, some severely messed-up individuals on both sides of the aisle who make me uncomfortable simply because they're in the same room as me."
"With all due respect, Sen. Bernie Sanders, you are very weird," continued Obama, addressing the Vermont legislator directly. "You mutter to yourself when nobody's around. There's not a soul within 20 feet of you, and you're there moving your lips and hands. Who are you talking to, Bernie?"
In the end, however, Obama stressed that all citizens, from those who just want to provide for their families to those who try to have sex with bridges, can come together to form a more perfect union.
"Americans are known for their strength, perseverance, and, let's face it, being a little off," Obama concluded. "It's in our DNA. It's what makes us great. Heck, sometimes I turn my music up really loud and just scream at myself in the mirror for an hour. That's a pretty fucked-up thing. May God bless the United States of America."