'The President Needs To Come Clean On His Views,' Obama Says
WASHINGTON—President Barack Obama lashed out at President Barack Obama's seemingly evasive stance on gay marriage Tuesday, calling the head-of-state's cagey position on the issue both "cowardly" and "an example of failed leadership."
Speaking to reporters from the White House East Room, Obama said that he has had enough of the president's endless hedging on same-sex marriage and that, as president of the United States, he can't just sit back and take a passive position on what he called the "most important civil rights issue of our time."
"President Obama's inability to simply state whether he's for or against gay marriage is unacceptable," Obama said during a spirited 30-minute address in which he sharply criticized the president for failing time and again to articulate his beliefs. "This nonsense where he says his views are 'evolving' isn't going to cut it anymore. It's patronizing and it's wrong."
"Mr. President," the president continued, "I am waiting for your answer. We all are."
G/O Media may get a commission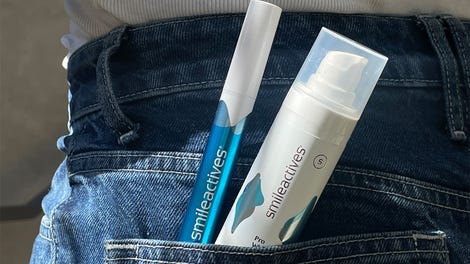 58% off
Whitening Powerhouse Pen & Gel Duo
Yesterday's speech comes on the heels of Vice President Joe Biden's recent announcement in support of same-sex marriage, an announcement Obama praised Tuesday, saying he was pleased "someone in the Obama administration was finally brave enough to take a clear-cut stand."
Throughout his remarks, Obama repeatedly questioned Obama's stance on gay rights, calling the president out for trying to play both sides of the issue by simultaneously voicing his support for gay rights yet consistently stopping short of endorsing gay marriage.
Obama went so far as to call the president's position "incoherent," and questioned how Obama could adamantly support the legalization of same-sex marriage on a state level but not a federal one.
"Tell me, how does that make any sense?" Obama said. "The truth is, it doesn't. I don't have a clue what the president means when he says things like that, and quite frankly, I don't think he does, either."
Though President Obama has yet to respond to Obama's remarks, Beltway insiders said the increased pressure from the White House has, in effect, put Obama on notice. Sources confirmed that by using the power of the presidency, Obama is ostensibly forcing Obama to make a decision sooner rather than later.
"When the president addresses you directly, you can't ignore him," NBC White House correspondent Kristen Welker said. "I think what we can take away from today's remarks is that the president is genuinely frustrated, not just with Obama the president, but Obama the man. The section in his speech where he questioned how, as the first black president, Obama could fail to fight for the equal rights of gays and lesbians was particularly powerful."
While Obama praised Obama for repealing Don't Ask, Don't Tell and extending hospital visitation rights to same-sex partners, Obama said the president's convoluted stance on gay marriage has less to do with the president wrestling with his moral convictions, and more to do with winning a second term in office.
During his address, Obama chastised the president for playing political games with the lives of homosexuals, saying that because Obama is convinced gays and lesbians will vote for him regardless of whether or not he makes a definitive decision, there is essentially no reason to make an announcement that could potentially hurt him with independents and conservative Democrats.
"You can't accuse President Obama of not being a shrewd politician," the president said. "But people aren't looking for a politician right now. They are looking for a leader. They are looking for the man they thought they elected to put politics aside and make the right decision."
"Personally, I think he's definitely for gay marriage," Obama continued. "I just think he's too afraid to say it."