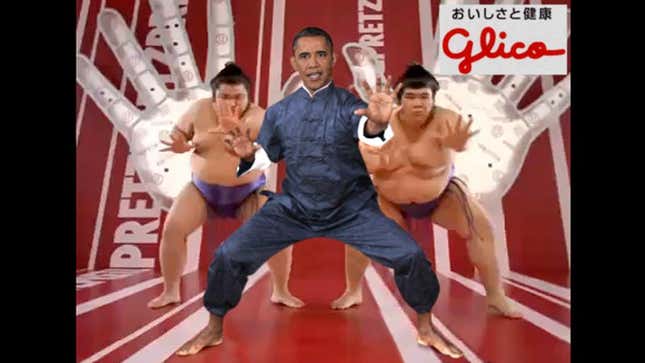 WASHINGTON—In an effort to obtain badly needed revenue for the ailing U.S. economy, President Barack Obama recently appeared in a 30-second television spot for the popular Japanese snack product Glico Pretz Ham & Cheese, White House sources reported Wednesday.
This Week's Most Viral News: September 29, 2023
According to aides, the advertisement will air nationally throughout Japan and will feature the president endorsing a savory, stick-shaped cracker snack manufactured by the Ezaki Glico corporation, which agreed to pay Obama a one-time fee of $300,000 plus residuals, compensation to be used exclusively for U.S. economic stimulus purposes.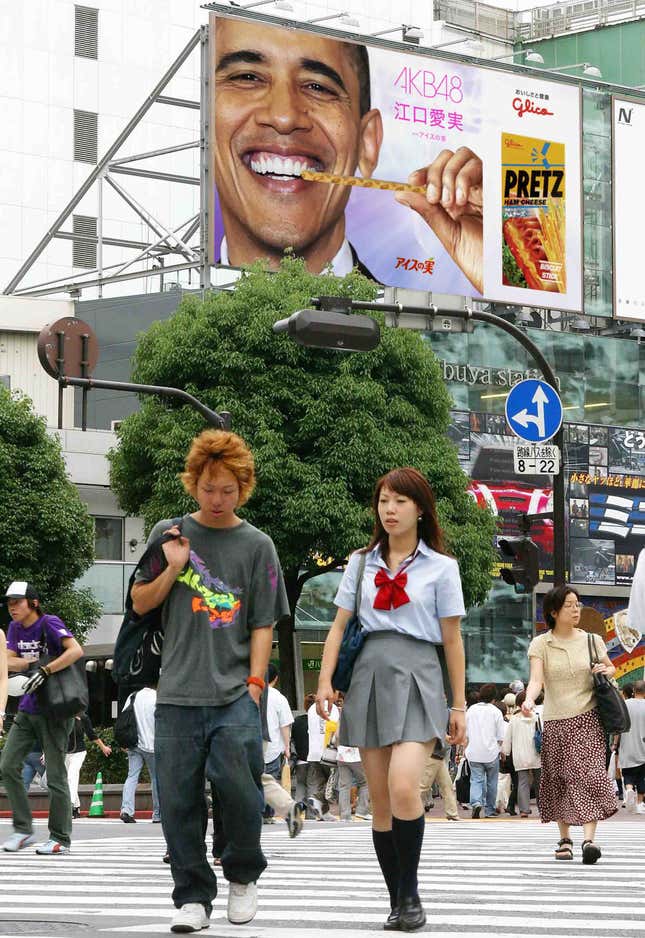 "While the president does not ordinarily endorse retail products, he was willing to make an exception for Glico Pretz Ham & Cheese as a way of easing the current financial burden on our country," said White House Press Secretary Jay Carney, stressing that the commercial's quick, two-day shoot outside of Yokohama took little time out of Obama's schedule and was of the highest production quality. "Also, we have been assured by Ezaki Glico CEO Katsuhisa Ezaki that the TV advertisement, and accompanying billboard and bus ads, will only be seen in Japan and will portray the president in a very flattering, elegant light befitting a world leader of his stature."
Representatives for Ezaki Glico confirmed this week that the visually opulent ad will feature the president wearing swim trunks and relaxing with a group of young Japanese male friends by the side of an animated swimming pool filled with melted cheese and ham.
According to sources involved in its production, the spot will also contain a video montage of a smiling President Obama hitting a baseball, playing the cello, and dancing with a pair of beautiful Japanese women before biting into a ham-and-cheese-flavored cracker and saying directly into the camera, in Japanese, "I like the big taste of Pretz, the perfect snack with the big crunch."
Ezaki Glico marketing executives said the ad, which features a brief three-second shot of film actress Meg Ryan riding on horseback with Obama, was greatly bolstered by the president's participation.
"Everyone in Japan knows the face of Barack Obama, and we believe he is the perfect man to share loving words about the delicious Pretz snack," Ezaki Glico marketing executive Kiyotaka Shimamori said through a translator, adding that the president was very cooperative throughout the nearly 50 takes required to film a special green-screened "moon sequence." "Mr. Obama looks very good in the commercial holding the Pretz snack, eating the Pretz snack, and dancing with the pretty girls."
While refusing to comment on the issue at length, President Obama did take a moment out of a press conference Wednesday to address his appearance in the commercial.
"Again, this was a simple revenue-generating measure and in no way does it present a conflict of interest for me or my administration," the president told reporters. "That being said, in accordance with my contract with the Ezaki Glico corporation, I would like to briefly add that Glico Pretz Ham & Cheese is a fine product, a delicious product, and one that I fully endorse for snacking morning, afternoon, and night."
The president then procured a bag of Pretz Ham & Cheese snacks from behind the lectern, smiled, and sang a 10-second Pretz advertising jingle in Japanese for the assembled press corps.