WASHINGTON—After awaking from a restless sleep in the Presidential Bedroom, a disoriented and lightly perspiring President Barack Obama informed reporters early Tuesday morning that he had just had that weird sex dream about the entire nation again.
"Whoa, that was intense," said Obama, recounting his recent dream in which he once again found himself participating in a frenzied bout of sexual intercourse with all 313 million Americans. "It started out like it normally does, with me walking through the Rose Garden until I come across my junior high school teacher Miss Thornton. She starts to take off her shirt, but before you know it, we've been joined by every American citizen from all 50 United States and they're all taking off their clothes."
"It's like the third time I've had this dream in the last month," he continued.
According to Obama, his persistent sex dreams always feature the president engaging in elaborate yet somewhat indistinct carnal acts with the entire country, including actress Diane Lane, the entire population of the Pacific Northwest, poet Maya Angelou, the board of trustees of General Mills, the town of Blanco, TX, the starting five of the WNBA's Minnesota Lynx, and Philadelphia grocery clerk Michael Bailey.
As explained by the commander-in-chief, the recurring fantasies invariably consist of an unending string of sexual encounters with each and every one of his constituents—including residents of the Great Lakes region, Los Angeles mayor Eric Garcetti, and the membership of the AFL-CIO—with the scenarios routinely skirting conventional logic as Obama hazily makes love to hundreds of millions of his fellow Americans.
"At one point we're all somehow in my old bedroom in Chicago—I don't know how we got there—and I'm hooking up with [Jonesboro, AR resident] Deborah Aponte and the nation's autoworkers," Obama said, his breath quickening as he described erotic episodes that also included extended bouts of sex with House Minority Leader Nancy Pelosi, an attractive female jogger he saw running past the White House earlier in the week, and Nebraska. "Then Debbie asks me if I want to take a bath, just the two of us, so then we're naked in the tub. But I look up and the entire city of Houston is just standing there watching us."
G/O Media may get a commission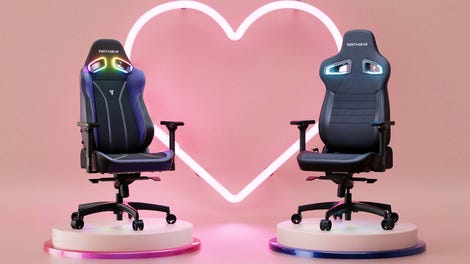 Up to $150 off
Vertagear Gaming Chairs
"And then the full faculty and student body of the University of Iowa walks in the room," Obama added.
The president noted that while many of the participants in his nocturnal sex romp remain "a little fuzzy," he can still recall several of the more prominent role-players, including journalist Andrew Ross Sorkin and Westchester County, as well as a general mixture of celebrities and public figures whom he has been attracted to in the past, familiar voting districts, and states and cities he hasn't thought about in years.
Obama emphasized that he has never consciously thought about the majority of the American people in a sexual context while he is awake.
"I remember there was this one part where we were all outside in what looked like an apple orchard or something and I was in this wild orgy with [Baltimore graphic designer] Patricia Desmond, [Transportation Secretary] Anthony Foxx, and the country's hispanic population," said Obama, admitting that he can't quite recall if he was receiving oral sex from his old college girlfriend or the nine justices of the U.S. Supreme Court. "And then I noticed that my wife and [Chicago alderman] Michael Zalewski were making out with each other and they invited me to join in."
"That part was weird," the president added.
While Obama admitted that the frequency of his sex dreams involving himself and the nation has lately been uncommonly high, with the president claiming that he's had dozens of such dreams ever since he was elected to his first term, the commander-in-chief told reporters that he saw nothing particularly unusual about his ongoing fantasies.
"Everyone has dreams like these from time to time, so I don't think it's anything to worry about," Obama said, adding that he used to have similarly sex-charged dreams about the entire citizenry of Illinois when he was serving as the state's junior senator. "The mind works in strange ways, and I'm sure that there's just some weird part of my subconscious that lusts after every single one of the people whom I govern over that manifests itself in these crazy, sexy dreams. So it's no big deal."
"And they're definitely way better than those fucked-up nightmares I keep having about the entire population of Croatia," Obama continued.