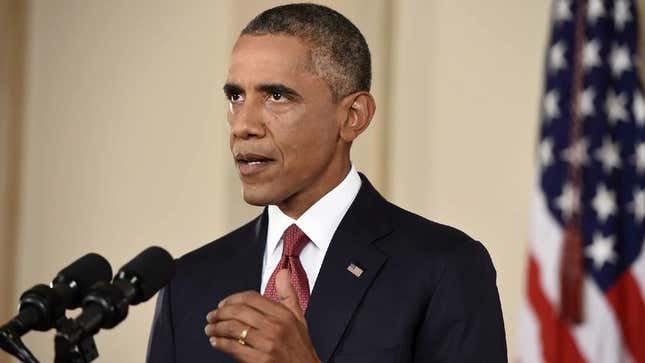 WASHINGTON—Following news that Eric Holder plans to step down from office, President Barack Obama addressed Americans this afternoon to announce that anarchy and violent chaos will reign during the search for a new Attorney General.
Study Finds LSD Highly Effective At Ruining Nephew's Baptism
Obama, who issued a stern warning to the U.S. populace that frenzied and unrestrained mayhem will grip every corner of the country, stressed that federal laws would soon hold no meaning and that uncontrollable mobs would rampage in every American city, where he said blood would accumulate in great pools in the streets until a successor for Holder is nominated from a list of suitable candidates and subsequently confirmed by the Senate.
"I am saddened to accept the resignation of Attorney General Eric Holder. He held his office with honor and served his country admirably, and as we begin the difficult task of replacing him, I want the American people to understand that the country is now poised to erupt into a vicious maelstrom of horror ungoverned by the laws of man," said the president, urging citizens to trust no one and to stay in their homes while bedlam consumes the nation. "With a leadership void in the Department of Justice, there is no question that utter chaos and disorder will prevail and our formerly rule-bound society will descend into a cutthroat free-for-all. That is, until this administration and both sides of Congress agree on a replacement."
"Prepare yourselves," Obama added.
Speaking from the Oval Office, the door to which appeared to have been barricaded shut, Obama then assured the nation that brutal hordes would run amok from coast to coast during the complete absence of lawful rule. He explained that these barbarous mobs would loot homes and businesses, burn buildings to the ground, and litter the cities with the bodies of any American citizen who was caught in their path of destruction.
Obama went on to remind Americans that the departure of Holder, the 82nd person to hold the office of attorney general and the sole guarantor of the rule of law in the United States, ushered in a new era of savage cruelty in which there would be no justice except that which each individual citizen could provide for him or herself.
The president added that "the age of legal authority is now over" and that all power in the country had been transferred from government bodies to the strongest and most merciless among the population.
"Until the ink is dry on a new appointment affidavit, we shall all be ruled by ruthless might," said Obama, stressing that Holder's resignation means that any juridical check on man's basest and most heinous appetites no longer exists. "Until a majority of senators agree on a candidate of my nomination, everything and nothing at all will be permitted. Darkness and cruelty will overtake the hearts of even the most upright civilians."
"My administration aims to begin the nomination and hearings process some time after the November recess," Obama added. "But pending the confirmation of a new attorney general, I urge you all: Murder or be murdered."