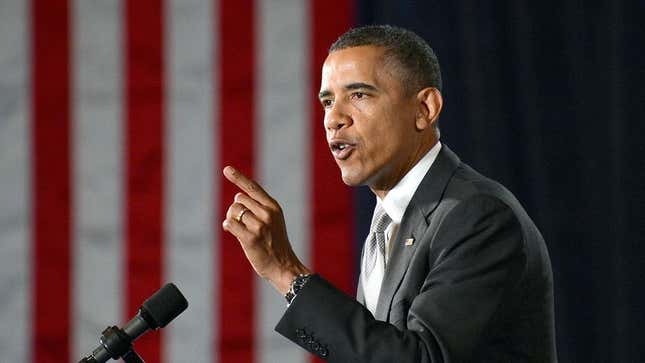 WASHINGTON—Calling it a "poorly conceived and irresponsible piece of legislation, pure and simple," President Obama made a public pledge to voters Tuesday that, if reelected, he would fight to repeal the recently upheld Patient Protection and Affordable Care Act.
This Week's Most Viral News: September 29, 2023
In an address to the nation broadcast live from the White House, the president promised voters in sharp, forceful terms that the very first act of his second term would be to "strike down this unjust and unconstitutional law," which he said would place "an unacceptable burden on hardworking Americans."
"Citizens going to the polls in November should know that if they reelect me, they will not have to face the consequences of this bloated, oppressive act," said Obama, who called the legislation a "906-page monstrosity." "This law isn't merely an attack on our current health care system. It's an attack on our core values and what it means to be an American. And mark my words, an Obama administration will support those values, not destroy them."
"Frankly, this toxic plan is just another needless tax to pay—nothing more, nothing less," Obama continued. "It's harmful and it's wrong and I won't stand for it."
Blasting members of Congress for "voting to vastly overstep government authority," Obama said that under his leadership the federal government would not "reach into the pockets of honest taxpayers" to pay for the extension of health care benefits enacted by the legislation.
Obama added that if the plan goes into effect, it is "100 percent guaranteed" to bankrupt the United States within 10 years.
Proponents of the health care act have yet to respond to the president's numerous criticisms of the law, which he claimed would increase insurance premiums and force every American to receive subpar medical treatment.
"I'm going to say it in plain English: I will not let Obamacare stunt job growth, drive up the cost of health care, and cripple our economy—I simply won't let it happen," the president said. "Come November, should I be reelected, it will be my great pleasure to walk into the Oval Office, take my pen in hand, and sign a big 'adios' repealing this grave threat to our country's future."
Added Obama, "That is a promise you can take to the voting booth."