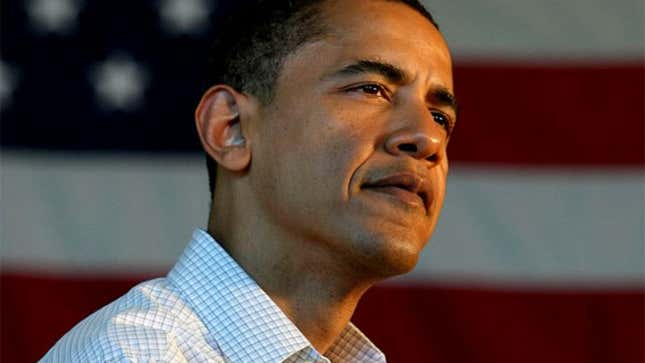 CHICAGO—As the 2008 presidential election draws closer, Democrat Barack Obama has reportedly been working tirelessly with his top political strategists to perfect his looking-off-into-the-future pose, which many believe is vital to the success of the Illinois senator's campaign.
Edgelords Explain Why They Love Elon Musk
When performed correctly, the pose involves Obama standing upright with his back arched and his chest thrust out, his shoulders positioned 1.3 feet apart and opened slightly at a 14-degree angle, and his eyes transfixed on a predetermined point between 500 and 600 yards away. Advisers say this creates the illusion that Obama is looking forward to a bright future, while the downturned corners of his lips indicate that he acknowledges the problems of the present.
Interactive Graphic
The Science of Inspirational Poses
Obama's advisers have created a computer model to simulate the optimal looking-off-into-the-future pose.
"The senator spends six hours a day gazing resolutely off into the distance," said chief political strategist David Axelrod, who regularly analyzes video of the pose with Obama, pinpoints areas that need improvement, and makes necessary tweaks.
"It is critical to get every detail right," Axelrod continued. "If he looks up an inch too high, he appears aloof or confused. If he looks down too low, it appears that he is distracted by something in the back of the auditorium. If the curvature of his upper lip is not at the exact 0.87-centimeter radius, it reads that he does not care about preserving the environment for future generations."
The pose also requires Obama to arch his eyebrows at 32-degree angles, open his mouth to prevent the misconception that he is frowning about the future, and briefly flare his nostrils to convey faith in the nation's children.
He must then clench his jaw with sufficient force to express strength and decisiveness—if he uses too much force, Axelrod said, his supraorbital forehead vein becomes visible and makes it appear as though he is in physical pain.
"Every millimeter of that head vein costs him 150,000 votes," Axelrod said.
To complete the pose, Obama must then open his eyes at an aperture of 1.43 centimeters, tilt his chin slightly upward, and rotate his head 37 degrees to the left. His advisers stressed that he must always look to the left.
"When you look to the future, you look to the left," Axelrod said. "Looking to the right is an I-am-sorry-for-the-mistakes-I've-made-in-the-past-but-promise-to-work-my-hardest-for- this-great-nation-from-now-on pose. It's too early for that."
The biggest obstacle Obama has had to overcome in recent weeks is his proclivity to squint while looking toward the future, which aides say alienates voters.
"We've worked on the squinting," said Obama adviser Sam Hosking, who claimed it was a "death knell" for a candidate to appear to be struggling to see the nation's future. "It took a lot of work, but we were able to turn the squint into a solemn blink."
"The blink humanizes him," Hosking added. "But you have to be careful. Two blinks and people will start to question if he's a man of his word."
Obama has also worked on increasing the speed with which he can strike the pose. Advisers say that it is critical for him to be able to quickly and seamlessly transition into the looking-off-into-the-future pose at any moment, especially during applause breaks in his speeches, while being photographed from low angles, and whenever there is a large American flag waving gently behind him.
Obama's advisers have recently given him clearance to nod resolutely upon completing the looking-off-into-the-future pose.
"A nod is acceptable," Hosking said. "The American people respond well to nods."
Although Obama's pose has been modified and fine-tuned over the course of the campaign, some pundits claim that Obama's original looking-off-into-the-future pose was the strongest and most believable.
"I fell in love with the chin-three-inches-from-the-neck Barack Obama," said longtime Obama supporter and MoveOn.org employee Peter Koechley. "I just don't know if a chin-four-inches-from-the-neck or, even worse, a chin-two-inches-from-the-neck Obama is the same Obama that first inspired me."
As soon as Obama masters his looking-off-into-the-future pose, aides say he will begin honing his looking-straight-down-and-gripping-the-lectern-while-taking-a-deep-breath-to- communicate-both-his-rise-from-humble-roots-and-his-dedication-to-upholding- the-honor-and-responsibility-of-the-presidency-while-still-fully-understanding- the-historical-significance-of-the-moment pose.